New York Yankees fans and mascot enthusiasts: I'm sorry for the following nightmare fuel.
On Sunday night, one Reddit user bravely resurfaced an image of Dandy, the long-forgotten Yankees mascot. Dandy's brief tenure lasted 1979 until 1981. He was a large, pear-shaped pinstriped bird with red hair and a thick mustache. He was named after the tune "Yankee Doodle Dandy," and was 7 feet tall, as per The Wall Street Journal.
The origin of Dandy is the stuff of urban legend. AJ Mass, author of Yes, It's Hot in Here: Adventures in the Weird, Woolly World of Sports Mascots, speculated that after the Philadelphia Phillies' success with their Phanatic, which debuted in 1978, the Yankees needed their own creature. "George [Steinbrenner] probably didn't like the idea of Philadelphia one-upping him," Mass said, via New York Post.
Wayde Harrison and his wife, Bonnie Erickson (who also created Miss Piggy), who ran Acme Mascots, created Dandy. "He was supposed to be sassy," Harrison told The Wall Street Journal. "He was supposed to have that Yankee swagger."
"[The Yankees] didn't really give us any information about what they wanted," Erickson added, via New York Post. "We knew they were interested in increasing family attendance, and they thought this was the way to do it. They left the design up to me."
Steinbrenner had the final say on the concept of Dandy, and the Yankees agreed to lease him out for three years for $30,000. Dandy made $40 per game, and spent most of his brief career in the upper deck of Yankee Stadium. There was even a song composed for Dandy by the stadium's longtime organist, the late Eddie Layton. No known recording of the song exists, as per WSJ.
Many noted that Dandy looked strikingly similar to Yankees catcher Thurman Munson, especially with the thick mustache. Harrison claimed he didn't know who Munson was, and that the similarity was unintentional. Days after Dandy made his debut, Munson died in a plane crash on August 2, 1979. The pinstriped bird was immediately put on hiatus.
This doomed Dandy's run as mascot, along with the aggressive fandom of the 1970's Yankees fans. At the 1980 Citibank pep rally at Madison Square Garden, 22-year-old Rick Ford, who dressed up as Dandy, was attacked. Despite the fact that he had his own bodyguard, the audience lunged at him at one point when he fell offstage, according to the New York Post.
Darren Edwards then took over as Dandy, but when the Yankees wanted to resign without a security guard, the plug was eventually pulled on Dandy.
Dandy was forgotten almost as quickly as he became part of the Yankees franchise and was thrown into a dumpster. The epic failure of a mascot was a strange addition for the 27-time World Series winners. Many erased the large bird from their memory and pretend that Dandy never existed.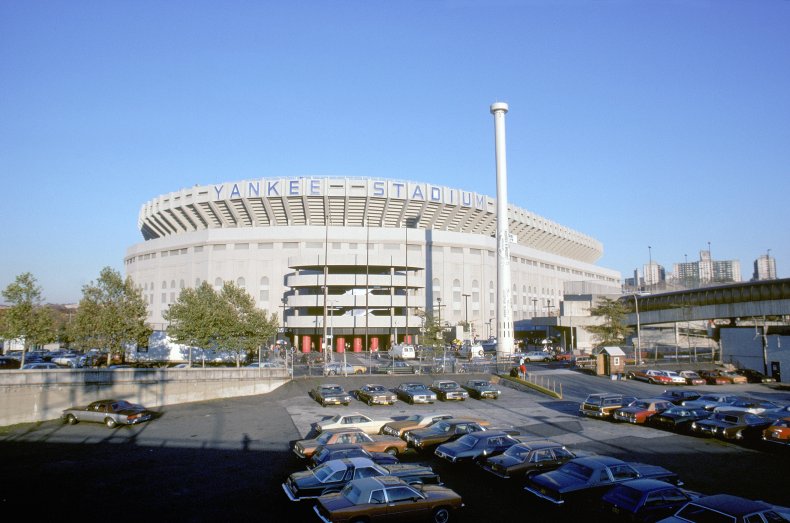 As per a 1998 New York Times story about baseball mascots, Yankee representatives were unwilling to acknowledge that Dandy ever existed. George Steinbrenner, former owner of the Yankees, said he had "no recollection of the pinstriped mascot."
Marty Appel, the Yankees' former public relations director, told the Wall Street Journal in 2010 that he had only a vague recollection of the mustachioed creature. "It was sort of un-Yankee-like to have a big mascot running around," he recalled. "It had no resonance."
More recently, in an August 2019 story for the New York Post, Yankees team spokesman Michael Margolis declined to comment about Dandy. "There's just no one left from that era that could speak to that experience," he said.
Redditors commented on the resurfaced memory of Dandy. "As a kid, I often asked my dad why the Yankees didn't have a mascot like the Mets did. My dad, a Yankee fan since 63, always cryptically replied 'we don't need one.' I now see why," one fan wrote.
"I'd heard that was a tough era for NYC. Didn't realize it was this bad," another quipped. "This nightmare introduced in 1979, right after the Yankees won the WS in 1978.…Yankees don't win another WS until 1996...Hm…" a third fan noted, blaming the Yankees' bad mojo on the creature.
"The true bleacher creature," someone added, referring to the rowdy bleachers in The Bronx. "I think Dandy was beaten up by fans inside the Stadium at one point," another speculated.
Honestly, we wouldn't be surprised if that was the case.