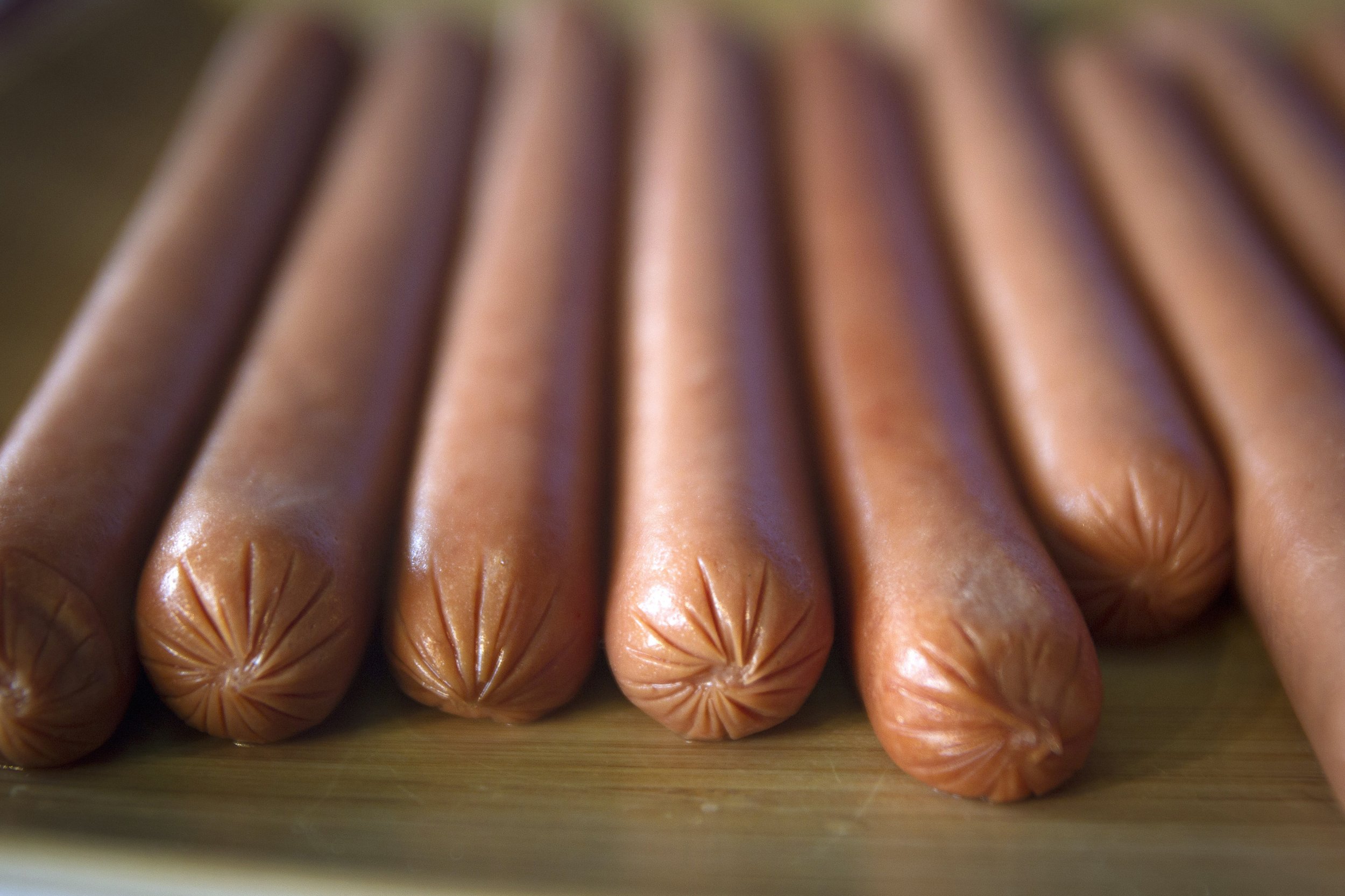 "Hot dogs have become a trendy food. To an extent, they've become an art form," Eric Mittenthal, vice president of public affairs for the National Hot Dog and Sausage Council, stated frankly.
The wiener industry has been thriving in the United States for more than 100 years, but the last several years have marked a hot dog revolution, if you will. Hot dogs, and the carts they commonly come from, are becoming more popular and offering more variety. As a result, their prices are going up.
When hot dogs first entered the mouths of hungry Americans, they cost only pennies and were served bunless. Hot dogs crossed the pond from Germany in the 1800s, and back then, they looked more like a proper sausage than the skinny, meat-melded food product we consume today. They were peddled from carts and legend has it they started being sold with buns only after a happy accident occurred.
"There are a variety of ways that the bun came to be. The main story, though, is that there was a hot dog cart and they used to sell dogs with gloves, so people could eat the hot dog without burning their hands," Mittenthal told Newsweek. "One day, the cart ran out of gloves. They happened to be next to a bread cart, so they combined the two and history was made."
In 1894, students at Yale coined the term "hot dog" when they referred to "dog wagons" selling sausages in buns. By that time, hot dogs, even if they were yet to be named as such, were a popular New York area treat: the first Coney Island hot dog stand sold 3,684 sausages in its first year of business, way back in 1871.
New York City remains the epicenter of hot dogs vendors. "I'm sure New York City has more hot dog carts than anywhere else," Mittenthal said. Technically, Los Angeles residents purchase the most hot dogs from supermarkets—39 million in 2014—but New Yorkers spend more money on the franks.
"There were 27.6 million packages sold last year in New York. That's $121.7 million in sales in grocery stores for New York, compared to $95.5 million in L.A.," Mittenthal said, referring to statistics collected by the Hot Dog and Sausage Council.
He also pointed out that all those package figures have to be multiplied by eight: "There's eight dogs in a package. You should also factor in all the restaurant hot dog sales, baseball stadiums, plus vendors on the street. That's a lot of hot dogs."
The millions sold by street vendors are impossible for the council to quantify exactly, but it estimates a total of 7 billion weiners are consumed between Memorial Day and Labor Day, which is considered "hot dog season."
Industry experts consulted by Newsweek said that over the last five or so years, the hot dog business has become more innovative. Experts point to one primary cause: the rise in popularity of food trucks.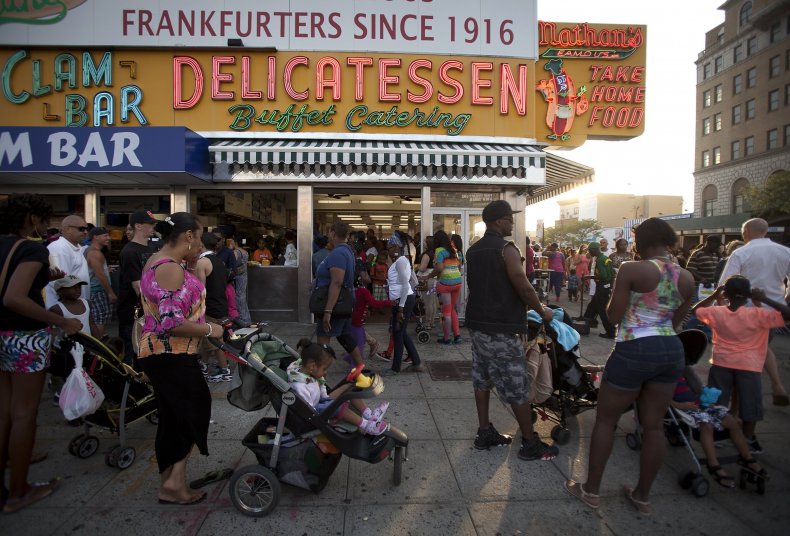 "We always say don't sell a hot dog, sell an experience," Steve Schaible, a hot dog cart owner, expert and enthusiast, explains. Schaible has dedicated his life to hot dogs: He teaches a course on how to be an expert hot dog cart owner, runs a hot dog newsletter with more than 10,000 subscribers and works as a hot dog cart consultant. Schaible encourages his students to add all kinds of bells and whistles to their carts or trucks, to stand out from the ever growing food truck pack.
Mittenthal has also observed this growth in both the quantity of trucks and carts and the variety of the hot dogs they offer. "Over the last few years, I've seen gourmet hot dogs a lot. It comes with the advent of some of the more upscale food trucks," Mittenthal explains. "The food trucks are offering fancier hot dogs, so it has become a trend."
Schaible, who has taught more than 1,000 hot dog vendors the tricks of the trade, pointed to the recession as another reason for the rise in hot dog innovation.
"When the market crashed in 2008, there was a big influx of people who were scrambling to make ends meet. Some people turned to food carts. And then people stayed in the industry, as it's a fun business and can be quite profitable," Schaible said. "Food trucks are big; it's a big trend right now with all the shows on Food Network showing how they're doing. People try to do something similar with carts part time."
To get their carts noticed, hot dog vendors turned to unique themes and gourmet condiments. These twists allowed them to "separate from the gas station hot dogs," Schaible explains. They also allowed for an uptick in prices, and therefore profits. "A regular hot dog might be $1 or $2, but a gourmet hot dog could sell for $4 or $5. Add in a quarter-pounder option, that could be $5 to $6."
While $6 might be worth it for a fancy dog, neither hot dog expert said they could imagine paying much more for something that comes off a cart. Certainly not $30, the price one New York vendor was charging tourists.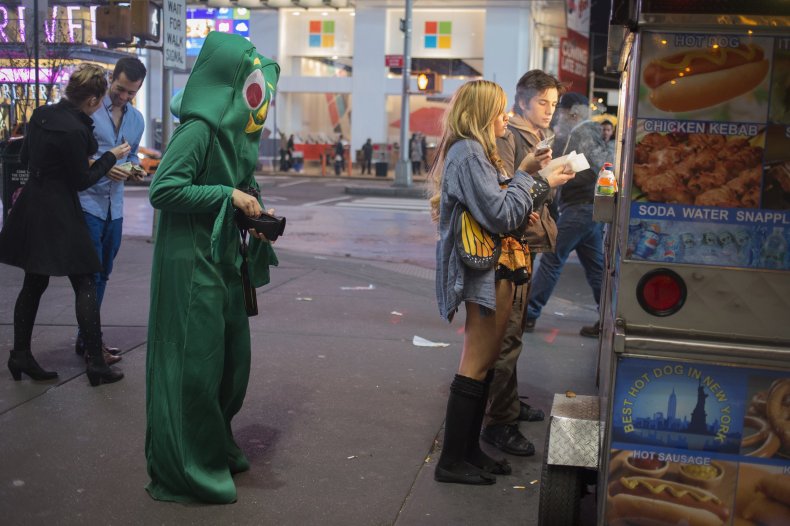 Last week, that vendor was found to be charging that price for a hot dog and Dr. Pepper to hungry folks near Ground Zero. Depending on whether the buyer had an accent or appeared to be a tourist, the vendor, Ahmed Mohammed, would charge more or less for the hot dog. Another man was charged $15 for a hot dog and pretzel. Mohammad, and his cart, were booted from the location and he faces fines as a result of the price gouging.
Other hot dog cart vendors felt his actions painted them all in a negative light, but pointed out that he is not a lone bad actor. "I see it all the time. We're supposed to have price lists, but guys hide them. They wait for someone who doesn't speak English well or doesn't understand the currency," explained a hot dog cart vendor who parked his cart near Mohammad's. The vendor declined to be named because he worried his business might be hurt by the identification.
"Once, I saw a couple be charged $100 for two hot dogs and two drinks. Its not right, but guys can make their whole day with four purchases like that. But a hot dog, it should be $2. Maybe $4 for a sausage. Maybe." A nearby vendor nodded approvingly and reiterated: "Two dollars. That's a street dog. Two dollars."
The Hot Dog and Sausage Council does not have a recommended price for hot dogs, noting the variety between hot dog sellers is simply too wide to regulate.
"We don't have an opinion on what the price should be, but historically hot dogs are the every man's food. Part of our hot dog etiquette is that hot dogs are meant to be enjoyed by everybody," Mittenthal said. "You aren't supposed to break out the fine china or utensils, so charging $30 for a hot dog goes against that notion that the hot dog is the every man's food."
Schaible recommends a price range between $1 and $6, depending on the location of the cart (the coasts are more expensive), the size of the hot dog and the gourmet nature of the condiments.
As for Jessica Lapin, the president of the Downtown Alliance, a business improvement organization that services lower Manhattan—including the area in which Mohammed was caught hawking $30 wieners—she believes a hot dog ought to be $1.
"Getting a hot dog is a quintessential New York thing. If you come here as a tourist, it's one of those things you want to check off your list. This sends a bad impression of not just downtown but the whole city. To use a pun, it leaves a bad taste in your mouth," Lapin told Newsweek. This is the first formal complaint about hot dog price-gouging the alliance has faced, she said. Lapin added that food vendors operating near the 9/11 Memorial should respect their surroundings and those who visit the site, regardless of where they are visiting from.
Mohammed's behavior was in direct violation of the hot dog vendor handbook, Schaible said. "Your prices should be prominently posted, so there's no confusion. Anything less, you're trying to be deceptive. Your customer will walk up, you prepare it in front of them, and don't take the money until the hot dog is in their hand. The hot dog customer is king."