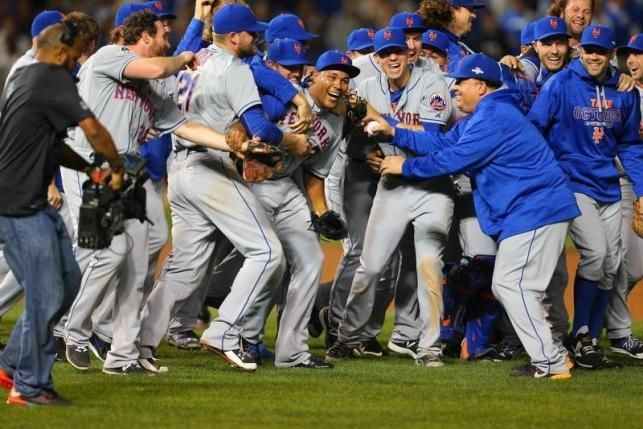 As roller coaster rides go, Brooklyn is home to Coney Island's Cyclone, Manhattan has Wall Street and Queens proudly lays claim to the New York Mets. What a down-and-up year it has been for the World Series–bound franchise after seven straight losing seasons: from LOL to LGM! From a New York mess to a New York Matz. From Murphy's Law ("If anything bad can happen, it will...") to Murphy's Lore ("If anyone can hit a home run, he will...").
As Game 1 looms (Tuesday night in Kansas City), let's take look back at the past seven or so months in the history of New York's most (lone?) cuddly pro sports team.
March 20: Starting pitcher Zack Wheeler, 24, confirms that he will undergo Tommy John surgery and miss the entirety of the 2015 season. Wheeler becomes the second Mets starter in as many seasons, 25 years of age or below, to be lost for a full year due to a torn ulnar collateral ligament (UCL).
April 6: The Mets' opening day starting pitcher is 41-year-old Bartolo Colon, who packs an estimated 265 pounds onto his 5'11'' frame. Colon will become the third consecutive Mets opening day starter (joining Dillon Gee and Jonathon Niese) who will suit up for the Mets this season and yet not start a game in the 2015 postseason. On this afternoon, Colon outduels Washington Nationals starter Max Scherzer, who will go on to hurl two no-hitters in 2015, one of them against the Mets.
April 9: The Dark Knight returns! Matt Harvey makes his first start after missing all of 2015 recovering from Tommy John surgery (see Wheeler, Zack...) and pitches six shutout innings during a 6-3 defeat of the Nats. Three of Harvey's nine strikeouts come at the expense of soon-to-be National League MVP Bryce Harper.
April 11: Closer Jenrry Mejia is suspended 80 games for use of the steroid Stanozolol. "We're very disappointed," says Mets manager Terry Collins. "I mean, extremely disappointed." See you in July, Jenrry.
April 14: David Wright's Back, Part I. The Mets captain and third baseman goes 2 for 5 with a stolen base in a 6-5 win against the Philadelphia Phillies. Wright's next appearance in a Mets uniform will be against the Phillies in a month that begins with the letter "A," but due to spinal stenosis, that month will be August.
May 3: For the second day in a row, New York is shut out 1-0 by the Nationals. The Mets will fail to score in 15 games this season and fail to record a hit in two of those contests. They will become the first team in Major League Baseball history to be no-hit twice and advance to the World Series.
May 12: Noah Syndergaard, a 6'6'' flamethrower with a flowing flaxen mane, loses his Major League debut against the Cubs. By season's end, Syndergaard will be firmly established as the team's No. 3 arm and will answer to the name of "Thor."
May 31: Bartolo Colon's extra-base hit. The portly pitcher, more renowned for his erratic swings-and-misses, rips a line drive to center that rolls to the wall after seven-time Gold Glove winner Ichiro Suzuki misplays it. Colon rolls into second with a stand-up double, the second extra-base hit of his 18-year career.
June 9: The Mets are no-hit at Citi Field by San Francisco Giants pitcher Chris Heston, who also records a career-high 11 strikeouts.
June 24: The Mets hold a closed-door meeting in Milwaukee and then lose their seventh straight, 4-1, to the last-place Brewers to fall below .500 (36-37). By comparison, the 1969 Miracle Mets were 40-33 after 73 games. "We are not hitting, end of story, that's pretty much it," says Collins. "We've got to start hitting."
June 28: Meet the Matz! Collins's prayers for livelier bats are answered in the form of rookie pitcher Steven Matz, a local boy from Stony Brook, Long Island. In his Major League debut, the southpaw collects three hits and four RBI (a franchise record for any Met, regardless of position). Matz also collects the "W" as the Mets beat Cincinnati, 7-2. Suggestions to bat Matz cleanup on his off days are quickly suppressed.
July 12: Kirk's Odyssey. On May 19, Kirk Nieuwenhuis whiffs in a pinch-hit at-bat, lowering his average to .079. Eight days later, the Mets trade him to the Los Angeles Angels of Anaheim, who release him after only two weeks. New York decides to reclaim its prodigal outfielder, who in his sixth game back blasts three home runs in a 5-3 win against Arizona.
Nieuwenhuis's three home runs matched his entire seasonal output for both 2013 and 2014 (he would finish 2015 with four homers). His trio of blasts landed beyond the outfield fences in left, center and right fields. It also marked the first time in the franchise's 54-year history, which includes three ballparks, that a Met had hit three home runs in a home game.
July 14: Pitcher Jacob deGrom, who had made his Major League debut just 14 months earlier, strikes out the side on 10 pitches in the sixth inning of the All-Star Game in Cincinnati. The right-hander with the mud-flap coif whiffs catcher Stephen Vogt, second baseman Jason Kipnis and shortstop Jose Iglesias all on swinging third strikes.
July 19: Keith Hernandez's Existential Crisis. As a Mets-Cardinals game lurches toward the 18th inning and a sixth hour, New York's color analyst appears to run through the five stages of grief during the broadcast. "I'd like to join that guy up there," Hernandez sighs as a camera zooms in on a fan napping in the outfield bleachers during the 16th inning.
Hernandez's anguish is understandable. Through 12 innings, the Mets and Cards were deadlocked 0-0, and then 1-1 through 17. The two lineups combined to go 1 for 34 with runners in scoring position before New York eventually scored the winning runs on a sacrifice fly and a squeeze bunt.
July 23: Three-time Cy Young award winner Clayton Kershaw limits the Mets to three singles in a 3-0 shutout. New York falls to 49-47 but remains just three games behind the Nats in the National League East.
July 28: There is crying in baseball! In the midst of a home win versus the San Diego Padres, word filters down to the field via social media that shortstop Wilmer Flores, 24, has been traded to Milwaukee. Flores, who has been with the organization since he was 16, comes to bat in the 7th inning and is given a standing ovation. As Flores takes the field to start the eighth, he is visibly wiping away tears.
The problem is that social media—for the first time ever?—jumps the gun on the news. The trade falls through, which is why Collins never pulled Flores from the game.
July 28: Closer Jenrry Mejia, who returned from his PED suspension on July 7 and did not allow a run in seven appearances, again tests positive for PEDs and is banned for an additional 162 games. See you...who knows when?
July 31: In the bottom of the 12th inning, Wilmer Flores—remember him?—clouts a game-winning solo home run to lead the Mets past the first-place Washington Nationals. Earlier that afternoon, exactly 13 minutes before the 4 p.m. trade deadline, New York acquires Cuban outfielder Yoenis Cespedes, leading to an onslaught of "A Cespedes for the Rest of Us" memes.
August 12: For reasons no one can quite explain, a neon-yellow parakeet finds a perch in the backstop netting of Citi Field in the first inning of a game against the Colorado Rockies. Later in the same game, Cespedes, the slugger who had yet to hit a home run in 43 at-bats in a Mets uniform (a slugging drought referred to locally as "The Cuban Muscle Crisis"), blasts a solo shot while wearing a neon-yellow arm band. "I knew there was a bird on the field and I wanted to look like the bird," says Cespedes, who will go on to hit 16 more home runs in the final seven weeks of the season.
August 24: David's Back, Part II: In his return to the Mets lineup after battling spinal stenosis, David Wright crushes a homer into the second deck of Citizens Bank Park in Philadelphia with his first swing. His was the first of a team-record eight home runs in one game as New York clobbered the Phillies, 16-7.
September 8: Trailing 7-1 in Washington, the Mets rally for six runs in the top of the 7th against three Nationals pitchers to tie it up. In the eighth, Nieuwenhuis hits his first and only home run since his July 12 power surge to provide the margin of victory. The Mets win all three games of the series in come-from-behind fashion and sweep the Nationals for the second time in five weeks, effectively putting a fork in their season and manager Matt Williams's tenure in D.C.
October 3: Having already clinched first place in the National League East, the Mets are no-hit—again—by Scherzer of the Nationals. (It only seems as if all of New York's games are against Washington.)
October 5: Matt Harvey misses an afternoon team workout and blames it on traffic congestion in the Queens–Midtown Tunnel. Manager Terry Collins gives his truant ace an E-ZPass in terms of assigning blame.
October 21: The Mets dispose of the Chicago Cubs roughly 100 hours after the first pitch of Game 1 of the National League Championship Series, sweeping sports's longest-suffering franchise in four games. Second baseman Daniel Murphy clouts a home run in his sixth consecutive postseason game, ensuring that he will never again have to pay for a beer in New York City whether the tavern happens to be named Murphy's or not.
"Earth...planet Earth," Murphy responds after a reporter asks him what planet he happens to be from.