A Brief History of Politicians' Athletic Missteps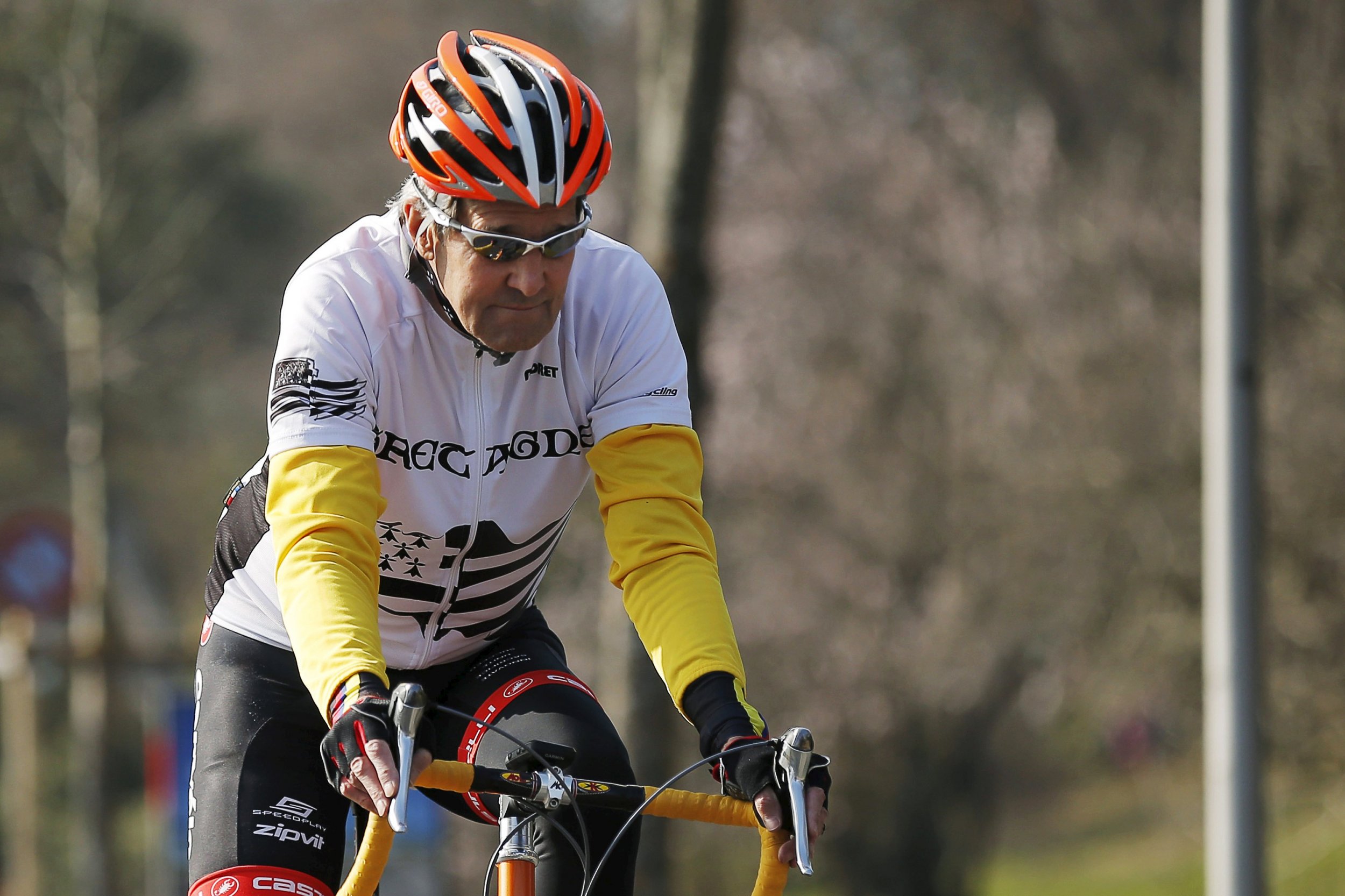 Secretary of State John Kerry broke his right femur while bicycling on Sunday near Scionzier, France. He stayed overnight at a hospital in Geneva, then flew to Massachusetts General Hospital in Boston to see his doctor on Monday morning.
The accident forced Kerry to end his visit in Europe. He previously was scheduled to travel to Madrid on Sunday afternoon, then to Paris on Tuesday to meet with foreign ministers to discuss ongoing action against the Islamic State, or ISIS.
He is expected to recover fully, though his plans for the immediate future remain unclear.
Other political figures throughout history have also sustained injuries while participating in physical activities or organized events—from playing basketball to simply walking.
Harry Reid
The Democratic Senate minority leader broke several ribs and facial bones while exercising inside his home in Henderson, Nevada, on New Year's Day. He fell when the resistance band he was using snapped and hit him on the treadmill.
Less than a week later, Reid missed the first day of the 114th Congress. Later, he announced that he won't run for re-election in 2016, after three decades holding congressional office.
Barack Obama
The former high school basketball player and avid fan of the sport has been photographed playing pickup games with professional athletes. But in November 2010, he got 12 stitches on his upper lip after he was hit in the face playing defense during a pickup basketball game with friends and family.
Dick Cheney
In February 2006, the then-vice president shot lawyer Harry Whittington in the face during a quail hunting trip in south Texas. Cheney, a practiced hunter, reportedly fired his shotgun without realizing Whittington was on the opposite end of the barrel.
"I'm the guy who pulled the trigger and shot my friend, and that's something I'll never forget," Cheney said. Whittington recovered and later apologized that his injuries forced Cheney into the media spotlight.
George W. Bush
The 43rd president fell off his mountain bicycle during mile 16 of a 17-mile course on his ranch in Crawford, Texas, in May 2004. He suffered scrapes and scratches on his chin, upper lip, nose, right hand and both knees. The White House doctor treated him, then Bush finished his ride.
(The former president also choked on a pretzel while watching a football playoff game in January 2002, and fell off a motorized Segway scooter a year later while visiting his parents in Kennebunkport, Maine.)
Jimmy Carter
During a 10-kilometer race in September 1979, the overheated 39th president fainted into the arms of his bodyguards. His doctor deemed him in "excellent form" the next day, the Associated Press reported at the time.
Gerald Ford
Thanks in part to comedian Chevy Chase's impressions on Saturday Night Live, the 38th president was known for his clumsiness. While visiting Austria in 1975, Ford slipped down the stairs of Air Force One next to his wife, Betty.
Theodore Roosevelt
The 26th president boxed for Harvard University's intramural lightweight championship and continued recreationally while he was in the White House. During a match when Roosevelt was president, an artillery officer punched him in the face and smashed a blood vessel in his left eye. The president almost went blind, according to the History Channel.