Remembering the Last 50 Years of Presidential Concession Speeches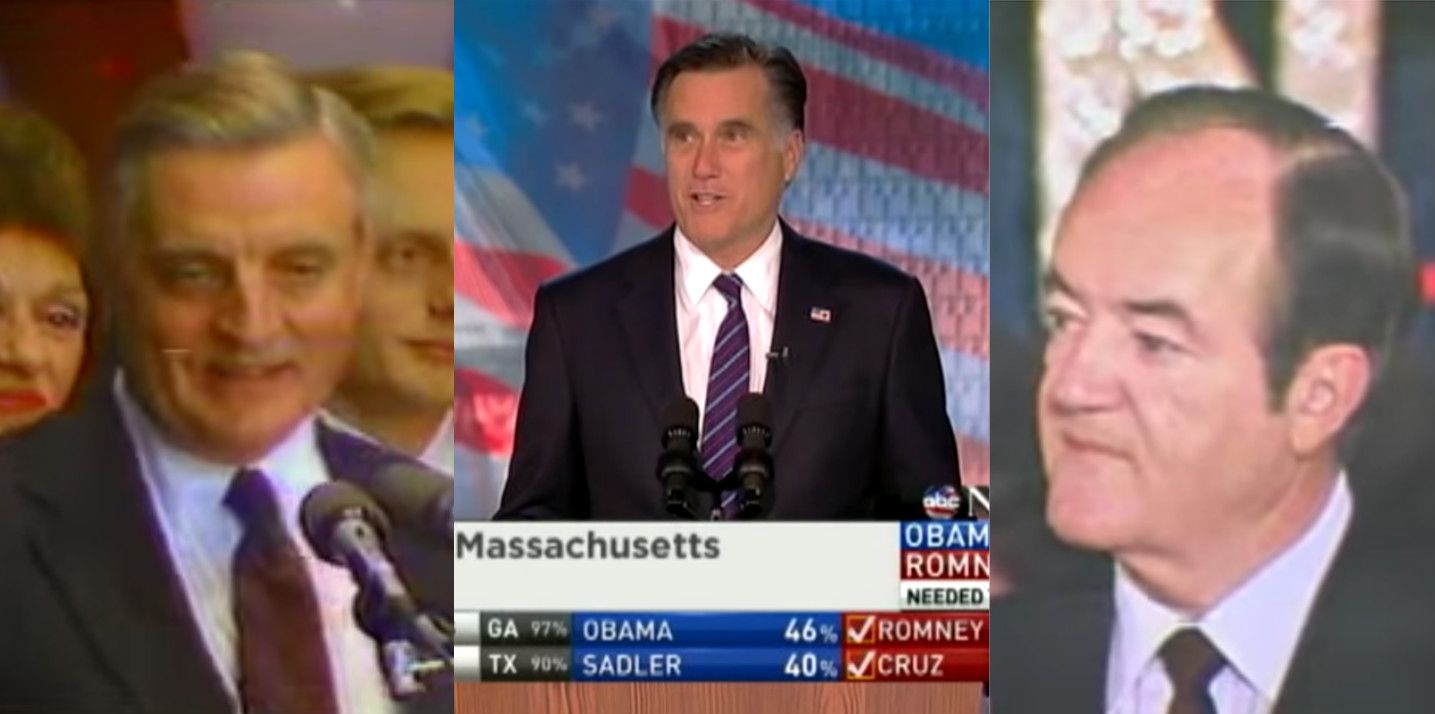 One of the most sacred traditions in American politics is the loser of presidential elections conceding victory to the winner. The peaceful transition of power is one of the pillars on which the country's democracy is built, which is why many found Donald Trump's hesitancy to promise he would accept the election results during the final presidential debate so abhorrent. Now only hours away from a winner being declared, he still isn't sure if he will concede the presidency should he lose. "I want to see what happens, you know, how it goes," he told a local radio station Tuesday morning.
Even if Trump does decide to concede should Clinton be declared the winner, he's not likely to be as gracious as past losers have been in the moments after their defeat was confirmed. If the past 50 years of concession speeches can teach us anything, it's how to exhibit class, decorum and respect for the United States of America at the time when it might be hardest to muster those sentiments. From Mitt Romney in 2012 back to Humbert Humphrey in 1968, here's how to step aside with grace.
Mitt Romney, 2012
In 2012, Romney was calm, composed and smiling with appreciation as he took the stage in Boston, Massachusetts, to inform his supporters that he had just called Barack Obama to congratulate him on his win. He thanked Paul Ryan, his wife Ann, his sons and their families, his campaign team and his supporters. "The nation is at a critical point," Romney said. "At a time like this we can't risk partisan bickering and political posturing." He concluded by professing his belief in the American people.
John McCain, 2008
Not only did a surprisingly emotional John McCain begin his address by mentioning how he just got off the phone with Obama, he mentioned how he "had the honor" of calling Obama to congratulate him. Unlike Trump, McCain understood how important the peaceful transition of power is to our democracy. Conceding is not obligation; it's privilege.
McCain also spoke of "the special significance" the election had for African-Americans and "the special pride that must be their's tonight," before going on to place Obama's win in historical context. Class act.
John Kerry, 2004
After explaining that even after the provisional ballots are counted there will still be no way for him to win Ohio, and thus the election, a sullen John Kerry used his concession speech to stress the importance of coming together as a nation. "America is in need of unity," he said, "and longing for a larger measure of compassion."
He noted how he will do his part to "bridge the partisan divide," and urged his supporters to do the same. "Don't lose faith," he told them. "What you did made a difference, and building on itself we go on to make a difference another day. I promise you that time will come. The election will come when your work and your ballots will change the world, and it's worth fighting for."
Al Gore, 2000
Al Gore's concession speech in 2000 may have been the most unconventional ever in that it took place on December 13, a day after the Supreme Court ruled that Florida's 29 electoral votes would go to George W. Bush. It was also one of the most uncomfortable ever. Gore paused to gather himself for a good seven seconds after stepping in front of the podium. He said that he offered to meet with Bush so they could "start to heal the divisions of the campaign and the contest through which we just passed." He spoke of the need to put patriotism above party politics and how God and the law, not man, is what must govern the nation. He also assured the American people that despite the prolonged battle for Florida, it was time to move on. "While I strongly disagree with the court's decision, I accept it," he said. "I accept the finality of this outcome ... Tonight, for the sake of our unity as a people and the strength of our democracy, I offer my concession."
Bob Dole, 1996
While Al Gore would deliver maybe the sternest concession speech ever four years later, Bob Dole practically delivered a comedy routine in 1996. "I was just thinking on the way down the elevator," he began to a raucous crowd of supporters, "that tomorrow will be the first time in my life I don't have anything to do." The room—and Dole himself—erupted in laughter, and wild cheers would continue to ring out through the remainder of his uncharacteristically upbeat speech.
George H.W. Bush, 1992
"The people have spoken," the elder Bush said after failing to win re-election, "and we respect the majesty of the democratic system." For some reason, we don't expect Trump to speak of the "system" with such admiration should he lose and offer a concession. Bush went on to speak of the importance of ensuring a smooth transition of power. "There is important work to be done," he said, "and America must come first."
Michael Dukakis, 1988
In 1988, a crestfallen Michael Dukakis stuck to the script of preaching the need to work with the winner, George Bush, to take on the "major challenges" that faced the nation. He was eventually interrupted by his supporters chanting "92! 92! 92!" in hopes that their candidate would run four years later.
Walter Mondale, 1984
After a historic drubbing in which he lost every state except Washington D.C. and his home of Minnesota, Walter Mondale could do nothing but smile as he took the stage to concede the election to the incumbent Ronald Reagan. "We honor him tonight," Mondale said of Reagan. "He is our president."
"Although I would have rather won," he added sheepishly, "tonight we rejoice in our democracy, we rejoice in the freedom of a wonderful people and we accept their verdict."
Jimmy Carter, 1980
The incumbent Jimmy Carter was gracious in defeat after losing handily to Ronald Reagan. "I have been blessed as only a few people ever have to help shape the destiny of this nation," he said.
Gerald Ford, 1976
Gerald Ford's concession speech was bizarre in that he didn't give it himself. Citing a throat hoarse from campaigning, his wife Betty conceded on his behalf. Speaking through clenched teeth, she said that her husband asked her to say that he talked to and congratulated Jimmy Carter on his win. "The president urges all Americans to join him in giving your united support to president elect Carter as he prepares to assume his new responsibility," she said, her distraught husband standing over her shoulder the entire time.
George McGovern, 1972
McGovern's concession to the incumbent Richard Nixon was interesting in that it was the last election in which the loser would not call the winner to concede. Instead, McGovern informed his supporters that he sent Nixon a concession telegram. He might as well have drafted it months ahead of the election, as he was only able to manage 17 Electoral College votes and couldn't even carry his home state of South Dakota.
Hubert Humphrey, 1968
"Thank you very much, it's nice to know," Hubert Humphrey said after hearing "We want Humphrey!" chanted from his supporters as he took the stage to concede. Like George McGovern would four years later, Humphrey read from a telegram he sent to Richard Nixon, congratulating him on his win.