A Brief History of Presidential Pardons—Of Turkeys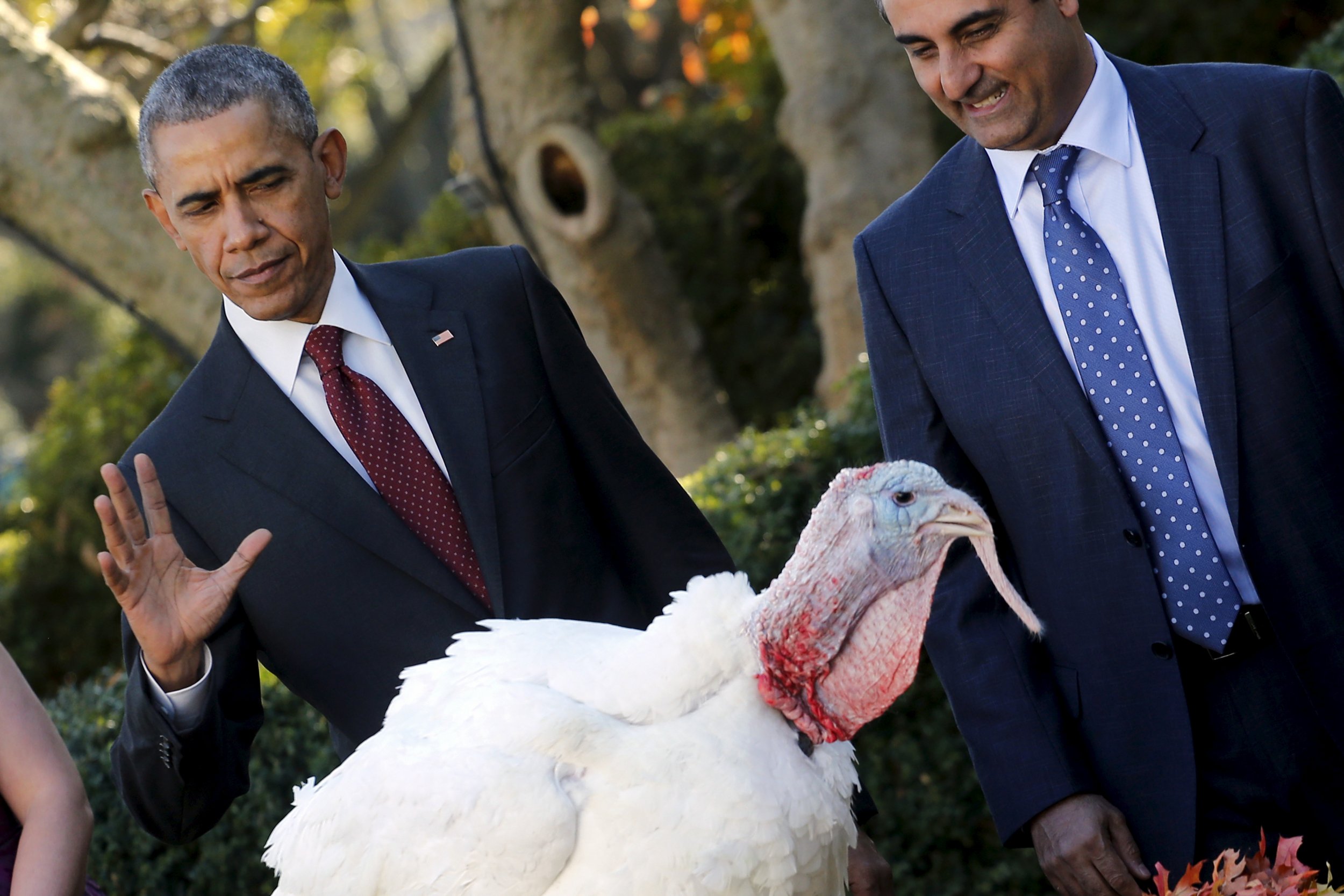 President Barack Obama will spend part of his Wednesday afternoon on a matter of high importance to two of his feathered constituents: He'll pardon turkeys, as part of an ongoing tradition at the White House.
Though only one turkey receives the formal title of National Thanksgiving Turkey, two of the birds will be pardoned. The American public was given the chance to cast ballots to decide which bird, Honest or Abe, won the title. Via a Twitter poll. Abe, a 42-pound bird, received 56 percent of the vote:
After they are pardoned, the turkeys will go on to lives of leisure at Morven Park's "Turkey Hill," a historic farm in Leesburg, Virginia, that was once home to Virginia Governor Westmoreland Davis.
Though the tradition of sending a turkey to the White House was formalized in 1947 by the National Turkey Federation, the turkeys' relationship with the president dates back to 1873, when Rhode Island resident Horace Vose sent President Grant the "noblest gobbler in all that little state." Vose then continued sending the White House its Thanksgiving dinner turkey for over 25 years.
The White House says it's unclear when, exactly, pardoning became the proper tradition instead of eating. "Tales of spared turkeys date back to the Lincoln days. According to one story, Lincoln's son Tad begged his father to write out a presidential pardon for the bird meant for the family's Christmas table, arguing it had as much a right to live as anyone. Lincoln acquiesced and the turkey lived," the White House said in a blog post in 2011.
In 1963, President Kennedy decided the turkey sent by the National Turkey Federation would be returned to the farm, saying, "We'll just let this one grow." The Nixon adminsitration sent turkeys to a petting zoo, but never formally pardoned them. The first proper pardon was organized by the George H.W. Bush administration in 1989, the White House determined, as he said the turkey has been "granted a presidential pardon as of right now."
More than two dozen turkeys have been pardoned since then, though Obama said he genuinely considered eating one of the two birds delivered to the White House in 2009. He wouldn't be totally offpoint: President Truman received a turkey in 1947 and he ate it, according to the Harry. S. Truman Library and Museum. President Eisenhower also ate the turkey.
While most people find the tradition cute, if not a bit silly, Obama's teenage daughters had this (understandable) response at last year's ceremony: