A Brief History of 'Saturday Night Live' Political Impressions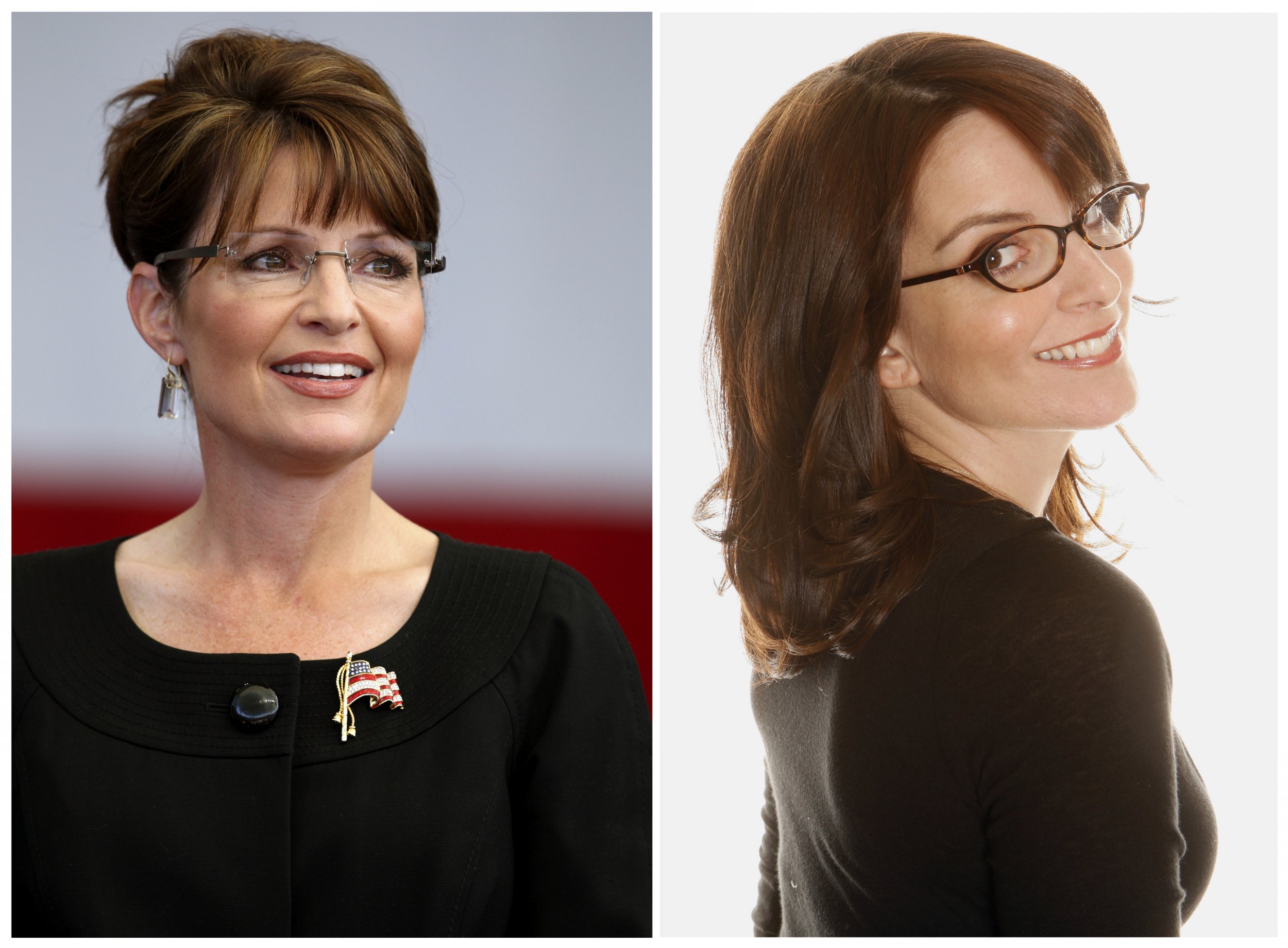 The lead-up to the 2016 presidential election has already prompted its fair share of gaffes, gifs and laughs, many of them courtesy of Saturday Night Live. The legendary sketch comedy show this weekend took on the first Democratic debate, with a few guest stars.
Comedian and Seinfeld creator Larry David opened the show with an impersonation of candidate Bernie Sanders at the debate, which was held in Las Vegas. SNL mainstay Taran Killam parodied former Maryland Governor Martin O'Malley, Kyle Mooney took on the role of former Rhode Island Governor Lincoln Chafee, and frequent SNL contributor Alec Baldwin played former Virginia Senator Jim Webb, poking fun at Webb's consistent pleas for more time during the debate. The versatile Kate McKinnon, a current SNL cast member, played Hillary Clinton, and she did so with panache.
The star was David, though, as he did spot-on plays on Sanders's various stances this past week, including advocating for dismantling banks, pumping up Clinton and saying that her e-mail scandal had been played out in the news, and generally calling for radical reform. "We're doomed! We need a revolution!" he yelled. "Millions of people on the streets! We gotta do something, and we gotta do it now!"
On Sunday, Sanders responded positively to David's impersonation, joking to ABC's "This Week" that the comedian does the senator "better than I do." He's so good, in fact, that Sanders says he may invite David to his next rally.
While Saturday Night Live always aims for laughs, the impersonations also act as potent cultural critiques. One such example is McKinnon's portrayal of Clinton in the sketch, which pokes fun at the double standard that Clinton (as well as Republican candidate Carly Fiorina) face as women in the political boys' club. "I really think you're going to like the Hillary Clinton my team and I have created for you," McKinnon said stoically in her impression. "She's warm, but strong; flawed, yet perfect; relaxed, yet racing full speed towards the White House like the T1000 from the Terminator."
The sketch gets at the heart of a widely circulated September New Yorker piece titled "Why Aren't We Inspired By Hillary Clinton?" In it, writer Allyson Hobbes posits that ingrained sexism hurts Clinton's chances at being a viable candidate that the public roots for. "Our culture, suffused with sexism, plays the role of the arbiter of a candidate's authenticity," she writes. "Clinton must tread lightly: she cannot appear too strong without risking her likability ratings; she cannot appear too vulnerable without her credibility suffering. Herein lies Clinton's dilemma."
Such dilemmas have historically made appearances in Saturday Night Live sketches, as the show has always had its roots in political humor. Who can forget Tina Fey exclaiming, "I can see Russia from my house!" during her impression of Republican vice presidential candidate (and former Alaska governor) Sarah Palin? Or Jon Lovitz, as Michael Dukakis, saying: "I can't believe I'm losing to this guy!" in a sketch about the Democratic debate in 1988? Or Will Ferrell lampooning George W. Bush? And as The Hollywood Reporter notes, an actual president, Gerald Ford, and a future president, Jimmy Carter, both appeared in the show's cold open in April 1976, during its very first season.
The public loves political humor, but Fey's 2008 Palin sketches represented a significant turn for a show that was struggling at the time: It attracted 10 million viewers one night, when she performed alongside Amy Poehler as Hillary Clinton. (Variety notes that in addition to the political humor, this weekend's ratings were boosted by the return to the show of Tracy Morgan, his first appearance since a car crash that left him severely injured.)
Fey and Poehler's impressions certainly represented a coup for women in comedy, too: That sketch, written by Seth Meyers and Poehler, "was two women speaking out against sexism in the campaign," and was decidedly a "sketch about feminism and you didn't even realize it because of all the jokes," as Fey wrote in her memoir Bossypants. "Playing Hillary and Sarah Palin was an indication of women taking center stage in politics in a way that I hadn't been able to experience in my time there," Poehler said in the SNL oral history. Perhaps this signals an impending Carly Fiorina/Hillary Clinton sketch reprising this ultra-feminist move?
Some believe that Fey's impersonation even influenced the 2008 election. As The Washington Post reports, public opinion of Sarah Palin took a nosedive in the polls after Fey's impersonation. Among Republicans and Independents who watched SNL, 45.4 percent said Palin's nomination as veep had made them less inclined to vote for John McCain. Polls have yet to reflect whether David's impersonation of Sanders will influence the Vermonter's standing.
Following the enormous public response to Fey's impression of Palin, political scientists Natasha Walth, Jody Baumgardner and Jonathan Morris wrote in 2012 of a compelling "Fey Effect" that has yet to be proved: "This theory highlights the idea that the media draw 'attention to some aspects of political life at the expense of others.' Citizens, who are overloaded with information, tend to come to judgment by activating familiar concepts — often those that the media have highlighted. Unlike negative political ads, political humor seems to be fairly popular, which could increase receptiveness to the message. And, because political humor is a form of negative priming, it should also be associated with more negative perceptions of its targets, particularly targets that are new to the national political scene."
Regardless of whether the "Fey Effect" is real, at what point did Saturday Night Live become a battleground for presidential campaigns? Perhaps it always has been, albeit unwittingly. The show is influential enough that a coalition has banded together and started an online petition imploring NBC to "dump Donald Trump" from hosting the show on November 7th, as Deadline reports. As of press time, the Moveon.org petition had 113,000 signatures and counting.
Horatio Sanz, who was part of the SNL cast from 1998 to 2006, noted in the Saturday Night Live oral history that longtime producer and creator Lorne Michaels has been the one preventing the show from completely lampooning the pageantry that often constitutes a political campaign. "I don't think the show itself has ever let its freak flag fly in the last 20 years," he says. "Lorne's very concerned with being neutral so he wants to make fun of everyone…. He doesn't want the show to be this liberal bash rag. He may be a little more conservative than he lets on."
Whatever the flag being flown by Saturday Night Live, it seems that people still have their heads craned toward it, interested to see how the cloth billows in the shifting political winds.