A Brief History of Suge Knight's Legal Run-Ins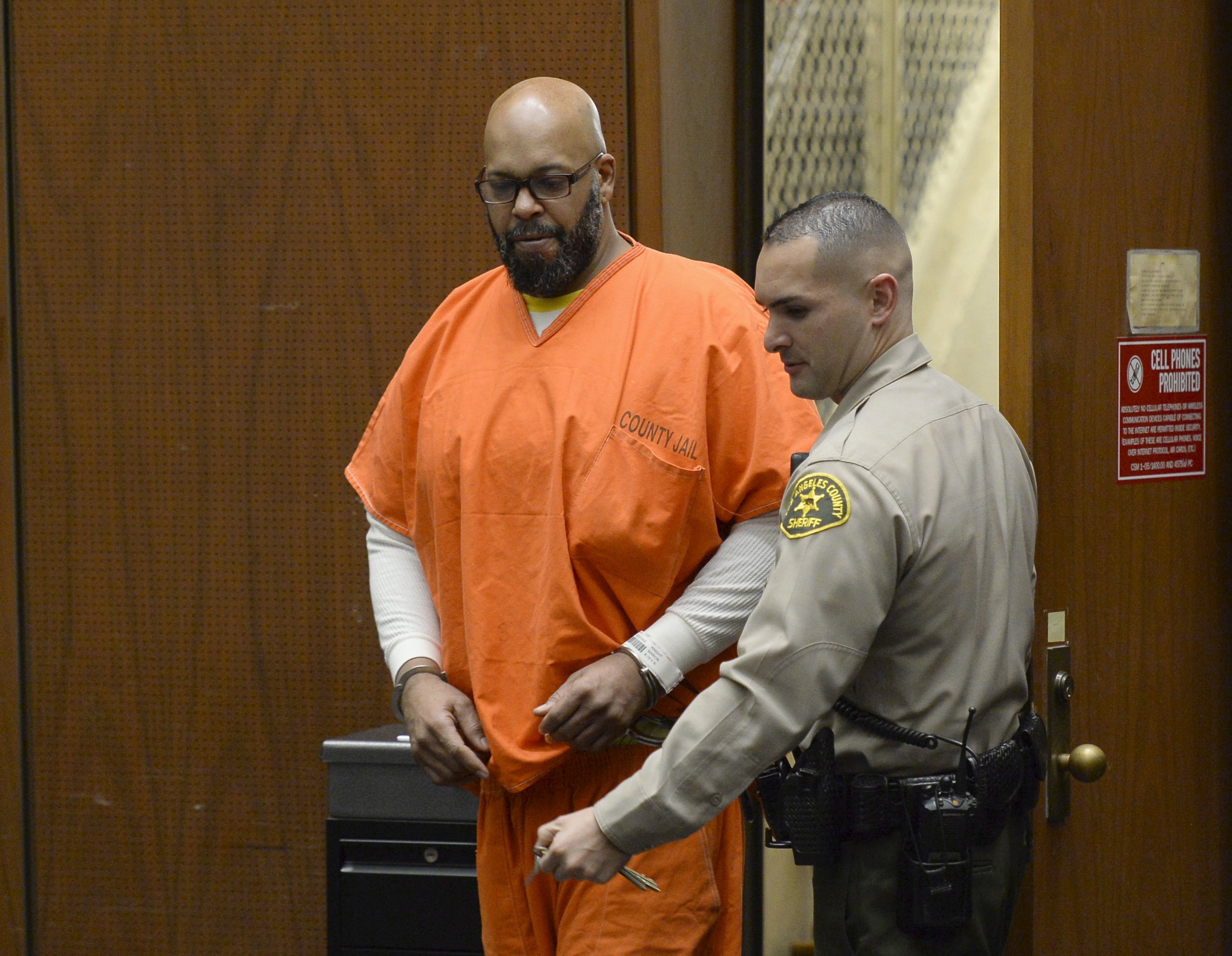 Updated | Death Row Records co-founder and mogul Marion "Suge" Knight—towering, with a face perpetually shrouded by plumes of cigar smoke—helped make gangsta rap marketable and mainstream in the early 1990s. Back then, the wheeler-dealer rolled with the brightest minds of his generation, Snoop Dogg, Ice Cube, Dr. Dre and the late Tupac Shakur included, and raked in an estimated $100 million in sales during the label's peak popularity.
But today, Knight, 50, may be more notorious for his rap sheet than his contributions to rap. It doesn't help that he has a penchant for both instilling fear and being in the wrong place at the wrong time: In 1996, he happened to be driving the very BMW where Shakur was fatally shot in Las Vegas, an unresolved case that's bred its generous share of conspiracy theories. FormerLos Angeles Times reporter Geoff Boucher put it best when he said Knight "became infamous for a strong-arm style and his proximity to people who ended up dead."
Suge—short for "Sugar Bear"—may also be guilty of murder and attempted murder, and he has been accused of extortion, money laundering, assault, drug possession, battery and robbery, among other crimes, over the past 20 or so years.
Knight's troubles with violence are quite public. His legal woes began back in 1992, when he assaulted two aspiring musicians in a Hollywood recording studio, reports Billboard. In 1995 he pled no contest to two felony convictions—one of armed robbery and the other of assault with a gun—stemming from the '92 altercation, and was given five years probation. In 1997, Knight made headlines after he violated parole by getting into a fight a few hours before Shakur was fatally shot. This offense landed him in prison until 2001.
He stayed out of the slammer for two years, but was thrown back in for 10 months in 2003 after punching a parking lot attendant in the face and for violating parole, according to The Wrap. He was arrested again in 2005, after police nabbed him for violating parole and possessing marijuana. For that offensive, he served a week in jail. It wouldn't be long before Knight's next joust, though.
Authorities arrested him once more in 2008, after two Las Vegas Police officers saw Knight "punching a naked woman with one hand and holding a knife in the other" according to the Las Vegas Sun. This happened one whole day after he had posted $19,000 in bail after clearing charges for drug possession, misdemeanor domestic violence and felony assault with another deadly weapon. LVPD cuffed him again in 2012 after discovering Knight held several warrants for traffic violations—as well as pot—in his vehicle, which he was driving with a suspended license.
In 2014, Knight was arrested and charged, along with comedian Micah "Katt" Williams, for stealing a paparazzi photographer's camera in Beverly Hills, California, according to USA Today.
That's just on paper. Knight's lore is another thing entirely. In 2014, he survived after being shot six times at Chris Brown's pre-MTV Video Music Awards party in West Hollywood. And one legend goes that he may have once dangled Vanilla Ice from a balcony after a business deal went sour, but it's unclear what actually went down. Knight refutes this claim.
This brings us up to today, when Knight was back in court for a rearraignment after Superior Court Judge Ronald Coen declared that he would have to stand trial for murder, attempted murder and hit-and-run charges related to the death of Terry Carter and injury of Cle "Bone" Sloan outside Los Angeles burger stand Tam's on January 29, reports ABC News. The altercation stemmed from disagreements on the Compton, California, set of the forthcoming N.W.A biopic, Straight Outta Compton, according to the Los Angeles Times.
James Blatt, Knight's lawyer, told reporters that his client had indeed been behind the wheel that night, but had been trying to escape after being ambushed by Carter and Sloan. He also said Knight had been unaware that he had hit anyone with his red Ford F-150 Raptor—a claim debunked by a security video that surfaced later. In it, Knight is seen putting his car in reverse, hitting Sloan, then switching to drive, running over Sloan's legs and slamming into Carter, reports the Associated Press.
Knight turned himself into LAPD on January 30. He pleaded self-defense in what prosecutors are calling a deliberate hit-and-run attack on Carter and Sloan. His bail was originally set at $2.2 million; a few hours later, Knight was charged with murder and attempted murder. If convicted, he could spend the rest of his life behind bars.
During a March 11 court appearance,the New York Daily News reports that Knight's lawyer claimed the rapper, who wears glasses, was legally blind in one eye and had impaired vision in the other at the time. Therefore, he says, Knight couldn't have turned left down the street in his car following the scuffle.
According to NBC Los Angeles, the district attorney's office consulted a bail magistrate and had Knight switched to a no-bail hold before he could post the $2.2 million sum. At a court appointment requested by Knight's defense on March 20, Judge Ronald Coen reset his bail at $25 million.
Knight collapsed in court shortly following the news, according to NBC. Going down, he hit his head on the courtroom table, and his attorney told the network that Knight remained unconscious for 10 minutes before being ushered to the jail ward at the USC Medical Center. During the trial—which had been delayed because Knight had boarded the bus late to the courthouse—he appeared to be twitching. Later, he was "dripping sweat," his attorney Matt Fletcher told NBC.
Over the past month, Knight has been hospitalized five times during court proceedings for undisclosed "medical care," the Los Angeles County Sheriff's department spokeswoman Nicole Nishida is quoted as saying to The Orange County Register. Back in August, he had been hospitalized for a blood clot near his lung following a fall in jail, according to ABC 7. On May 27, Knight wouldn't leave his cell for another scheduled court hearing, citing that he felt ill. It's since been rescheduled for Friday, May 29, and in the event that he doesn't show, Judge Coen has ordered for Knight to be extracted from his cell by deputies.
In mid-April, Sloan admitted that he had socked Knight through the window of his truck, before the hit-and-run. But according to the Associated Press, he said he didn't recall the altercation, and he refused to testify against Knight in court because he didn't want to be a snitch. Instead, he went on the witness stand and said: "I just know I screwed up, and Terry's dead."
Sloan's reticence is in line with dozens of former friends, publicists, artists, music executives and acquaintances of Knight's, all of whom refuse to speak about the former hip-hop guru on the record. In January, Snoop Dogg, formerly of Death Row Records, hung his head in silence when an Associated Press reporter asked him to comment about Knight's murder and attempted murder charges. After a pause he said: "I had to get Marshawn Lynch on you," in reference to the Seattle Seahawks player's tendency to not answer interview questions.
But today, on the date of his rearraignment, a date was set for the murder case: July 7. It remains to be seen how Knight's tale will unfold over the 16 court days Judge Coen has set aside for the case, according to CBS Los Angeles.