A Brief History of Violent Deaths in the NYPD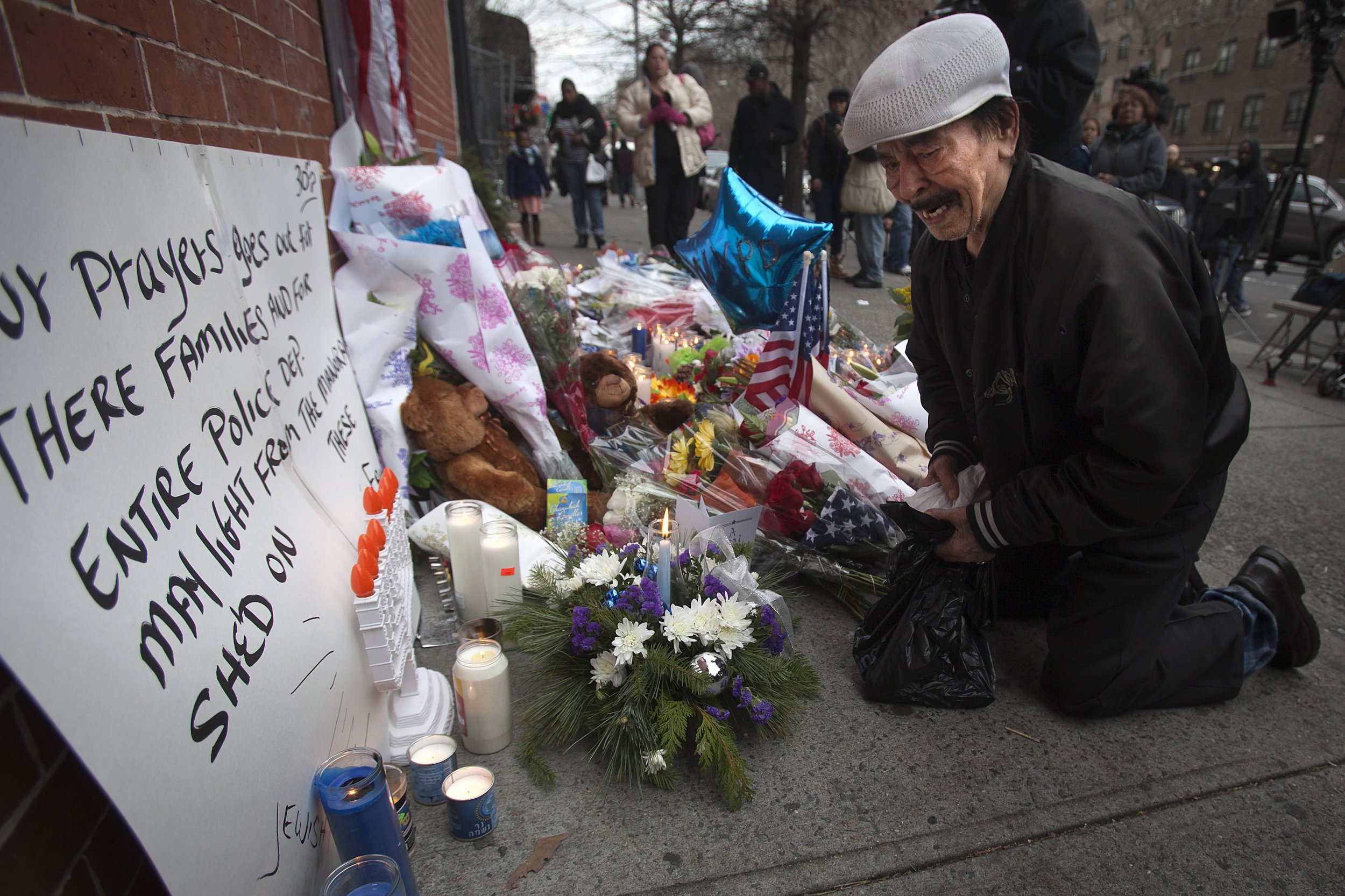 Statistically speaking, policing is not a very dangerous job. It does not rank among the Top 10 most dangerous jobs in the country. And it's getting safer. According to statistics collected by the FBI, 27 law enforcement officers were "feloniously killed" in the line of duty in 2013, down 44 percent from 2012. Seven were killed as a direct result of ambushes like that suffered by Rafael Ramos and Wenjian Liu yesterday.
Ramos' and Liu's deaths mark the first violent deaths suffered by the NYPD since 2011. The Officer Down Memorial Page maintains a free database of all law enforcement officers killed in the line of duty in the United States. What follows is a brief history of notable violent deaths suffered in the line of duty by NYPD officers in recent years.
December 2011: Detective Peter Figoski was shot and killed while responding to a robbery call in Brooklyn. He and his partner arrived at the scene where, unbeknownst to them, the suspects were still hiding. The suspects attempted to flee the scene. Figoski and his partner tried to stop them, and one of the suspects shot Figoski in the head. The man was convicted of second-degree murder and sentenced to 45 years to life in prison.
March 2011: Officer Alain Schaberger was killed after a suspect in a domestic dispute pushed him off a stoop. Schaberger fell nine feet and fractured his neck. The suspect was convicted of manslaughter and sentenced to 28 ½ years to life in prison.
May 2009: Officer Omar Edwards was shot by other police officers. While in plainclothes, Edwards approached a man who had been going through his personal vehicle. The man fled, and Edwards pursued with his gun drawn. Three other officers driving by noticed the chase. One exited his vehicle and shot Edwards.
July 2007: Officer Russel Timoshenko was killed during a traffic stop. Timoshenko and his partner conducted a stop on a suspicious vehicle, which turned out to be stolen. As Timoshenko approached the passenger's side door, a man inside the car opened fire, hitting Timoshenko twice in the face. A man on the other side of the car also opened fire on Timoshenko's partner, but the bullets struck his bullet-proof vest. Three men were charged in Timoshenko's death. Two received life without parole. One was found guilty of criminal possession of a weapon.
March 2007: Auxiliary officers Nicholas Pekearo and Yevgeniy Marshalik were shot and killed in pursuit of man who had murdered a pizza shop employee in Greenwich Village. The man entered the shop and asked for a menu. When the clerk turned to retrieve it, the man shot him in the back and exited the shop. Officers Pekearo and Marshalik, who were unarmed, received a radio call with the subject's description, located him, and ordered him to drop a bag he was carrying. A fight ensued, and the man shot Pekearo then Marshalik before being gunned down by responding units.
December 2005: Detective Daniel Enchautegui was killed while responding to an attempted burglary. Getting home late from work, he heard suspicious noises coming from next door. He donned his police shield and waited outside. When the burglars emerged, he shouted, "Police, don't move." One of the burglars opened fire, striking Enchautegui in the heart. His killer was convicted of aggravated murder and sentenced to life without parole.
November 2005: Police Officer Dillon Stewart was killed during a chase involving a suspect driving a stolen car. Dillon and his partner approached the car in their vehicle. The suspect fled, and shot at them through his window. One bullet struck Stewart. He was taken to a hospital, but died six hours later from his wound. The suspect was convicted of first-degree murder and sentenced to life without parole.
September 2004: Detectives Robert Parker and Patrick Rafferty were killed when a suspect in a domestic violence case they had been working opened fire on them. The two detectives received a call from the suspect's mother, claiming he was trying to steal her car. They arrived at her home and attempted to box the suspect in with their vehicle. A struggle ensued, and the suspect managed to take Parker's service pistol. He shot both Parker and Rafferty with the gun. Both detectives died of their wounds. The suspect was later apprehended several blocks from the shooting. He was convicted of first degree murder and received two life terms in prison with no possibility of parole.
March 2003: Undercover detectives James Nemorin and Rodney Andrews were killed by a suspect during a buy-and-bust operation in Staten Island. The two detectives picked up a suspect who was supposed to sell them a gun. The suspect became suspicious and demanded to search the detectives. When they resisted, he shot both of them in the head. Their killer was sentenced to death before the death penalty was ruled unconstitutional in New York state. He remains in prison.
March 2002: Detective Jaime Betancourt was stabbed his girlfriend's ex-boyfriend when the ex attempted to enter her house uninvited. The ex was sentenced to 17 years to life in prison.
September 11, 2001: The NYPD lost 23 officers in the terrorist attack on 9/11.
February 1988: Officer Edward Byrne was shot in an abush while protecting a witness in a drug case. Byrne was parked in a marked patrol car outside the witness's house when two suspects approached the car. One knocked on the passenger-side window, distracting him, while the other fired into the driver's side, hitting Byrne five times. Byrne's death catalyzed the department to clean up the streets.
October 1988: Undercover officer Christopher Hoban was shot when he refused to sample cocaine he was buying as part of an undercover drug operation in Washington Heights.
April 1972: Officer Phillip Cardillo responded to a call of an officer in need of assistance at the No. 7 Mosque in Harlem. The call was fake. When Cardillo and other officers arrived, their armed presence incited a riot inside the mosque. Cardillo was shot during the riot, and died several days later. No one was ever charged in his death.