Brigitte Bardot: Sex Kitten or Savior of Kittens?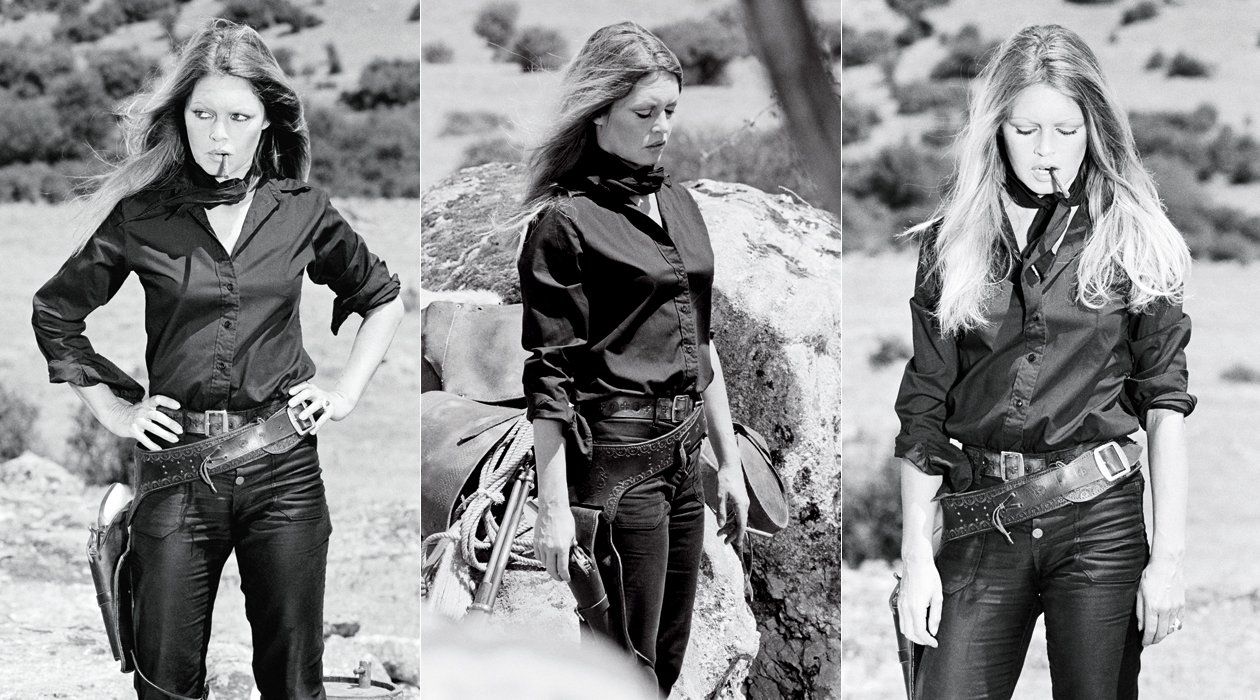 Large photos of the youthful Brigitte Bardot compete with each other on the façade of a prominent store on the Champs-Élysées. They convey just how ahead of her time the film star was. Bardot's young face, body, fashion, and many styles look utterly contemporary. As Burbank, California–based film historian Ken Kramer notes of the old images of her: "That is what women look like now."
The times have caught up to Brigitte Bardot—and in more ways than one. Tastemakers are still capitalizing on her influence; Dior, Gaultier, and Lagerfeld have all organized catwalk tributes to her iconography; and lingerie and fashion models like Lara Stone and Bar Refaeli have risen on the nubile back of early Bardot. In cinema, Laetitia Casta's turn as Bardot in the stylized French film Gainsbourg (2010) may just be the start; Kramer is currently trying to make a Hollywood biopic about her, so far without her cooperation. Not least, a pair of stylish bars (in Los Angeles and Miami) and a lusty Australian "girl band" all go by the same singular name: Bardot. Rarely given to understatement, Bardot wrote in a letter to NEWSWEEK that she is "surprised and proud" of her iconic status these days.
Bardot, who turned 76 in late September, is more than willing to use that nostalgic vision as what she calls a "steppingstone" for her key cause: animal rights. But her zealous stand against the inhumane butchering of animals without anesthetizing them has prompted polemical—some say racist—rants that have threatened to undermine both her cause and her connection to longtime fans. In an August interview on France 1 radio, she harshly criticized halal meat, which, she says, involves slitting animals' throats without sedation. (She previously made similar criticisms of kosher meat.) Bardot also went off topic to support a controversial draft proposal that would have stripped the citizenship of any foreign-born French who fought with police, making them less than full-fledged citizens. And that remark came after previous—and repeated—comments and writings about an "invasion" of halal meat in France.
French courts have convicted Bardot of "incitement to racism" on five occasions in radio interviews or in writing, and fined her tens of thousands of dollars over the last two decades. But as she has become more reclusive—she no longer leaves her home in St-Tropez—more and more people know her only through those interviews. She remains unapologetic; she told NEWSWEEK that "politically correct" judges engaging in remarkable acts of "idiocy" were the problem, not her. "I only want," she wrote, "to protect animals from barbarous, cruel, inhuman and backward rituals."
Henri-Jean Servat, a friend of Bardot's who is the curator of the popular Brigitte Bardot exhibition on display in St-Tropez (until late October), defends her outbursts. "She reacts violently in words to what she sees as violence," he says. "And she used words that she shouldn't have, that were stupid."
Even so, the late-vintage Bardot hasn't yet washed away the glow of her youth. Slightly more than two thirds of the French retain a largely positive view of her, according to a recent survey. Most surely approve of the woman who introduced the French middle class to frivolity, fun, and the sexual revolution. For some, that may combine easily with her passion for protecting animals. But for the rest, today's Bardot seems to be getting in the way of their ability to dream about her.