Who Is Brigitte Macron? France's First Lady and President Have Reverse Age Gap of Donald, Melania Trump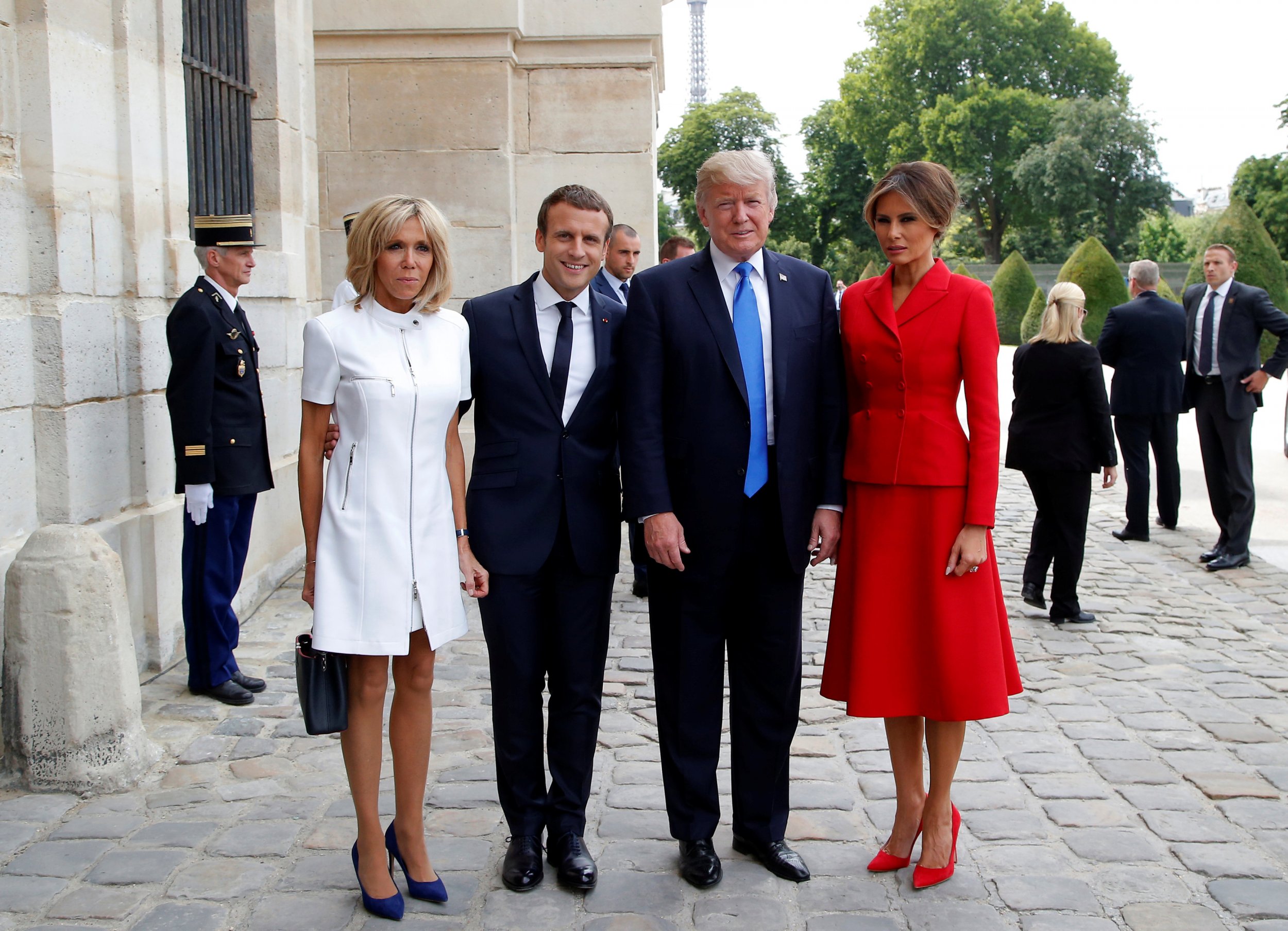 There will be almost perfect symmetry on display when the Trumps and the Macrons sit down for dinner at one of Paris's most exclusive restaurants on Thursday night. While President Donald Trump's penchant for younger women is well known—and includes his marriage to current wife Melania, 24 years his junior—French President Emmanuel Macron has taken the reverse approach.
But, in a symbol of the radically different acceptance standards still applied to men and women who have relationships with younger people, Macron has attracted far more attention for the age difference in his relationship than the American president.
The 39-year-old French president was born a little over 24 years after his wife, Brigitte. It was an age difference that was clear from the very beginning of their relationship. They met, after all, when Macron began taking an after-school drama program taught by Brigitte at his high school in Amiens. At the time, she was Brigitte Trogneux, a married mother of three children, one of whom was a classmate of Emmanuel, then 15.
Brigitte, a French and Latin teacher at the school, said the boy was mature beyond his years.
"[He] had a relationship of equals with other adults," she said later. "I was totally overcome by the intelligence of this boy."
At the tender age of 17, Emmanuel told Brigitte that the pair would marry one day. His parents, though, were less keen on the idea. They sent the future president away to study in Paris, in the hope that he would forget about his crush.
Emmanuel did no such thing, and 10 years after he made the promise to Brigitte—and a year after her divorce—he followed through by asking her children for their mother's hand in marriage.
While Macron is 32 years younger than Trump, the French president has almost as many grandchildren: He has seven, thanks to Brigitte's three children, compared to Trump's eight.
Brigitte sacrificed her teaching career as Macron emerged as an unlikely candidate for president. And Macron repeatedly paid tribute to his wife during his insurgent campaign for president, often putting her front and center in his efforts.
"Without her, I wouldn't be me," he said after coming out on top in the first round of voting in April. Before beating Trump's favored candidate, Marine Le Pen, in the second round, Macron indicated that Brigitte's prominent role would continue in the Elysée Palace.
"If I'm elected—no, sorry, when we are elected—she will be there, with a role and place," he said.