Risks of Pregnancy for Women Over 50? Brigitte Nielsen Announces Pregnancy at 54
This week, Danish-Italian actress Brigitte Nielsen announced she is pregnant at age 54. Although women have successfully carried out pregnancies at age 50 and above, advanced age pregnancies do come with their own set of risks and dangers.
Nielsen announced her pregnancy via social media posts of her wearing a tight white dress, holding a very large pregnant belly with the caption "family getting larger." Nielsen has four sons, but this will be her first child with her 39-year-old husband Mattia Dessì, Yahoo reported.
Medically speaking, women who have children at age 35 or older are considered to be of advanced maternal age, Today's Parent reported. Advanced age pregnancies can be more difficult, and the older you get the more unlikely they are. However, they are not impossible.
"At age 54 it's highly unlikely to happen on its own," Dr. Zev Williams, Chief of the Division of Reproductive Endocrinology and Infertility and Associate Professor of Obstetrics and Gynecology at Columbia University Medical Center, told Newsweek. For example, according to Parents.com fertility appears to decline at age 35, and by 46-50 women have a zero to 1 percent chance of successful pregnancies.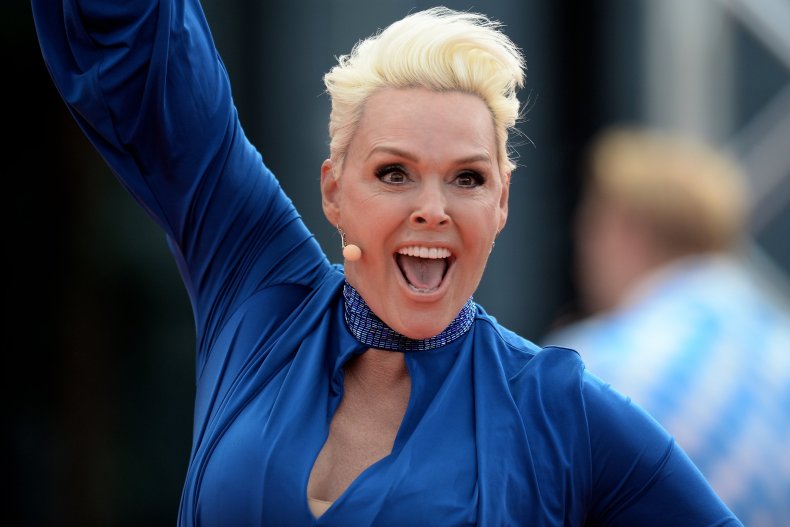 Williams said these advanced age pregnancies are still very possible thanks to advances in fertility treatments. "It's actually very possible, typically using an egg from a younger woman, or an egg the woman had frozen herself at a younger age, or an embryo from a woman of a younger age."
Regardless of how Nielsen conceived, there are still risks to advanced age pregnancies. For example, while the risk of a miscarriage in women aged under 30 is 8 percent, this risk jumps to 60 percent in women aged 44-46, Advanced Fertility Center of Chicago reported. The main reason for this increased risk of miscarriages is increases in chromosomal abnormalities in the egg.
However, if the egg is from a younger donor, or was frozen when the patient was younger, this "essentially eliminates those risks," Williams explained. That's not to say there are no risks.
If you are older than 35, you are more likely to develop high blood pressure during your pregnancy, and this can pose a risk to the placenta and the growth of the fetus, The American College of Obstetricians and Gynecologists reported. Older women are also at increased risk for preterm labor and preterm birth. The risk of stillbirths is also greater for women who are 35 and older. In addition, women over 30 are more likely to need a cesarean delivery than women in their 20s.
Still, these risks do not mean that women of advanced age should necessarily be afraid or discouraged from pregnancy.
"I think that with many things, the key is to tailor the counseling and to cater to the individual cases," said Williams. "There are younger women that it would not be safe to carry a pregnancy and there are older women that it would be safe. Age is not a hard fast rule."