'Bring Back the Big Mac' Sign Mars McDonald's Replacement Opening in Russia
A protester carrying a "Bring Back the Big Mac" sign crashed the opening of Russia's McDonald's replacement on Sunday.
McDonald's, along with a myriad of other companies, pulled out of Russia in March following the country's widely-condemned invasion of Ukraine. Months later, the first franchises of a new fast food chain meant to replace the 850 locations across the country opened this weekend.
However, the unveiling of the restaurants was marred by a protester carrying the sign, calling for a return of McDonald's popular hamburger after a news conference about the opening.
Restaurant staff members quickly escorted him off the premises, Reuters reported. Further details about his protest, and who he is are currently unknown.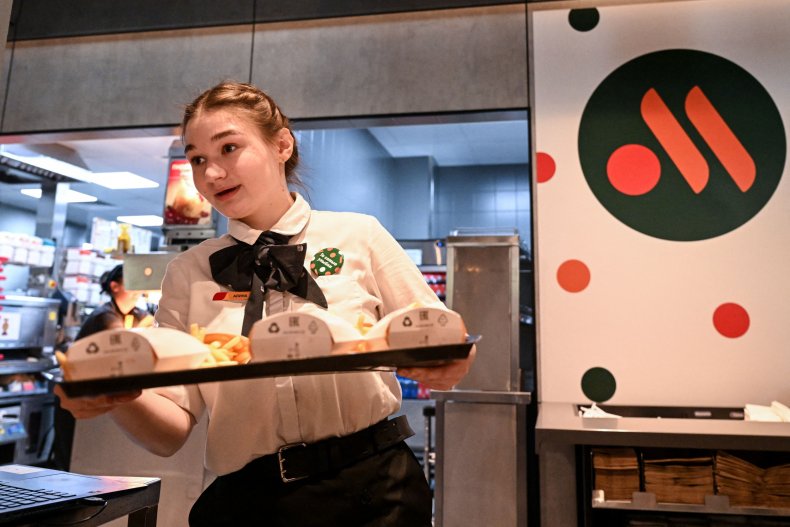 Photos of his protest were then plastered on social media afterward.
The man is seen holding the homemade sign in front of a crowd of photographers and reporters inside the restaurant, with the logo for the restaurant, Vkusno & Tochka, which translates to "Tasty and that's it" is seen in the background.
Large crowds gathered outside of the restaurant after Russians went months without the fast food restaurant. The openings symbolically began on Russia Day, which celebrates national pride to commemorate the declaration of sovereignty in 1990.
The restaurant has a more limited menu that also excludes the McFlurry and some other burgers, according to Reuters. However, management maintains that the burgers' composition has stayed the same, and that they are using the same equipment as when they were McDonald's.
The stores even reused leftover McDonald's sauce packets, with the old logo being scribbled over with black markings, according to Reuters. Although only 15 restaurants opened Sunday, more than 200 are set to open by the end of this month and all are expected to be open by the end of the summer.
McDonald's initially closed down its locations, at first describing the move as a "temporary" pause in operations amid the ongoing war. However, the company announced plans to leave the country altogether last month.
Executives concluded that ownership was "no longer tenable" or "consistent with McDonald's values" after seeing the scope of the conflict—as well as the "unpredictable" operating environment, according to the statement.
Alexander Govor, the owner of the new fast food chain, said that while the Big Mac will not be offered, he hopes to offer something similar.
"The Big Mac is the story of McDonald's. We will definitely do something similar," he said, according to Reuters. "We will try to do something even better so that our visitors and guests like this dish."