Bringing Up the Rear—but Finishing—the Iditarod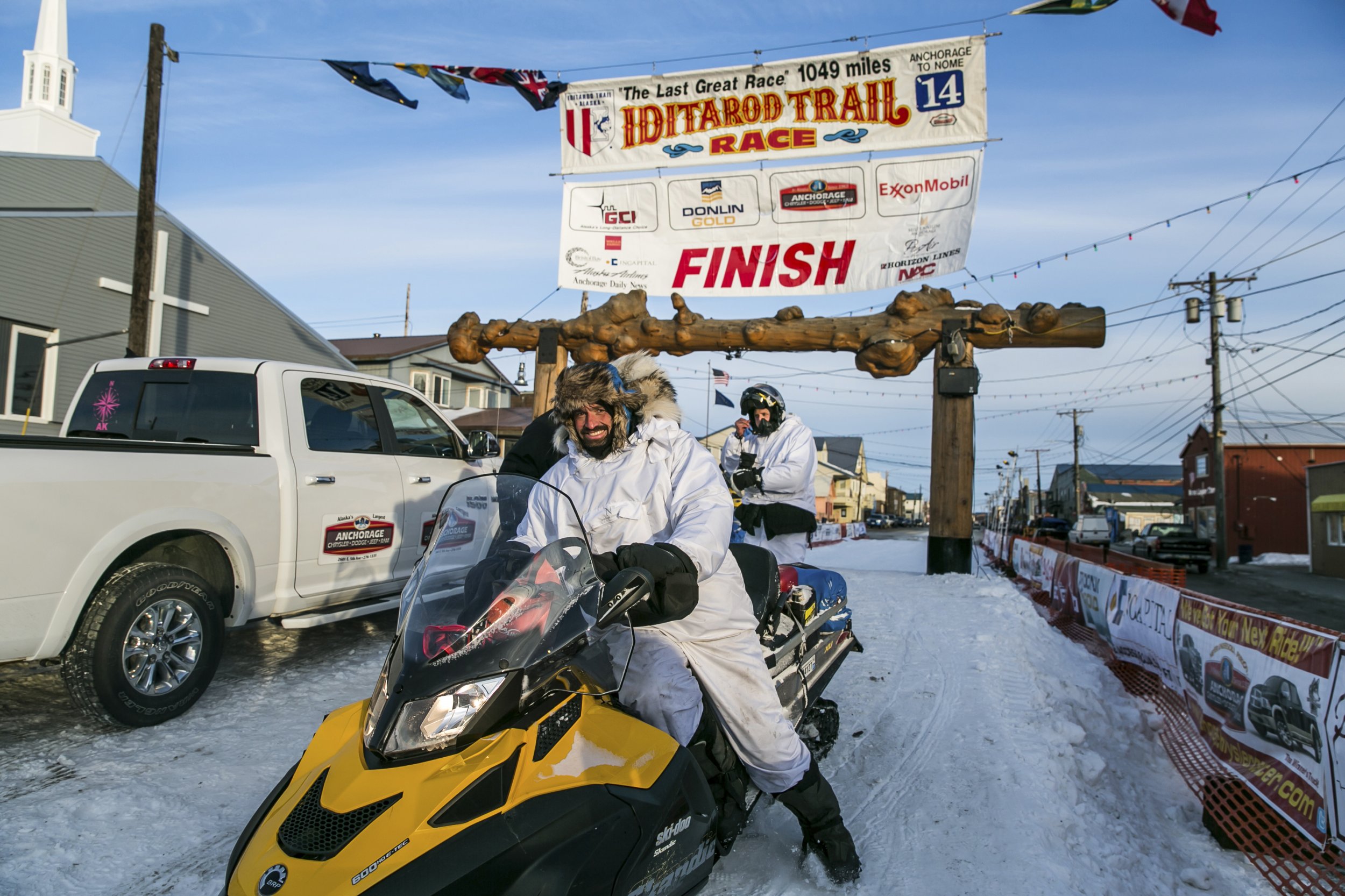 The leaders in the 43rd annual Iditarod Trail Sled Dog Race pulled into the race's halfway point, the remote village of Huslia, Alaska, on Thursday. Paul Burmeister, 39, who has finished 15 Iditarods but has never won the 1,000-mile race, was the first to arrive in this community of 300 people, the northernmost outpost on this year's route.
The Iditarod commenced with 78 mushers and dog sled teams on Monday in Anchorage, Alaska's largest city, and will finish, as it always does, in the coastal town of Nome along the Bering Sea. The winner receives $70,000 and a new truck. A victory by Burmeister, who has finished in the top 10 three times in the past four years, would certainly be hailed in Nome. It is his hometown. They know him in Nome.
Meanwhile, another musher in the remaining field of 75 (two dropped out and a third was disqualified for having a two-way radio) is chasing a more extraordinary feat. Dr. Ellen Halvorsen, a 54-year-old psychiatrist from Big Lake, Alaska, is currently in last place. Halvorsen has already finished in last place twice before in the Iditarod, in 2003 and 2007, with the emphasis being not on the word "last" but rather on "finished."
Each year anywhere from 10% to 25% of the Iditarod entrants drop out before reaching the great burled arch in Nome that serves as the finish line. That Halovrsen has twice finished last, earning the coveted Red Lantern trophy, is as much a testament to her endurance as it is to her team's languid pace.
Almost exactly one year ago, Newsweek ran a profile of Dr. Halvorsen. As we wait to see if Halvorsen will capture a third Red Lantern, we revisit our profile on her from March of 2014….
"I don't think I've ever been first in anything," says Ellen Halverson, 53, who is to trail sled dog racing what the fat lady singing is to opera.

Halverson's self-assessment is not entirely accurate. She has twice finished last in the Iditarod, Alaska's annual 1,049-mile trail sled dog race, which is a first. No one else has ever finished last - emphasis on the word finished - more than once since the trek's inception in 1973. Only Halverson, who finished last each of the last two times she entered, in 2007 and 2011, has done so. She has paid the $3,000 entry fee for this year's Iditarod, which began on March 2, and this time the last place Halverson wants to finish is last place. "It's time for someone else to bask in the glory of the Red Lantern," says Halverson, a resident of Big Lake, Alaska. "I really don't want to be last."

For those few souls unfamiliar with the customs of trail sled dog racing, it is a tradition to bequeath a red lantern to the last musher who finishes a race. This totem, this dubious trophy, is an homage to an era in which dogsleds were the 18-wheelers of The Last Frontier. In those days, when Seward's Folly was not yet an ironic term, a lit lantern in a window served two purposes: It meant that a sled was still out on the trail, and it also served as a beacon to guide a musher through darkness or a blizzard. At the Iditarod and other such races, the awarding of the red lantern signifies the race's completion.
Read the full profile here: Finishing Last in the Iditarod, Twice