On Brink of Defeat, Trump Is Losing Control of Republicans
Some Republicans are distancing themselves from President Donald Trump's calls to stop vote counting and his claims of election fraud, as counts in key states come to a tipping point.
The president has prematurely claimed victory and alleged voter fraud on a number of occasions over the past few days, without supplying evidence. On election night he said: "This is a fraud on the American public. This is an embarrassment to our country. We were getting ready to win this election. Frankly, we did win this election."
The next day he escalated his claims of election fraud in a series of tweets, despite backlash from some supporters.
Among senior Republicans criticising the president was Senator Pat Toomey from Pennsylvania. He said in a statement, shortly after Trump's claims of voter fraud, that once the state's final election count is "reached and certified, all parties involved must accept the outcome of the election regardless of whether they won or lost."
Toomey said: "All votes that comply with Pennsylvania law must be counted, regardless of how long the process takes."
He called for patience amid Trump's barrage of tweets demanding states stop the count.
Will Hurd, a retiring Republican U.S. representative from Texas, also hit out against the president.
He tweeted: "A sitting president undermining our political process & questioning the legality of the voices of countless Americans without evidence is not only dangerous & wrong, it undermines the very foundation this nation was built upon. Every American should have his or her vote counted."
Maryland Governor Larry Hogan, a Republican, made comments on Trump's Thursday move to legally challenge election results in an interview on the Firing Line with Margaret Hoover. He said that Trump has always been "very litigious" and that he has used law suits in a "strategic" way.
"Frivolous lawsuits to drag this out if there's no merit to them, absolutely is wrong for the country," Hogan said.
He also tweeted Thursday: "There is no defense for the President's comments tonight undermining our Democratic process. America is counting the votes, and we must respect the results as we always have before. No election or person is more important than our Democracy."
Hogan has also been a vocal critic of the way Trump has handled the coronavirus pandemic, previously accusing him of mixed messaging.
The Race for the White House
The incumbent president is on the brink of losing his place in the White House, as a few key states continue counting ballots.
With five states left to call, Biden has 264 electoral college votes to Trump's 214, according to The Associated Press' data, with 270 required to secure the presidency. The Democrat's lead includes Arizona's 11 votes as AP has called the state for Biden. However, other news and data gathering organizations haven't made that call and the Trump campaign has said the president can still win there.
Of the five states left to declare (Pennsylvania, Alaska, Georgia, Nevada, North Carolina), Pennsylvania and Nevada could prove crucial, while Georgia may deliver a surprise upset.
As counting continues in Georgia, with an estimated 99 percent of the votes recorded, Democratic hopeful Joe Biden is close to winning the 16 electoral college votes on offer. On Friday morning, Biden overtook Trump in the state for the first time. Pending legal challenges and recounts, winning Georgia would secure Biden the presidency.
Meanwhile, even if Trump wins all four remaining states other than Nevada, he would still come up short with just 268 electoral college votes.
Pennsylvania, where counting is still in progress, is also getting closer. With 95 percent of votes counted, Trump holds a 0.3 percentage point lead over Biden's 49.2 percent vote share.
Pennsylvania's 20 Electoral College votes would hand Biden the presidency even if he loses the other states still counting, while a Trump win there would not guarantee him second term.
Republican Dissent
Among other more obvious Republican dissent, Vice President Mike Pence's messaging on the election indicated a reluctance to echo Trump's views when it comes to claiming voter fraud. Pence struck a conciliatory tone in a campaign email last night, saying: "While the votes continue to be counted, we are going to remain vigilant."
Pence has not been using the same language that Trump has regarding "stealing" the election.
Donald Trump has demanded loyalty from Republican colleagues throughout his term, and many have avoided directly criticising him. But now some senior Republicans are voicing frustration with his attacks on the election process.
Sen. Mitch McConnell from Kentucky, who was re-elected with 58.2 percent of the vote, told reporters on Thursday: "Claiming you've won the election is different from finishing the counting.
"My personal view is it's none of the federal government's business how state's decide to conduct their elections. It's been for 230 years a state decision, and we have to adapt to how states choose to do it. It's perfectly okay to complain about a particular system if you don't like it, but ultimately if there's a dispute over it, it's going to be resolved in court."
Backing this up, McConnell tweeted this morning: "Here's how this must work in our great country: Every legal vote should be counted. Any illegally-submitted ballots must not. All sides must get to observe the process. And the courts are here to apply the laws & resolve disputes. That's how Americans' votes decide the result."
U.S. Rep. Adam Kinzinger from Illinois said on Twitter: "We want every vote counted, yes every legal vote (of course). But, if you have legit concerns about fraud present EVIDENCE and take it to court. STOP Spreading debunked misinformation... This is getting insane."
Rep. Denver Riggleman backed this call up, tweeting: "Like @RepKinzinger I took an oath to defend this country and fight for the democratic ideals it stands for. Count every vote, yes, but stop the Bravo Sierra, Mr. President, and respect the democratic process that makes America great."
Sen. Bill Cassidy from Louisiana also tweeted: "I continue to hope for President Trump's victory. I respect all parties' right to pursue their claims to ensure a transparent and fair election. It is important that every legal vote be counted. It is especially important that the process be respected. I have faith in the process."
Alongside these, former Governor of New Jersey Chris Christie told ABC News that it is Trump's "right to pursue legal action, but show us the evidence. We heard nothing today about any evidence."
He said, as someone who has been on the ballot before, as a candidate you are "even more invested in the integrity of the system."
"This kind of thing, all it does is inflame without informing, and we cannot permit inflammation without information," he continued.
Former Republican presidential hopeful Mitt Romney, currently serving as U.S. Senator from Utah, has been a vocal critic of Trump in the past. He tweeted that "counting every vote is at the heart of democracy," calling for patience with the process.
Former U.S. Senator from Arizona, Republican Jeff Flake tweeted on Election Day: "America is on display today. And it's a good look. Election officials and volunteers around the country are working tirelessly in a non-partisan manner to ensure that every ballot is counted. What a great country we live in."
He followed Trump's fraud comments, with a tweet, saying: "No Republican should be okay with the President's statements just now. Unacceptable. Period."
Flake previously urged people to vote for Joe Biden in a video on his twitter account.
Sen. Mike Crapo from Idaho, a Republican, had a measured message on the vote counting: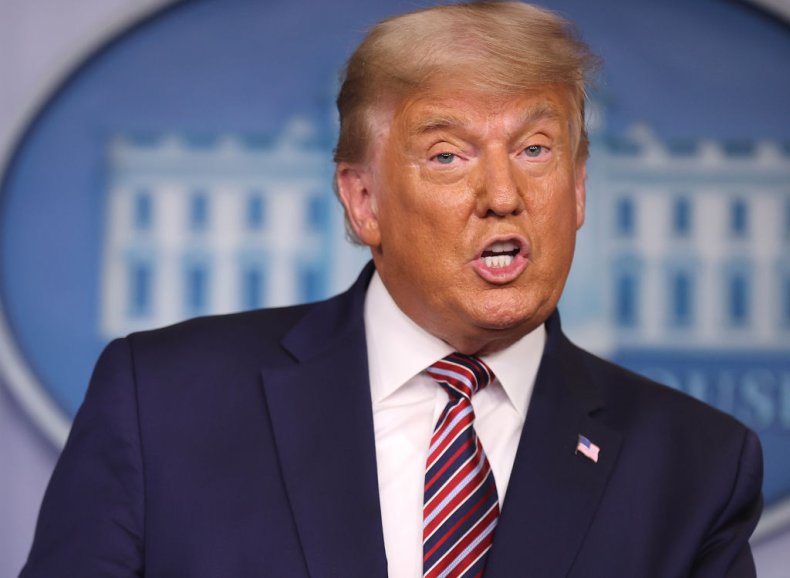 In Defense of Trump
Trump's former campaign adviser Brad Parscale was among allies asking Republicans to rally around the president. He tweeted: "If you want to win in 2024 as a Republican. I would probably start saying something. Just saying."
The president's sons also came to his defense. Donald Trump Jr. tweeted: "Losing fair and square is one thing but in the face of all of this video evidence, lack of transparency, boarding up of windows, fighting to prevent poll watching etc etc... for GOPers to not stand up now shows your true colors. Will make the 2024 primary process a lot easier."
Eric Trump tweeted: "Where are Republicans! Have some backbone. Fight against this fraud. Our voters will never forget you if your sheep!
Conservative commentator Dan Bongino tweeted: "Awfully odd that some of the people on the GOP side, who just rode Trump's coattails to an enormous GOP down-ballot upset, seem pretty quiet about the bulls*** going on right now. SPEAK UP. WE'RE ALL LISTENING!"
Republican Representative-elect Ronny Jackson from Texas, who was formerly Donald Trump's White House physician, tweeted: "RINOs in the Republican Party need to STAND UP for President Trump and fight back against the Democrats and their election fraud. This election is too important! We must #ProtectTheVote https://t.co/BrcOEUl5Dy"