Britain Apologizes to Rendition Victims as U.S. Reflects on Torture Program
British Prime Minister Theresa May has issued an apology to two Libyan victims of the Anglo-American extraordinary rendition program, who were imprisoned by former Libyan leader Muammar el-Qaddafi after MI6 and the CIA delivered them to the dictator.
Abdul Hakim Belhaj and his wife, Fatima Boudcharm—who was then five months pregnant—were abducted by American agents in Thailand in 2004, after Britain's MI6 secret service tipped the CIA off to their whereabouts, the BBC said.
Belhaj was imprisoned by the Qaddafi regime for six years, during which time he said he was tortured regularly. Boudcharm was released from prison shortly before giving birth, and Belhaj was freed in 2010.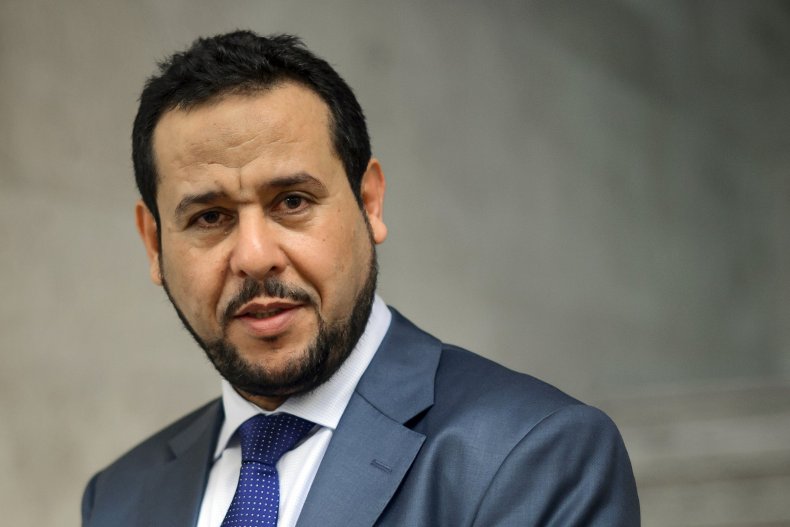 In a letter written by May and read out by attorney general Jeremy Wright in Parliament, the prime minister apologized "unreservedly" for Britain's role in the couple's detention, rendition and "harrowing experiences" they faced. May said accounts of their "appalling treatment" were "deeply troubling."
"The U.K. government believes your accounts. Neither of you should have been treated in this way," May wrote. The government also paid a $676,000 settlement to Boudchar. Belhaj, who is now a politician in Libya, had not sought any financial compensation.
The abduction of the couple was part of the global rendition policy operated by the U.S. and its allies during the "War on Terror." Though initiated during the Clinton administration, the 9/11 attacks transformed the rendition program into what former CIA lawyer John Radsan called "an abomination."
Terror suspects would be abducted in countries all over the world and whisked away on private jets, sometimes to prisons in their home nations, sometimes to Guantanamo Bay and sometimes to CIA "black sites," where torture was routine. According to the Open Society Foundations, 54 nations cooperated with the U.S. rendition program in some way.
In a clear reference to the U.S., May's letter continued, "We should have understood much sooner the unacceptable practices of some of our international partners and we sincerely regret our failures."
America's use of torture during the War on Terror is back in the headlines. Yesterday, Gina Haspel, President Donald Trump's pick as the new head of the CIA who ran a black site in Thailand in 2002, faced probing questions from senators during her confirmation hearing.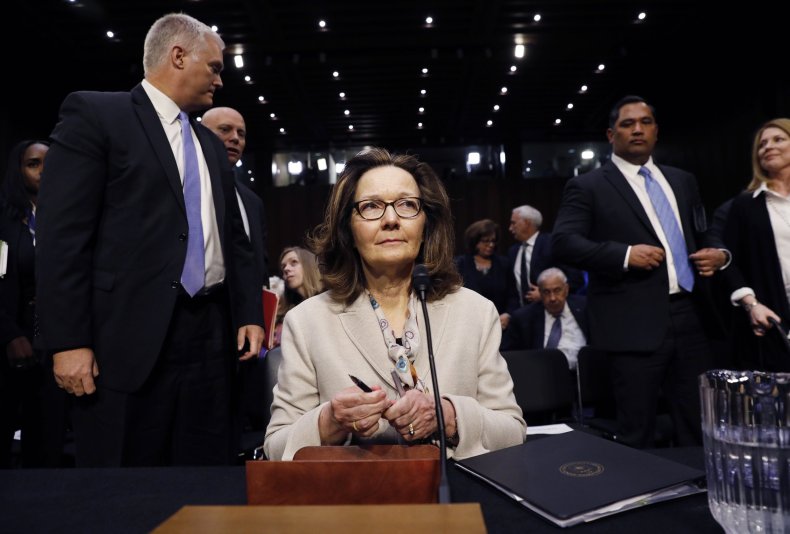 When asked what she would do if Trump asked the CIA to torture a high-value prisoner, Haspel struggled to answer. Replying to Republican Senator Susan Collins, Haspel began, "Senator, I would advise," before hesitating and starting her answer again. "I do not believe the president would ask me to do that," Haspel said, as laughs rang out from the public gallery.
Haspel then explained that interrogations are no longer part of the agency's remit. "CIA does not today conduct interrogations, we never did historically, and we're not getting back in that business," she told senators, a claim that is not entirely true.
The black site run by Haspel interrogated al-Qaeda suspects using methods including waterboarding, a form of torture now synonymous with American overreach in the aftermath of the 9/11 attacks. In 2005 she supported the decision to destroy dozens of videotapes of interrogation sessions, claiming they could have endangered American lives if they got into the wrong hands.
Haspel's hearing was interrupted twice by protesters, who were dragged from the chamber by police. One shouted "Bloody Gina! You are a torturer!" before being removed.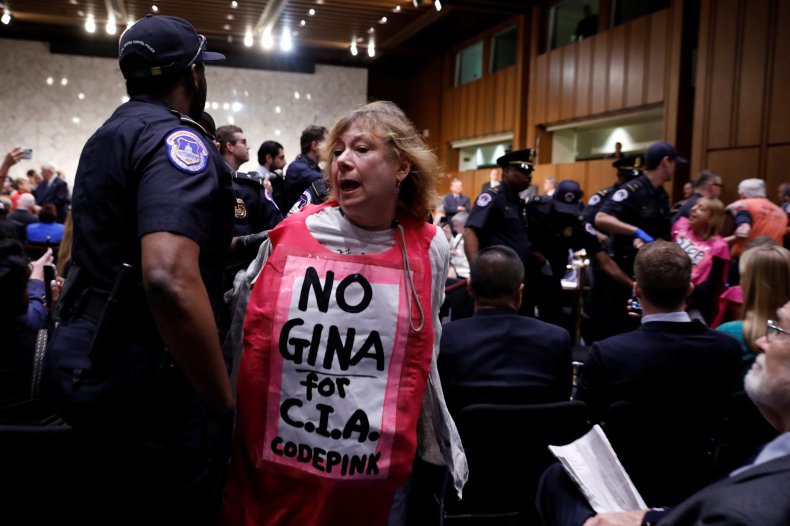 Reflecting on her service during the War on Terror, Haspel said that under her leadership the CIA "will not restart such a detention and interrogation program." Still, her confirmation as the next CIA director is not guaranteed. While Republicans are largely behind her, their majority in the Senate is slim—51 to 49—and Haspel lacks Democratic support.
Republican Rand Paul has already said he will not back Haspel's nomination. As such, cross-aisle help may be needed to get her over the line. So far, only one Democratic senator, Joe Manchin of West Virginia, has publicly said he will vote for Haspel.
On Wednesday, Arizona Senator John McCain, currently recovering from brain surgery and unlikely to vote, urged the Senate to reject Haspel as new CIA director. The veteran politician, himself a victim of torture during his time as a prisoner of war in Vietnam, said Haspel had "failed to account for the mistakes the country made in torturing detainees held in U.S. custody after the September 11th attacks." He said Haspel's "role in overseeing the use of torture by Americans is disturbing" and that her "refusal to acknowledge torture's immorality is disqualifying."