The United Kingdom is hoping to become one of the first countries in the world to offer nationwide testing as it buys 200 million 15-minute COVID-19 tests to be rolled out in January across the country.
The plan is to buy more than 60 million rapid tests each month, reportedly reaching 192 million purchased by March. This would mean that nearly every resident could be tested once each month. This follows a trial taking place in Liverpool, north-west England, which is attempting to test everyone in the city and the surrounding region, made up of around 600,000 people.
Plans are already in place, U.K. Health Secretary Matt Hancock has revealed, to roll out this testing to 70 local authorities including London, Birmingham, and Manchester, assuming all goes well in the Liverpool trial.
This is part of the so-called "Operation Moonshot" and would allow lockdown to ease as people could carry around a certificate on their phone saying they were clear of COVID-19, allowing entrance to sporting events, bars or restaurants and a return to a more "normal" version of everyday life.
These tests allow a result in around 15 minutes and are a different method to the ones seen in the U.S. and the U.K. so far.
"We're having to rely on slightly less-good tests to test so many," Dr. Henrik Salje, of the Cambridge Infectious Diseases research center at Cambridge University, tells Newsweek. "This means you need to have quite a bit of the virus to be able to detect it so people who might be earlier in their infection or a low level of infection might not necessarily show a positive infection."
Slovakia was the first country in the world to establish country-wide testing. Every Slovakian over the age of 10 - around 3.8 million people - is being encouraged to get tested. This will then be repeated in rounds of tests each month. In the first weekend of the scheme, Slovakia tested around 3.6 million people.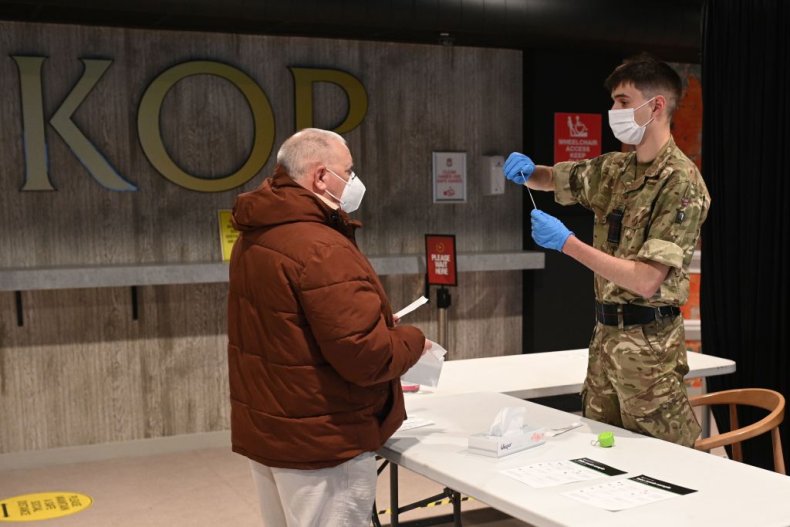 A similarly aggressive testing scheme was set up in Luxembourg though its population is around 600,000. Both are much smaller than the logistical challenge facing the U.K.. The British adult population is estimated to be around 52 million.
Until now, Britain has relied on testing that needed laboratories to process the tests and send results back to people. The government promised that this testing capacity would reach 500,000 a day, a target that was met at the end of October, according to official figures. The actual tests processed that day were around 300,000 and critics have questioned if 500,000 is possible in practice. But this new type of test would solve this issue, at least in part, as it does not require a laboratory.
"The details matters here and the tests are different," Dr. Salje says. "The antigen testing is easier to do on a mass scale. Current U.K. testing is PCR-based, requires more facilities, and is more difficult to scale up.
"There is a trade-off - how sure do you want to be that this person has the virus or not and across this huge body, who is infected and where are they with the risk of missing some. Both are important but it depends on what you're trying to do with the test. The introduction of population-level testing can add a lot and makes sense for the U.K. to explore."
This exploration is not without its critics. The accuracy of this new antigen testing is around three in four positive cases of COVID. While this goes up to 95 percent accuracy for those with a high viral load, it is unknown if those with less of the virus or fewer symptoms can transmit it as readily.
"It might be that people with lower levels are less likely to transmit it, we're not sure yet," Dr. Salje says. "So these false negatives might not matter. For people earlier in their infection, they might go on to end up having more virus and be more infectious. In Slovakia, their plan is to go back and re-test and that seems like a sensible strategy."
The timing of this is crucial, with Christmas and a prospect of a vaccine looming on the horizon. It remains to be seen if the "Operation Moonshot" strategy of testing everyone will only be fully established after the vaccine is available, rendering it redundant. But the British government has promised to do "whatever it takes" to deal with COVID-19 and a vaccine is still not a certainty.
Officials hope that the country can get back to a version of normal as soon as possible.
The Department of Health has been approached by Newsweek for comment.