Britain To 'Bear Down On Migration' After Boris Johnson Election Victory
Britain is set to "bear down on migration" now that the country's Prime Minister Boris Johnson has secured a sweeping victory in the United Kingdom's general election.
Johnson's Conservatives claimed 364 of the 650 seats in the House of Commons in Thursday's vote, with all but one seat counted, according to the BBC. The victory represented the party's best results in a parliamentary election since Margaret Thatcher's third-term win in 1987.
The graphic below, provided by Statista, illustrates the swing in favour of the Conservatives.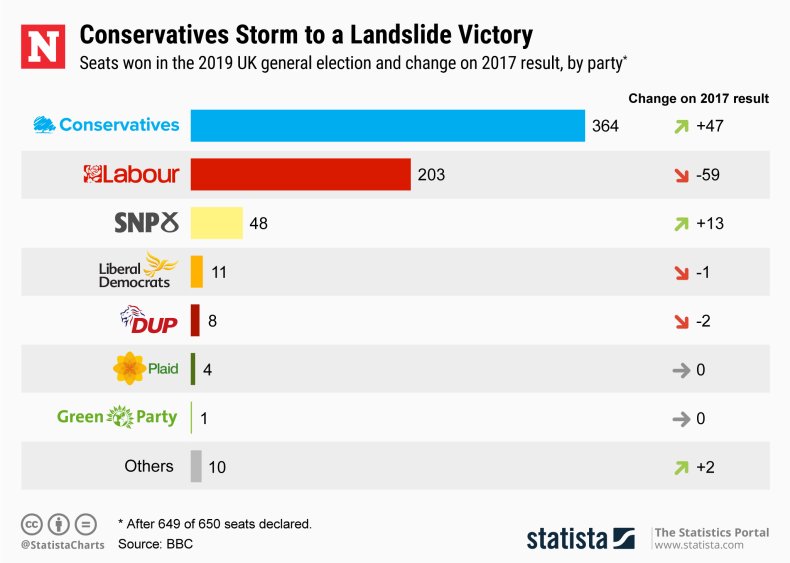 In his victory speech, Johnson told supporters that a "new dawn" had come for the country, as he vowed to lead a "people's government."
With that new dawn, comes a promise to crack down on migration, with Johnson having vowed in his election campaign to roll out new measures to ensure that immigration is "controlled and checked."
With just days to go before Thursday's general election, Johnson was accused of "scapegoating migrants" after he complained that European nationals had been able to "treat the U.K. as if it's part of their own country" for too long.
On Wednesday, nearly 30 migrants' rights groups signed an open letter to Johnson asking him to apologize for the suggestion that European migrants had gotten too comfortable in Britain.
"With Brexit on the horizon, this should be a turning point in how we welcome migrants into this country, especially if we want to continue to be a thriving society," the letter, which was drafted by the3million group of EU members and the Migrant Rights Network, states.
"We are, unfortunately, all too familiar with the rise in hate crimes since the EU referendum because of the negative rhetoric on immigration. Therefore, in an era of polarisation, we would like you to realise the weight your words have—words and language matter," it states. "They matter significantly when uttered by politicians but even more so when the current Prime Minister brazenly says them on a world stage."
In addition to the letter, an online petition calling on Johnson to apologize has garnered more than 11,700 signatures as of Friday morning.
The prime minister had made the controversial comments in a Sunday interview with Sky News' Sophy Ridge.
"You've seen quite a large number of people coming in from the whole of the EU, 580 million population, able to treat the U.K. as though it's basically part of their own country and the problem with that is there's been no control at all," Johnson said.
The British leader laid out his plans to institute an "Australian-style" points-based system that would seek to address that.
"I'm not hostile to immigration," Johnson told Ridge. "I'm a believer in allowing people to come to this country and I think, you know, if they have talents and they want to do things to make their lives in the U.K. and they can contribute to our country, fantastic."
However, he said, with a "points-based system," his government plans to "bear down on migration, particularly of unskilled workers who have no job to come to."
"What we're going to do is have three categories... so people who are exceptional talents, they can come in," Johnson explained.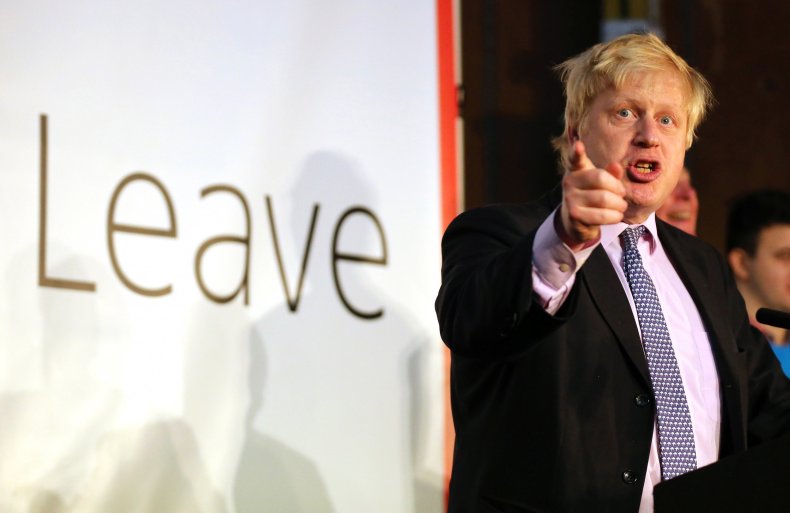 Under the plan, the first category would be reserved for "exceptional talent," with people who possess such talent able to fast-track the process to go to Britain with or without a job offer.
The second category would be for skilled workers who would be required to have a job offer in the U.K.
Meanwhile, the third would be for so-called "unskilled workers," who would only be able to obtain short-term visas in fields with worker shortages. Under that category, there would be no pathway to residency.
Overall, the British prime minister made clear that his goal was to bring immigration numbers down and to prevent unskilled workers from staying in Britain.
"Numbers will come down because we'll be able to control the system in that way," Johnson said. "What I don't think is right is to have an uncontrolled and unlimited approach."
Newsweek has contacted Johnson's office, as well as the3million and the Migrants Rights Network, for comment.
This article was updated to include an infographic.