Britain: Child's Body Discovered Clutching Catholic Rosary Beads in Protestant Burial Ground Mystifies Archaeologists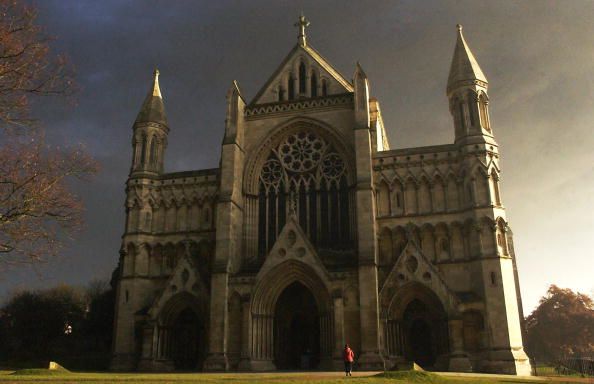 Excavations of St. Albans Cathedral, one of England's most famous landmarks, revealed the remains of a child buried with rosary beads wrapped around the hand, a "mystery" to archaeologists, according to the BBC. Of 80 graves excavated on the site, this was the only one to contain artifacts of this kind.
Site director Ross Lane told the BBC that the circumstances suggest a Catholic burial, despite the fact that the burial ground is a majority Protestant one. But that's about all that can be divined, so to speak, until further research is conducted.
"This would be a Catholic thing... it's a mystery," Lane told the BBC. "There could be several reasons for it, it could be an earlier burial, or it could be that this was a visitor to St Albans from further afield and they've just been caught in an epidemic and buried."
St. Albans Cathedral, sometimes referred to as just "the Abbey," dates back to Medieval times, and was built from a monastery believed to have been founded in 793, according to the cathedral's website. It's situated on the hill where Saint Alban, Britain's first Christian martyr, was executed after sheltering persecuted Christians and refusing to denounce Christianity. It's believed to be the oldest continuously used house of Christian worship in the country, according to the cathedral's website.
The church yard dates from roughly 1750 to 1850, according to the BBC. The interred remains of more than 170 people have been recorded there since the grounds closed in 1850, according to the Canterbury Archaeological Trust, the institution conducting the excavations. The rosary beads were found wrapped around the child's right hand and "trailing down their leg," Lane told the BBC. He didn't specify whether anything else was known about the child's age or gender, referring to the remains simply as belonging to a "young individual."
The Canterbury Archaeological Trust has been excavating the St. Albans burial ground, known as the Monks' Cemetery, for around three months to prepare for upcoming construction of a new visitor center, according to the Trust's website. Another recently excavated grave at the site revealed three papal bulls—leaden seals conveying public decrees from the pope—according to a separate BBC report. That grave was found to belong to Abbot John of Wheathampstead, whose place of rest after his death in 1465 had long been a mystery to archaeologists. The seals were issued by Pope Martin V, whose papacy lasted from 1417 to 1431, according to the St Albans Review.