At lights out one Sunday evening within weeks of starting at his senior school, Joel Shaw was "stripped, sexually assaulted and publicly humiliated by my housemaster jeered on by loads of my peers", he recalls bitterly. It resulted, he claims, in him being remorselessly taunted as being this master's 'Bum­Boy', a nickname seared into his memory and one that dogged him throughout his school career.
"I want an apology," says Joel (not his real name). He has recently made a claim for damages against the boarding school where he was allegedly abused nearly 30 years ago at the age of 13. "I want an acknowledgement abuse happened and also recognition of how it affected me."
The taunting – publicly, vocally, and therefore known to other staff at the school – only reinforced his feelings of anger and shame at what he says was done to him. He remains conflicted about the close relationship he subsequently developed with the teacher, who, he says, took pains to nurture his enthusiasms and helped shape his deep appreciation of the arts. The confusion for a teenager was agonising, he says, and, as a man, the shame remains.
Last year, to Shaw's horror, his alleged abuser emailed him at his place of work, "asking whether I'd care to 'indulge in some nostalgic reminiscences'", he says.
"I broke out into a cold sweat, given the abuse that he'd subjected me to as a new boarder. This is only conjecture, but I think he liked me, and wanted to revive good memories of times we spent in his living room when we put the school magazine together, drinking lager, listening to his amazing classical music collection," says Shaw.
Feeling shaken, furious and shocked by the approach "out of the blue, after so many years", Shaw made a complaint to police. His old housemaster was questioned but there will be no criminal prosecution: he is the only complainant and under the legislation in force at the time, the type of abuse he was subjected to is not covered.
Given his claim against the school, is money what he's after?
"Definitely not," says Shaw. "But realistically, it might help to pay for the years of therapy I've had to do to get my head around the multiple betrayals."
Systems of abuse
Shaw is one of many of children who now claim they were sexually, physically and emotionally abused when they were sent away to UK boarding schools and fee-paying day schools. After years of repressing his experience, he is now in contact with other ex ­boarders who, like him, express sadness and rage that the precious years in which a boy becomes a man were indelibly tainted by their experience of abuse. Trapped sometimes by denial, sometimes by disgust, and sometimes even by feelings of loyalty to their school, many are only now, in their 30s, 40s and 50s, finding themselves able to report perpetrators to police. Some wait until their parents are dead before making a complaint, not wishing to inflict pain, guilt and regret on mothers and fathers in their twilight years.
Increasingly, however, ex ­pupils are bringing civil actions against their schools for failing to protect them from abuse. Their alma maters are having to face up to discomforting accusations from claimants that in many cases, teachers were suspected of indecently assaulting pupils, but were never reported to the authorities. Often, complainants say that these teachers were instead quietly dismissed, and then found jobs at other schools where they could have continued crimes against vulnerable children.
Prosecutions for child abuse in Britain's public schools are no longer uncommon – the last 10 years have seen a number of both current and former teachers convicted and jailed. And the past 12 months have seen an explosion of allegations that are rocking fee ­paying schools to their august foundations. Earlier this year, allegations from ex ­pupils of some of the country's most gilded institutions were emblazoned in a series of front page articles in The Times.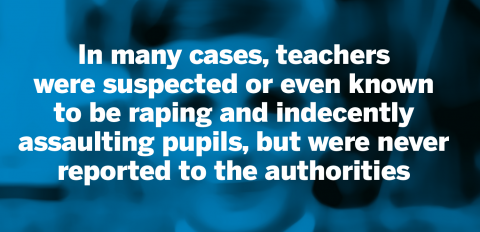 The publicity clearly galvanised other alumni, who, taking courage from the bravery of their classmates, made their own reports of abuse to police. As a result, at the time of writing, more than 20 former and current staff members have found themselves under investigation at the prestigious St Paul's School in west London and its feeder prep school Colet Court. Two teachers, who were in post when the allegations surfaced, have since resigned, one of whom has recently been charged. In another recent high profile case, 20 former pupils at Ashdown House prep school in Sussex – where London mayor Boris Johnson was a boarder – have recently come forward with complaints about extreme cruelty and sex offences committed on them as young boys. A number of teachers are being investigated.
As more and more ex boarding school pupils come forward, it appears momentum is gathering, and the number of complainants could reach into the hundreds. The past 12 months have been a turning point; there had been scandals before, but it's the concentration, number and coverage of allegations that have caught attention. At Slater and Gordon, child abuse solicitor Liz Dux says she has seen "a huge increase in claims against schools, the vast majority of which are independent".
If enough civil claims are brought, schools could suffer major financial losses, whether or not they are insured. Paying damages could cost others hundreds of thousands, without the true scale of the scandal ever being made public. So what impact are these allegations having on the reputations, finances and futures of the UK fee-paying schools? And how are they dealing with civil actions brought by their alumni who claim to have suffered adulthoods blighted by the psychological anguish that is the aftermath of abuse?
Past offences
Nine schools that have experienced either the conviction of former teachers for sex offences, or are currently embroiled in criminal investigations were contacted by Newsweek for comment. None of the proposed areas of questioning would have required detail about the ongoing criminal cases, yet all but one – St Benedict's in Ealing – either refused to be interviewed or failed to respond despite repeated requests. They were Caldicott in Buckinghamshire; King's, Rochester in Kent; Wellington College, Berkshire; Beeston Hall, Norfolk; St Paul's and Colet Court, west London; Downside, Somerset; and Ashdown House, Sussex.
Crisis management advice is generally to be open and honest in response to enquiries, so this refusal to engage may offer some insight into the mindset of schools grappling with the dilemma of how to deal with a rapidly escalating scandal. Schools' reluctance to comment is all the more surprising because to date, it seems that parents have not been put off. At St Benedict's, the roll has been on the up for the past eight years and, overall, there are about 1,700 more children boarding in the UK this year compared to last.
"My view is that the various abuse convictions and scandals have done absolutely no harm to schools in terms of their waiting lists," says Tom Buchanan, media consultant to a number of independent schools. "I can't think of any school I've advised that has had a drop in numbers. This speaks to a generalised acceptance of there being a risk that goes with the territory. And of course parents always think it won't happen to their child."
Solicitor Peter Garsden, senior partner at Abney Garsden who heads up the child abuse department says that while some reputational damage to a school is almost inevitable, particularly if a criminal case hits the headlines, "the further away in time [the abuse occurred], the more easy it is for them to distance themselves from it".
What if a contemporaneous abuse case was to be reported to police and the press got hold of it? That, says Garsden, is highly unlikely. "We haven't got any modern day institutional abuse cases on our books. Experience shows that kids can't deal with the abuse while it's going on. They bury it till later."
However, even if police are unable to bring a criminal prosecution, schools are not off the hook. There are, Garsden observes, a number of reasons why it may be impossible for complainants to have their day in the high court, not least because the perpetrator may be dead. The complainant themselves may also be too fragile to cope with the stress of a trial. But that still leaves schools open to a civil claim, and if a number of former pupils allege abuse, the liabilities are potentially catastrophic.
What are victims looking for when they bring a civil suit? "Justice," says Garsden simply. "Money tends to mean nothing – [abuse survivors] often give it to their children because, as they see it, they're being paid for underage sex."
Schools will normally be insured, but if the alleged abuse took place years ago, it may not be possible to identify the insurance company which provided the cover at the time. This means the school itself may have to foot the legal bill and stump up for damages if they lose. The total can easily run to hundreds of thousands of pounds. Clearly, the stakes are high, and mean that once a claim is made, a school has to perform a delicate balancing act, weighing the loss of reputation if a case is dragged through the courts against the cost of settling and paying damages quietly.
If a school opts to settle, specialist child abuse solicitor Samantha Robson observes that it's unlikely parents – either of pupils already attending the school or those considering it for their children – will ever know that there's been an abuse case to answer, although settlements are made with no admission of wrongdoing to begin with. Gagging orders are a typical condition of a financial settlement, she notes, "because if you were searching on the internet for a school for your son or daughter and you see this coming up, then you're going to think twice".
"Even with insurance, schools can have a massive excess, and this would be paid out on every subsequent claim, so that's another reason for defending," Robson explains. "But it may also be that insurers don't want to have to meet lots of other expensive claims, and so insist on going to court rather than settling."
House of cards
At the Boarding Schools' Association (BSA) national director Hilary Moriarty says that her concern for the future of UK boarding schools lies not in the prospect of droves of British parents hauling their children out when an abuse story hits the news – she doesn't see that happening – but with foreign parents getting cold feet.
"If the accounts of abuse are sufficiently frightening, for a parent in Hong Kong or China, who wants excellent teaching in English and is choosing a school, well, they have a choice," she says. "[They] could go to America, Canada, New Zealand or Australia, and those countries are being very much more welcoming to overseas students than ourselves. Put that in the balance with stories from big newspapers like The Times, and it's casting a shadow from the past over today's schools, which are different places."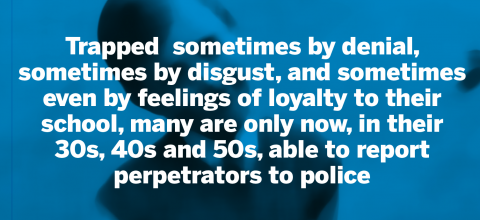 Moriarty is adamant – as is St Benedict's – that the safeguarding of children at British public schools has been transformed in recent years. Moriarty points to the fact that boarding schools are subject to three-yearly inspections by the Independent Schools Inspectorate, in which children are asked directly about their experience of being educated in that setting. "One of the ways the world is different now is that we live in a climate where allegations are more likely to be made by a child, and properly received, and properly investigated," she says. "No ­one can ever say that this is watertight, but we have robust systems. The security of schools now comes from the fact that you can't be complacent. They are alert, and that very alertness is your defence."
Independent schools, Joel Shaw points out, are, in the end, businesses. The recent apology made at the BSA annual conference, he says, was at least in part about managing their brand reputation. Prospective parents may want a more cast iron guarantee than an apology and a promise to do better: Dux observes pointedly that nothing has changed in English and Welsh law to compel schools to react any differently to suspected or known abuse than they did in the past.
"There have been cases even in the last four years where heads have had reports [of abuse] and have not actioned those reports and abuse has occurred subsequently," she says. "That's why there has to be mandatory reporting of abuse." Without it, she does not believe children are safe.
In the wake of the various abuse scandals that have erupted across the British fee­-paying – and also state­-funded – schools, there is now considerable momentum for "mandatory reporting" – a law requiring professionals who work with children who know or suspect child abuse to consult the local council's child protection officer for independent advice on what action should be taken next, whether internal investigation or an immediate referral to police. Failure to report would be a criminal offence. Campaigners believe this legislation would introduce a stronger culture of abuse prevention as well as supporting and protecting mandated staff: Tom Perry, a Caldicott abusee who also campaigns for mandatory reporting in school settings says that "in the absence of law, staff who do report are, by default, whistleblowers with very little protection".
Increasing numbers of MPs are now backing the measure, though opposition from some surprising quarters remains. Children's charity the NSPCC has only just reversed its position that failure to report even known abuse should be criminalised: it now says that the individuals heading up institutions that cover up abuse should be prosecuted, but does not support a law against failure to report reasonable grounds for suspecting that children are being groomed, indecently assaulted or even raped.
This is not good enough, say campaigners, who emphasise that mandatory reporting is not intended to criminalise hordes of people – it is intended to prevent abusers from viewing school pupils as easy pickings. The MP Cheryl Gillan said in parliament that "given the flood of non-recent cases of child abuse in schools that we see reported every week in the media, we now know that discretionary reporting does not work . . . at the moment, the guidance is frequently ignored".
Perry explains why he believes children themselves cannot be relied on to report abuse as it's happening.
"The dynamics of abuse have not changed," he says. "It may be deeply uncomfortable to acknowledge, but the child mistakenly believes themselves to be in a relationship with the abuser, and will therefore feel they are committing a betrayal by speaking out. You can be a child with a mobile phone and all the 'awareness' in the world, but you still have to speak. Child abuse is a unique crime because it is the only one in which often both the perpetrator and the victim are equally motivated, for different reasons, to keep it secret. If staff are then not required to report reasonable grounds for suspecting abuse, contemporaneous discovery is almost impossible."
The Department of Education is now reconsidering its opposition to mandatory reporting, after the then secretary of state for education Michael Gove made a surprise announcement in March that a compelling case for a new law had been made to him by an abuse survivor.
It's difficult to gauge public schools' position on whether they consider it necessary to strengthen their safeguarding with criminal sanctions for failure to report, as those asked were not willing to be interviewed. But with two decades of experience representing victims of abuse, Peter Garsden says that without such a law, the system is always going to fail. "Human instinct will always be with selfish considerations," he says. "For staff, that's their jobs and their security of livelihood. Unless they're brave, they're not going to report it. They'd be bringing the whole pack of cards down."