Britain's Female Boxers Get Ready for Olympic Gold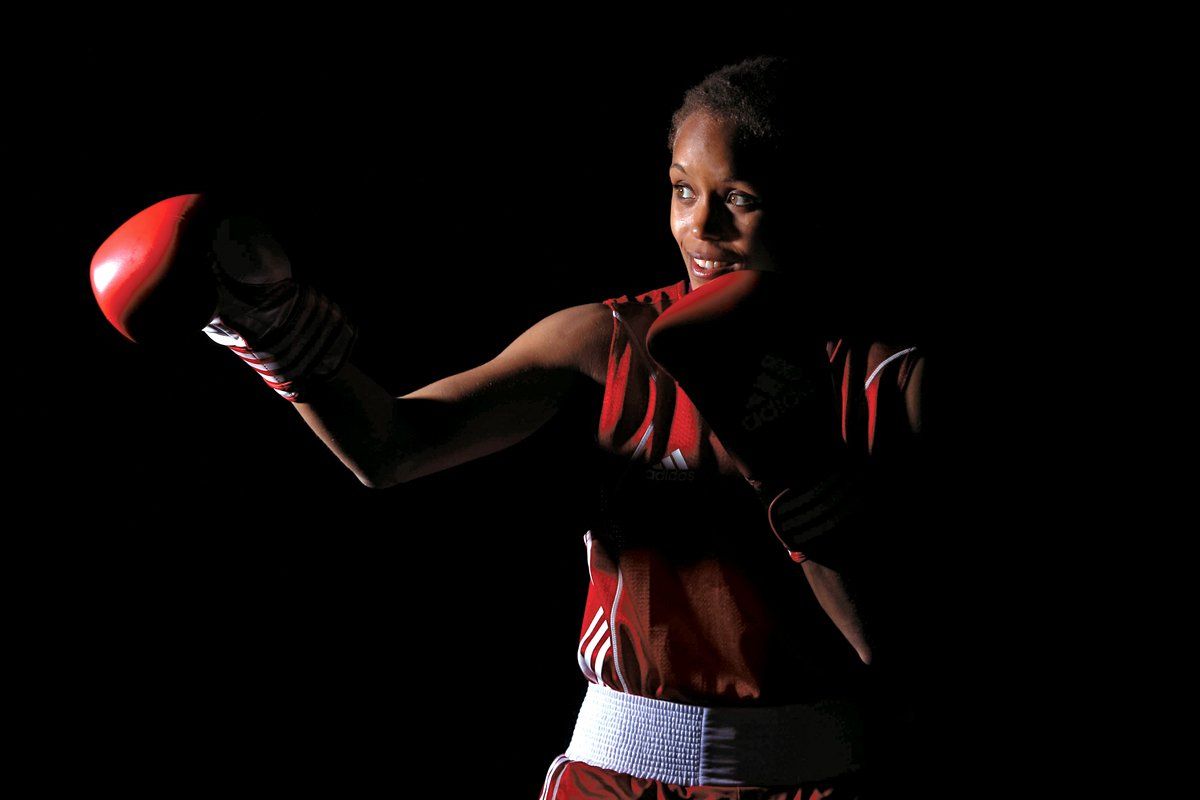 "It's the pretty ones you have to watch," says Nicola Adams, as the petite flyweight boxer binds her hands in cotton strips before her morning training. "They're the ones that don't want to get hit. For me, boxing is a game of tag. It's about slipping and sliding. It's a thinking sport."
The British Olympic hopeful, whose icons are Sugar Ray Leonard and Muhammad Ali, is nothing short of angelic. Her beatific smile, plaited hair, and small diamond earrings are at odds with her sporting persona. In the ring, the 51-kilo European champion is a ferocious opponent. At the British Olympic team's state-of-the-art training facility in Sheffield, she spars with a formidable middleweight, Savannah Marshall, jabbing relentlessly, dancing around the ring with light footwork. "Move and punch!" yells the coach, Nigel Davies. "Flick, flick, flick!" he hollers as Adams and the squad practice in pink protective headgear and tightly laced booties. "Come on, girls. Fists are for punching as well as for defending!"
Coaches like Davies haven't always been so enthusiastic. Fifteen years ago, women's boxing was illegal in Britain and gyms barred women from sparring, even for fun. Official bodies in the sport remained firmly against female inclusion until legal action forced their hand—the British Amateur Boxing Association voted in favor of lifting its 116-year ban only after a string of legal challenges from boxer Jane Couch. In 2009 the International Olympic Committee's executive board agreed to include women in the Games. IOC president Jacques Rogge said women's boxing has progressed significantly and it was about time it was included.
The IOC's change of heart has had a profound effect on the sport. "The Olympics have made a big difference," says Natasha Jonas, another British hopeful. "We've got a lot more funding. I've been able to give up my job and concentrate on training." Promoters "see us and know it's not just a scrap."
It's apt that London's 2012 Olympics should welcome women into the boxing fold. The city is where modern boxing began. The Queensberry rules— which stipulated the use of boxing gloves and outlawed gouging and wrestling—were drafted here in 1867. What's more, women were sparring in the Oxford Circus as early as the 18th century. One record of a fight by a gal known as "the Cockney Championess" dates from as early as 1722. (Then women could also maul, scratch, and throw in the ring as well as punch.)
The prospect of Olympic medals has turned the tables for women struggling to gain legitimacy in the boxing scene. As the host nation for 2012, Britain has seen a seismic shift. "It's been a massive, massive challenge," says Rebecca Gibson, head of development for the English Institute of Sport, who was involved in lobbying the IOC. "There was so much prejudice. Some people were just anti. Others were worried about periods and boobs. Now these girls are future medalists. "
As far as the British Olympic organizers are concerned, these are trophy women. The English Institute of Sport and the National Lottery have been pouring money into the Great Britain squad. "We have nutritionists, psycho-therapists, lifestyle managers, and a team of physios on hand. It's about investing in medal potential," says Lee Murgatroyd, a communications czar from the British Amateur Boxing Association.
The decision is also reshaping the international scene. Many countries have set aside cultural misgivings about women in the ring to focus on Olympic gold. India has poured money into its team, producing candidates like Mary Kom, a mother of two who was previously a sprinter and has won five consecutive world-champion titles. Russia has honed formidable talents like Sofya Ochigava and Irina Sinetskaya, known for their aggressive, powerful tactics. China's ruthless medal drive has produced a team of near-invincible boxers including Ren Cancan, Nicola Adams's nemesis.
Not everyone is quite as keen. Cuba has categorically refused to let its women participate in 2012; its head coach, Pedro Roque, lambasted the decision, saying that Cuban women "are made for beauty and not to take blows around the head." British boxer Amir Khan, an Olympic silver medalist in 2004, said he was opposed to women in the ring. "Deep down I think women shouldn't fight," he told the BBC. "When you get hit it's very painful."
Khan and Roque's reaction to the idea of women fighting isn't unusual. Deep-rooted societal opposition to women in the ring is something the British squad faces every day—but it's taking little notice. Nina Smith, a 29-year-old former legal secretary for Credit Suisse who took up boxing to keep fit, says with a laugh, "They think we should be in the kitchen or some-thing. We just ignore them. We're thinking about medals now. Actually, coaches often say women are easier to work with. If you box well, it can be beautiful. Of course I've had the odd bruise, but that's nothing you can't cover up with makeup."
But medical groups have challenged the IOC's decision. Anti-boxing campaigners, including the head of the Australian medical association, Steve Hambleton, warned that the Olympics will automatically raise the stakes and increase the level of cruelty in the sport. "Now, in order to get to the Olympics, women will fight desperately," he said.
But at the European Women Boxing Championships in Rotterdam—packed with thousands of fans—it's clear the sport has captured the limelight. There, as Adams battles France's Sarah Ourahmoune for the European gold, her inner Sugar Ray shines through. "I suppose this is an aggressive sport," she says cheerfully, recalling knocking out an Italian opponent last year. "I felt bad, and then I realized I'd won." Certainly, players like Adams—who went on to cream Ourahmoune for the victory—have given new meaning to Ali's famous maxim: "Float like a butterfly, sting like a bee."
Sophie Grove is a London-based journalist who has reported from Ethiopia, Kenya, Egypt, and Somalia.