Britain's 'Schindler' Sir Nicholas Winton Dies Aged 106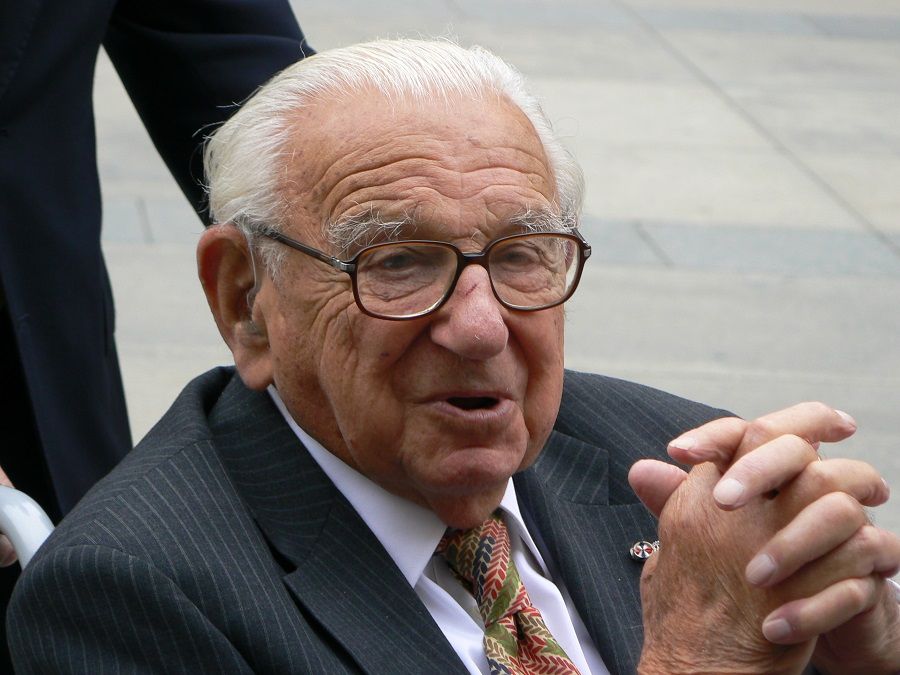 Sir Nicholas Winton, a man credited with organizing the daring rescue of 669 Jewish children who otherwise would have almost certainly met their deaths in the Nazi concentration camps, died this week aged 106 years old.
A young stockbroker in 1930s Britain, Winton arranged for a total of eight trains to transport children to safety in Britain from Nazi-occupied Prague.
His son-in-law Stephen Watson said he died peacefully in his sleep at Wexham Hospital, in Slough.
Winton was a reluctant hero who kept his role in the daring operations quiet for half a century until his wife discovered a scrapbook in their attic in the 1980s. He was often compared to Oskar Schindler, a German who saved 1,200 Jews by employing them at his factories in Poland and Czechoslovakia. Winton was knighted by the Queen in March 2003.
'Britain's Schindler', as Winton became known in the media, was born to Jewish parents, and persuaded British custom officials to allow the children into the country despite their incomplete travel documents. He also organised foster families to provide homes for the children once they arrived.
Survivors spoke later of the dreadful scenes at railways stations as terrified children were separated from heartbroken families, the New York Times reports. Tragically, only seven of the eight trains made it through to Britain. The last train was due to travel on the day Hitler invaded Poland, and all borders controlled by Germany were closed. It is thought all 250 children on board this final train perished in the concentration camps.
Former Labour MP Lord Alfred Dubs was one of the children who was on an earlier train out of Czechoslovakia. Dubs paid tribute to his Winton, describing him as "just one of those very special human beings", the BBC reports. Many of the survivors, who are now in their seventies and eighties, still refer to themselves as 'Winton's children'. "His legacy is that when there is a need for you to do something for your fellow human beings, you have got to do it," Dubs said.
Prime Minister David Cameron also paid tribute to Sir Nicholas, tweeting: "The world has lost a great man. We must never forget Sir Nicholas Winton's humanity in saving so many children from the Holocaust."
"One saw the problem there, that a lot of these children were in danger, and you had to get them to what was called a safe haven, and there was no organization to do that," Sir Nicholas told the New York Times in 2001. "Why did I do it? Why do people do different things? Some people revel in taking risks, and some go through life taking no risks at all."