The British Are Inviting Ukrainians Into Their Homes, but Not at 10 Downing
British citizens are opening their doors to begin taking in Ukrainian refugees, however, Prime Minister Boris Johnson will probably not be able to offer up 10 Downing Street due to "security challenges."
As part of an effort to help displaced Ukrainians, the British government announced Monday that it had launched its "Homes for Ukraine" website. The site allows people in the U.K. to sign up to host Ukrainian refugees within their homes—with the government paying each hosting household 350 pounds ($455 USD) per month to do so.
Officials said that nearly 44,000 people signed up on the website within the first five hours. Housing and Communities Secretary Michael Gove said in a statement that the U.K. had been "supporting the most vulnerable during their darkest hours," adding that there would be "no limit" on the number of Ukrainian refugees taken in by Great Britain.
However, one person that will not be partaking in the program is the prime minister. A press secretary for Johnson said there would likely not be any refugees hosted in the prime minister's residence, 10 Downing Street in London, because of the security risks.
"There are specific challenges around security on housing people in No. 10," the spokesperson said. "Various ministers have been asked about this. Obviously it will come down to individual circumstances. This is a significant commitment."
Originally built in the 1600s, 10 Downing Street was notably open to the public for centuries. The British government installed a security fence following a terrorist bombing in 1989, though, and additional levels of security have been added since.
While people can still peer through the gates, the general public does not currently have access to Downing Street.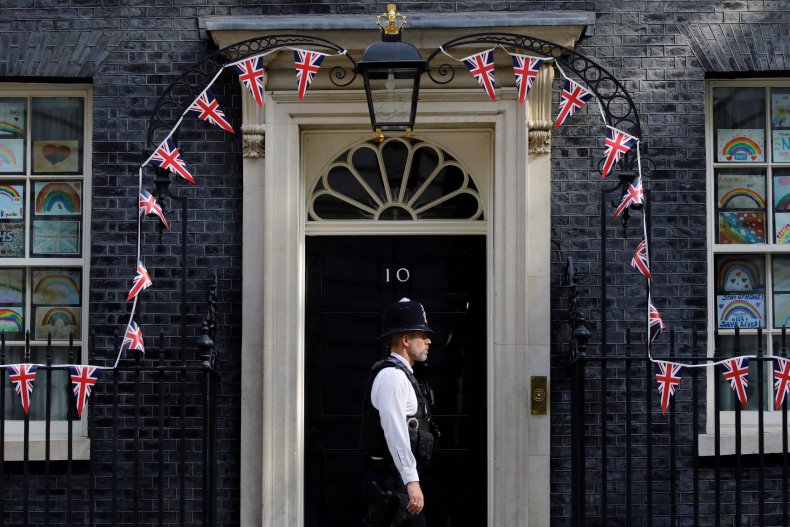 Despite the security concerns raised by Johnson's spokesperson, one other location that was mentioned for refugees was the prime minister's country house, Chequers. However, 10 Downing Street reiterated that, since Chequers is privately owned, Johnson didn't have the power to decide to place refugees at the countryside manor.
Given these statements, the door seems to be closed for Ukrainian families to be holed up with the prime minister. The spokesperson did say, however, that he had not directly asked Johnson if he'd be willing to host a family.
While security concerns may have ruled out the prime minister, other prominent British politicians have pledged to take in refugees via the program. One such person is Transport Secretary Grant Shapps, who tweeted Monday that he would be opening up his home to a Ukrainian.
"We've spent the past few weeks as a family discussing the devastating situation in Ukraine," Shapps said. "So we intend to apply today to join other UK households in offering our home to provide refuge to Ukrainians until it is safe for them to return to their country."
Others relayed that they would not be able to partake in the program for the time being. This includes the mayor of London, Sadiq Khan, who has said that he did not currently have space in his family's home to host refugees.
Even though he was not hosting a family, Khan did offer up another idea for incoming Ukrainian refugees: Putting them up in the London mansions of sanctioned Russian oligarchs.
"What's doubly heart-breaking about the homes [the oligarchs] buy is they're left empty for years," Khan told Times Radio on Monday. "They're not homes, they're gold bricks used to launder money."
"I think the Government should be seizing them, and before selling them—because they'll take some time—they should be using them to house those Ukrainians who are fleeing Ukraine, who we'll be offering a safe haven in London," Khan said, adding that it would be "poetic justice."
This concept was also held up by the prime minister's office, which said that: "Certainly that's something we are looking at."
Newsweek has reached out to the Ukrainian Embassy in London for comment.