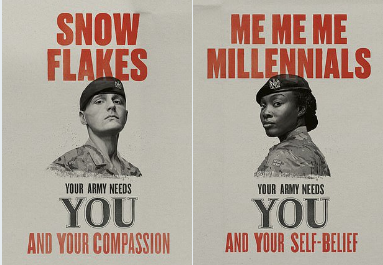 The British Army implemented a controversial new recruitment drive this week targeting "snowflake" and "binge gamers" among the younger Millennial and Generation Z youths.
The past decade has seen the U.S. Army issue reports showing stagnating recruitment numbers and increasingly overweight citizens joining the armed forces. In the U.K., massive outsourcing contracts have failed to meet recruitment goals since 2012, with 47 percent of applicants dropping out of the process voluntarily just last year. In an effort to turn these recruitment efforts around, the British Army reached out to "stressed and vulnerable" teenagers last year and is now using memes that look like traditional military flyers to to tap into young people's "compassion and self-belief."
The effort to flip stereotypes is targeting Generation Z's 16-to-25-year-old age range as well their slightly older Millennial counterparts.
The terms "snowflakes" and "phone zombies" have frequently been used by older and fading Baby Boomer and Generation X members to ridicule today's young people for what they label a lack of attention and a lack of ambition. But the British Army is trying a different tactic by tying a "phone zombie" to their inherent "focus." Similarly, recruitment flyers showing uniformed male and female soldiers' faces tells binge gamers: "Your Army Needs YOU And Your Drive."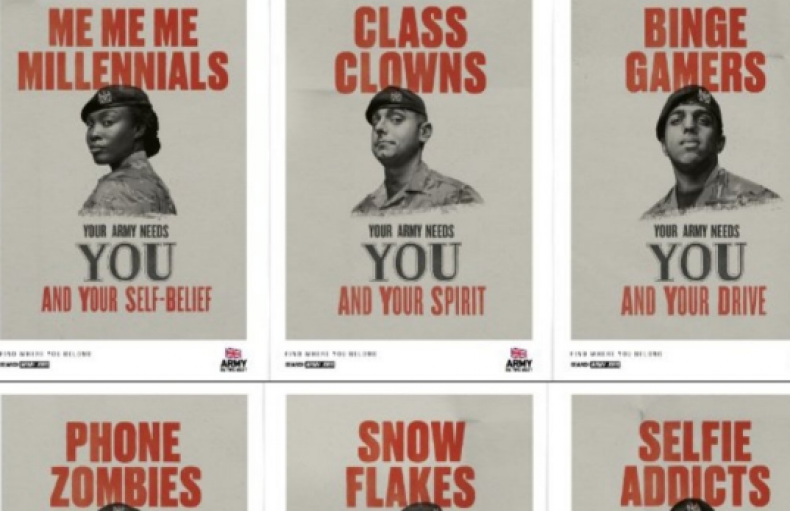 Other flyers and social media memes released by the British Army call on "Me Me Me Millennials" to join the armed forces for their "self-belief." And "snowflakes" are needed in the British military for their "compassion." Other terms with negative connotations are being flipped to recruit young Brits including so-called "selfie-takers" needed for their "confidence."
The official British Army employment office and social media accounts released recruitment campaign videos Wednesday with the pitch lines, "The Army spots potential. Even if others don't. #YourArmyNeedsYou," and "Your Army Needs You, and Your Resilience." The videos show innocuous scenes of late-night gamers turning into uniformed soldiers protecting war-torn villages or providing relief to locals after a natural disaster.
The British Army's Maj. Gen. Paul Nanson told the Guardian newspaper the campaign is intended to "see people differently" and adapt to young people's innate "need for a bigger sense of purpose."
British Defense Secretary Gavin Williamson added to the Guardian the recruitment campaign is "a powerful call to action that appeals to those seeking to make a difference as part of an innovative and inclusive team...It shows that time spent in the army equips people with skills for life and provides comradeship, adventure and opportunity like no other job does. Now all jobs in the army are open to men and women. The best just got better."