British Astronaut Tim Peake to Run Marathon in Space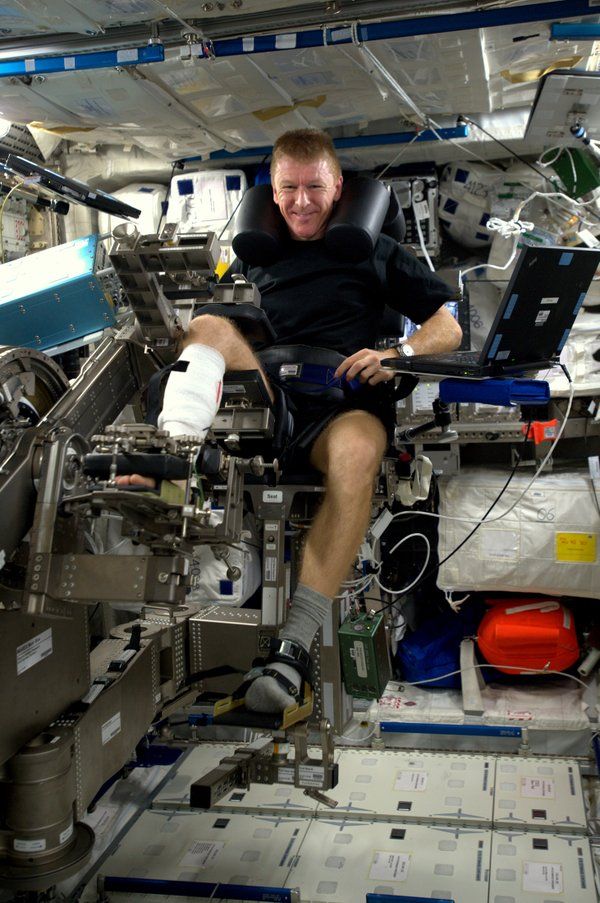 On Sunday, an estimated 37,000 people will take part in the 26.2-mile London Marathon. British astronaut Tim Peake is also getting involved, except he's running in space. The 44-year-old, who has been in space for just over four months, will show off his track skills on a treadmill. Good stamina will be important.
"I don't think you can ever do enough training for a marathon. But I've certainly been putting in the miles on the T2 treadmill—that's what we call it up here on the Space Station. And I've done a couple of half marathons and a little bit longer distance than that as well. So I'm confident I can get on and run the marathon on Sunday. But I'm sure there will be a few points where I'm wishing I did more training," said Peake in a video he filmed from space on Wednesday.
With no gravity to pull him down, Peake will be connected to the treadmill with bungee cords, while wearing a harness. "The toughest part has been getting used to a harness system. It's like running with a clumsy rucksack on. You can get chafing around your hips and shoulders," he added. But he will have a toilet directly next to the treadmill, and water pouches within reach should he need some hydration.
Peake ran the London Marathon on Earth back in 1999, finishing it in 3 hours and 18 minutes. However, running in space is considerably more strenuous, especially as his leg muscles become weaker in orbit. He is confident though that he will recover fast: "I do think that we recover faster up here from any kinds of aches or strains. And muscular problems I think do recover quite quickly up here."
As he finishes the race, he will video call his wife Rebecca and their two sons for moral support. In aid of The Prince's Trust, Peake hopes to complete the run in 3.5 to 4 hours, and is due to return to Earth on June 5.