British Diplomat Brian Davidson Promotes LGBTI Understanding Just By Living His Life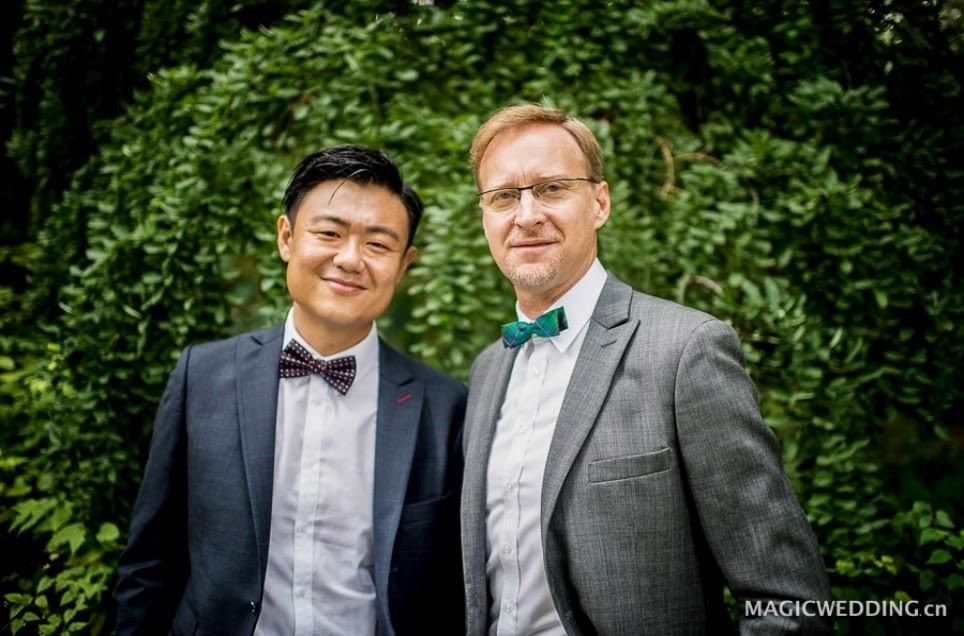 With its gently whirring ceiling fans, high louver windows and white-jacketed staff, not to mention the statue of a stern-faced Queen Victoria center stage in the garden, the British ambassador's residence in Bangkok is all that is to be expected of a U.K. diplomatic mission in the Far East.
The very modern family that resides there now, however, is a much less traditional affair.
Brian Davidson, Britain's man in Bangkok and the epitome of a thoroughly contemporary ambassador, shares the Colonial-style home, with Scott Chang, his Chinese-American husband, and their baby son Eliot, born to a surrogate mother in California.
In the convention-bound world of the diplomatic circuit, their cosmopolitan domestic set-up would until recently have been unthinkable. Although bans on homosexuality were lifted for the foreign services in Britain and America in the early 1990s, prejudice and stigma often lingered and it has taken two decades for out gay career diplomats to rise through the ranks to such senior positions.
'World is Changing'
Davidson is at the forefront of the first generation of ambassadors who are openly gay, and often also now married, to represent their countries. The 53-year-old Northern Irishman juggles the usual range of duties and responsibilities for a senior diplomat. But he also has used the standing and access afforded by his position to put a focus on LGBTI causes—often simply by talking about the life that he shares his husband and their son.
"This our life. It's really nothing unusual, though it may still seem unconventional to some," he said. "We are very lucky to live in a world that allows us to be ourselves. We know there is an importance to making our lives visible to others, to show what is possible and that the world is changing."
That is what he will be doing on Wednesday when he is a speaker at a day-long conference in the Thai capital to mark IDAHOT Day (pronounced as in the U.S. state of Idaho)—or, to give it the full name, International Day Against Homophobia, Transphobia and Biphobia.
The largest worldwide LGBTI solidarity event is held every May 17—to commemorate the World Health Organization's decision in 1990 to declassify homosexuality as a mental disorder—and the 2017 theme is "family" in all its diversity.
It also will be marked this year by the release from prison in the U.S. of Chelsea Manning, who as Private Bradley Manning disclosed a huge trove of American military secrets to WikiLeaks.
Davidson and Chang, 35 first became inadvertent gay role models in 2014 in China—where they both were previously posted—after their marriage conducted at the British embassy in Beijing provoked a viral firestorm on social media. In Bangkok, the ambassador has opened the doors to their home for the welcoming reception for the international gay and lesbian group ILGA, festooning his 90-year-old home in rainbow flags for a night. He also provided the platform for a panel discussion with participants from several Asian countries where LGBTI rights are under threat. Next up will be the talk about his "rainbow family" on Wednesday.
Davidson spoke to Newsweek about the message that he will deliver. "In many respects our family is a much bigger entity than just the three of us and our immediate relatives," he said.
"It also includes many friends, gay and straight, who have supported us on this journey and will play a role in raising Eliot in a loving, diverse community. They have talked through with us the challenges of parenthood and how we would explain to our son were he came from and any issues with him that might arise over having two dads. Our support for IDAHOT is part of a hope and aspiration that Eliot—and his peers—will grow up in a world where the family he belongs to is judged by the love and support he gets from it, rather than the gender of his parents or construct of the unit."
And he also noted that while he and Chang come from societies that were "generally supportive" of their family, many others do not enjoy that good fortune or privilege. "So it is incumbent on us to speak out and support those whose journey is tougher," he said.
Midnight Poonkasetwattana, a leading Thai LGBTI rights activist who is a global advisor to IDAHOT, said organizers chose the theme of "families" in all their diversity "to celebrate and highlight the support that LGBTI people receive from their dearest and closest.
"Having a high-profile out gay British ambassador in Bangkok—here with his husband and child—demonstrates that LGBTI people can take up such a role with the support of their own families."
Davidson and Change effectively proclaimed their diplomatic "coming out" in Bangkok with their first major engagement. As hosts of the Queen's Birthday Party, the invitation for one of the city's most prestigious events was issued jointly in the names of the two Mr's.
"Our reception in Bangkok, by the Thai government and people, and in the diplomatic community, has been very positive and open," said Davidson. "We receive joint invitations all the time, even from representatives of governments that you might not expect to be that sympathetic, although we do get the occasional question about how we should be referred to. We don't want these issues to come across as Western concepts or an agenda imported from outside, so I am keen to provide a platform for local groups to discuss these sorts of issues. Even here in Thailand, there can be a lot of stereotyping about LGBT people and a lack of role models. If Scott and I can provide a counterbalance to that as a gay couple living what are perceived as regular, normal married lives, that's all to the good."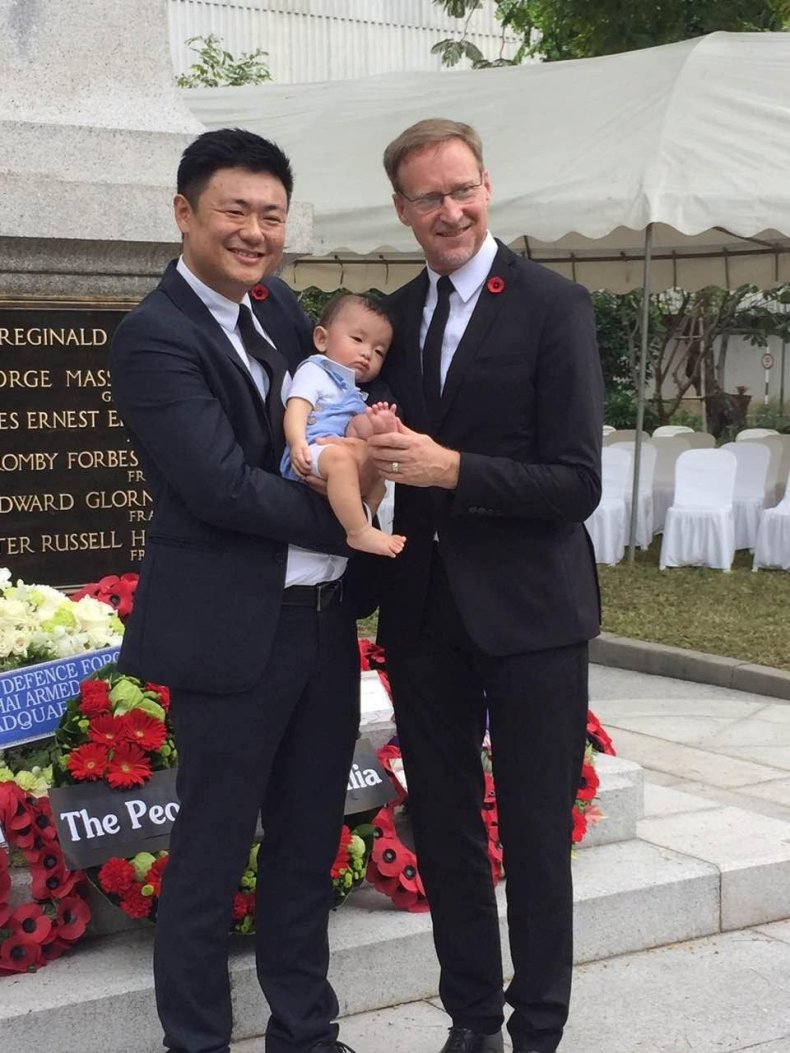 Poonkasetwattana, who is executive director of APCOM, an Asia-Pacific community network that advocates for the rights, health and well-being of sexual minorities, echoed that message.
He noted that while Thailand is a tolerant society, even described by some as a gay "paradise", there are still serious challenges, including discrimination against transgender people, sensationalized and mocking coverage of LGBTI news in the media, the enduring scourge of HIV/aids, and no recognition of the legal rights of same-sex partners.
"The ambassador is an out gay man who understands the struggles faced by LGBTI people and has given strong support to our work," he said. "He doesn't let the opportunity pass to highlight that he is gay with a family in Bangkok and this leadership is extremely valuable to remind those in government about LGBTI rights in the region."
Viral Wedding
The couple met 10 years ago in the southern Chinese city of Guangzhou where Davidson was newly posted as consul-general and Chang was working for an American NGO. They later moved to Shanghai and decided to take advantage of new U.K. legislation that allowed same-sex couples to marry on British diplomatic territory in countries where gay unions are banned.
They held their wedding at the ambassador's residence in Beijing in 2014 in what Davidson said was intended to be a "low-key" ceremony with just 60 guests. But that was before he posted a wedding snap on social media, accompanied by a message explaining the reasons for his marriage and the hashtag "Love is Great."
The messages went spectacularly viral on Weibo, the Chinese equivalent of Twitter. Davidson's post was read 20 million times as commenters plunged into an animated, emotional and overwhelmingly supportive exchange about same-sex marriage in a country where such issues are still largely taboo.
"We really weren't looking for any attention," said Davidson, with a laugh and shake of his head. The phenomenon may not have been intended, but it certainly jibed well with how he sees his role. "I am much happier showing than telling, demonstrating what we stand for by our actions rather than preaching about values," he said. "I want help show that Britain is diverse and open and inclusive and that I represent and reflect those values."
Chang, who was born in Taiwan, educated in California and works for the philanthropic wing of that most American icon, the Ford Motor Company, is also flying the flag for Britain.
In Thailand, the duties of an ambassador's spouse have traditionally included the role of patron of the British Women's Group, a venerable expatriate network. "I pointed out when I arrived that I was neither British or a woman, so I would have no problem if they didn't want me to take up the position," he said. "But they were very welcoming and so patron I am. They are a great group of women, very fun and energetic, and I've really enjoyed the meetings."
The quirks of his new role began even before he arrived, with the small matter of arranging the appropriate visa. Despite Thailand's reputation as a generally welcoming haven for gays and lesbians, the kingdom does not allow or recognize same-sex marriage unions, so he could not arrive on the usual spousal documents. The solution was for Chang to enter the country initially with paperwork as a member of his husband's "domestic staff," although he soon transferred to a work visa after taking up the job with Ford.
And he echoed Davidson's approach when asked the "role model" question. "I really hope that it helps someone to hear how and why we are together and to show that our lives are as normal as those of any other diplomat and spouse," he says. "When I was growing up, these stories were few and far between and it would be nice if we can make a difference."
Davidson described his employers at the Foreign and Commonwealth Office in London as "nothing but extremely supportive" of him and Chang, "as it is of all its LGBT employees and their partners."
It is a very different story from his early days there. After growing up in small town Northern Ireland, and studying law at Trinity College, Cambridge, Davidson joined the FCO in 1985 with apparently impeccable qualifications—except he was hiding his gay identity from an institution that deemed homosexuality a "character defect" and sack-able "offence" until 1991.
"I came from a conservative part of the U.K., and I was just coming to terms with my sexuality," said Davidson. "I was living a double life, worrying what people might think and discover about me. I look back now and think how much more effective in my work if I could have been more honest and open with others. When the rules changed and I came out, the response was overwhelmingly very positive. The FCO now is an extremely open organization that recognizes that inclusion and diversity are not just 'right thing', they also allow people to realize their full potential."
For Davidson and Chang, that potential now includes their new roles as doting fathers. "It's an amazing experience and gives me a very different perspective on life and on my job," said Davidson,
"I grew up never expecting this life—getting married, having a family. It's been a joy and a real blessing."