British Far-Right Leader Gains Thousands Of Twitter Followers After Trump's Anti-Muslim Retweets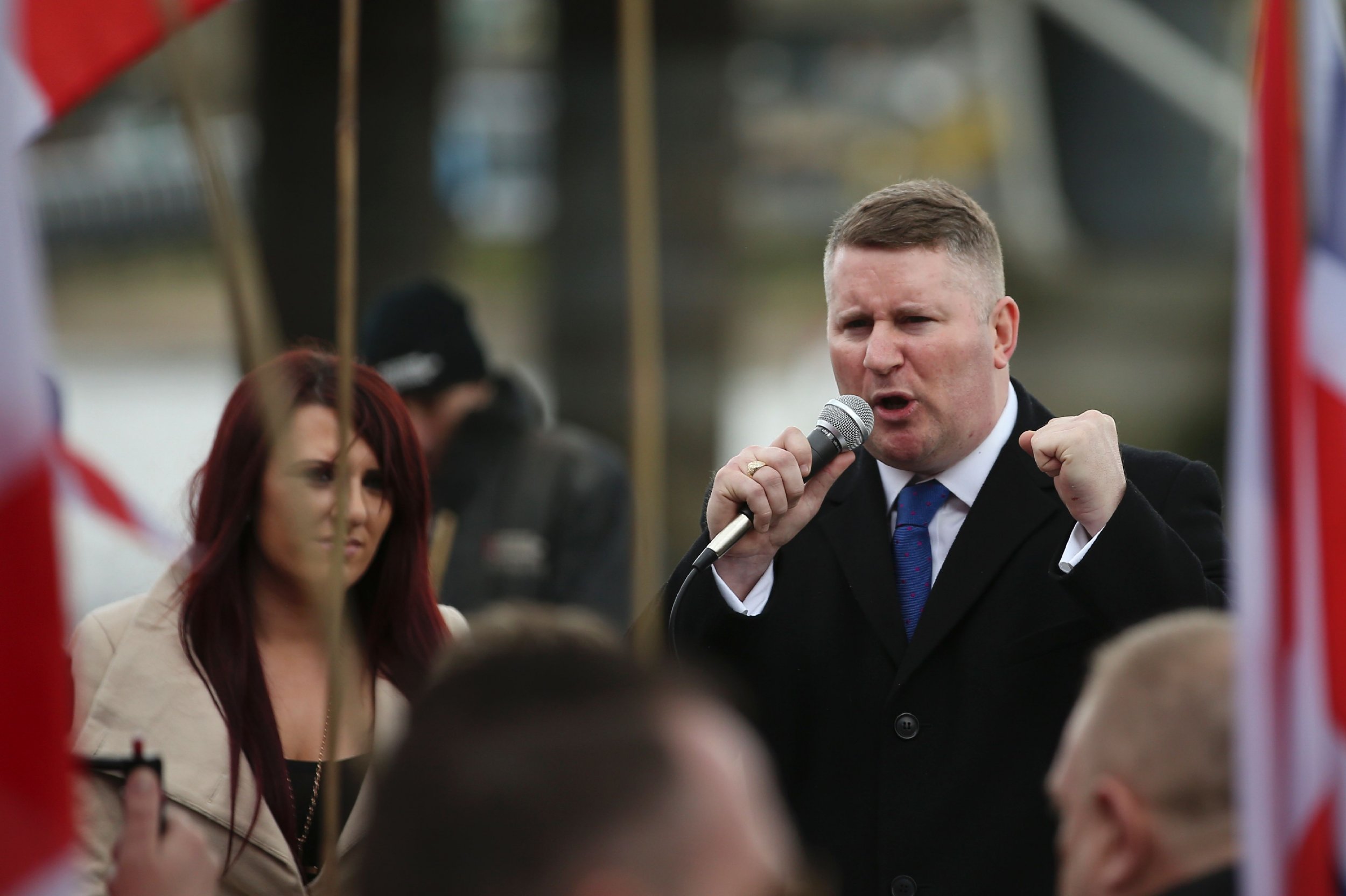 When President Donald Trump retweeted three anti-Muslim videos posted by a leader of a British far-right extremist group, he got the fringe group a whole lot of publicity and netted the fascist politician thousands of new followers on Twitter.
Before Trump shared the tweets of Jayda Fransen, the deputy leader of the far-right group Britain First—which rallies against immigration and religious faiths other than Christianity, particularly Islam—had 52,776 followers.
At the time of writing, her follower count had risen by more than seven thousand to over 60,000 in less than six hours, such is the power of Trump's Twitter presence.
The descriptions of the videos were: "VIDEO: Islamist mob pushes teenage boy off roof and beats him to death!" and "VIDEO: Muslim Destroys a Statue of Virgin Mary!" and "VIDEO: Muslim migrant beats up Dutch boy on crutches!" All three videos are unverified, with the third video appearing to be falsely labelled; according to Dutch media, the original video made no mention of the race or religion of either boy.
Britain First describes itself as a "patriotic political party" but it has been widely shunned in Britain for its positions, such as the deportation of all illegal immigrants, a total ban on Islam and the outlawing of Islamic headscarves. Its leaders and followers have picketed mosques and South Asian restaurants that serve halal meat.
It only has a few hundred followers in Britain, and it is led by a man, Paul Golding, who was once a member of the country's far-right British National Party. Both he and Fransen have been convicted for prior criminal offenses.
The group gained attention in the mainstream media in 2016 when Thomas Mair, the murderer of politician Jo Cox, shouted "Britain First" in his stabbing and shooting attack shortly before the U.K.'s referendum on remaining in the European Union.
Cox's husband, Brendan, tweeted condemnation of the American leader. "Trump has legitimized the far right in his own country, now he's trying to do it in ours," he wrote. "Spreading hatred has consequences & the President should be ashamed of himself."
The sharing of the fringe group's message was met with shock from a mainstream British political elite that has shunned the marginal group for its extreme message. Theresa May, the British prime minister, issued a statement saying Britain First used "hateful narratives which peddle lies and stoke tensions…It is wrong for the President to have done this."
David Lammy, a lawmaker for the opposition Labour party, tweeted that Trump was "not welcome in my country and my city," referring to London.
Another Labour lawmaker, Chuka Umunna, said that an invitation from the ruling Conservative government for Trump to visit "should be withdrawn."
In America, the propagating of a British leader who has been compared to a fascist by critics was also condemned. Nihad Awad, executive director of the Council on American-Islamic Relations, said in a statement that Trump was " clearly telling members of his base that they should hate Islam and Muslims."
But Fransen was ultimately elated with the promotion of her anti-Muslim message and its delivery to the president of the United States' following that numbers in the tens of millions.
She responded on Twitter: "DONALD TRUMP HIMSELF HAS RETWEETED THESE VIDEOS AND HAS AROUND 44 MILLION FOLLOWERS! GOD BLESS YOU TRUMP! GOD BLESS AMERICA!"