British Florist Shocked By Appearance in ISIS Propaganda Magazine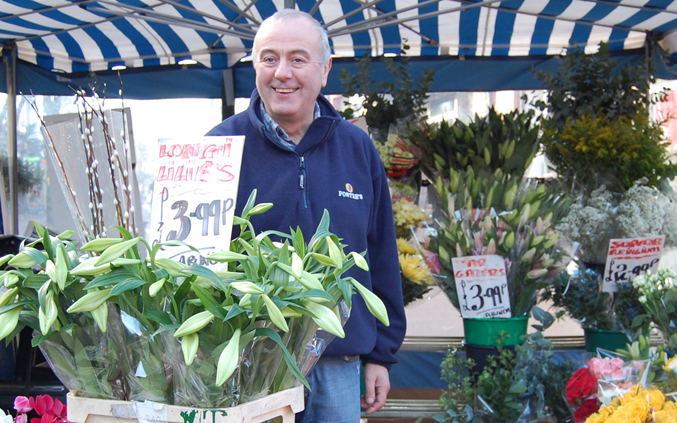 A florist included in a Islamic State militant group (ISIS) propaganda release has spoken of his shock at being the subject of a call to target "even the blood of a merry crusader citizen selling flowers to passersby."
Stephen Leyland, a 64-year-old florist from the British county of Cheshire, found to his horror that he had been pictured in ISIS's latest issue of Rumiyah magazine next to a caption that issued a call for jihadis to target innocent bystanders.
Speaking to The Times, Leyland said that finding that his picture had been used for such propaganda purposes had been a "bit of a shock" as he is more used to dealing with wealthy clients, such as David Beckham, rather than worrying about the aims of radical Islamists.
"I'm not scared but I am concerned that the photo is in this magazine," he said about the article entitled: The Infidel's Blood Is Halal For You, So Shed It. "I don't know any jihadis. My customers are the Alderley Edge crowd, footballers' wives and those sort of people."
Counter-extremism authorities interviewed the florist Tuesday after the release of the 38-page magazine, but details of what they asked him remain unknown. Their motive was apparently spurred by Britain's top diplomat. "They said that the foreign secretary had asked about it," he said.
ISIS, as it continues to lose territory in Iraq and Syria, is morphing into a more internationally-focused extremist group, calling for supporters to launch attacks in their home countries rather than attempting to enter Syria as increased action by Turkey makes access more and more difficult.
Ahead of the Islamic holy month of Ramadan, the group's spokesman Abu Mohammad al-Adnani, now dead after an air strike in Syria, had called on followers to launch attacks and "punish the Crusaders day and night" in an audio message. Deadly attacks followed at a LGBT nightclub in Orlando, a popular tourist promenade in Nice and a Catholic church in northern France.
In similar fashion, the article that featured Leyland said that other innocent people would be "fair game" for attacks, such as businessmen on the way to work or children playing in the park.
The group continues to release propaganda in different platforms, such as its main title Dabiq and another title known as Al-Naba.
Steve The Flower Man declined to comment when contacted by Newsweek.