British Government Is Quietly 'Watering Down' Workers' Rights in Brexit Agreement, Union Warns
One of Britain's biggest trade unions has accused Prime Minister Theresa May's government of trying to quietly "water down" its commitment to protecting workers' rights in its Brexit withdrawal agreement with the European Union.
As May seeks the support for her withdrawal deal from Labour members of Parliament in a Commons vote this week, British trade union GMB has said the guarantees the prime minister has made to protect workers' rights "are not worth the paper they are written on."
While May's government vowed to "embed the strongest possible protections" of employment entitlements provided under EU law last week, GMB has said that changes in the language of the final Brexit agreement have significantly "watered down" human rights commitments and left workers' rights vulnerable to future abuses.
"Beyond rejecting calls for the wider range of social and political rights embodied in the EU Charter of Fundamental Rights to be embedded in U.K. law, the government went further by diluting the language in the political declaration to allow a future withdrawal from the [European Convention on Human Rights]," GMB warned in an analysis provided exclusively to Newsweek.
"The language was modified substantially," the GMB said, "from 'continued adherence to the ECHR" in the November 14, 2018, outline version "to 'continued commitment to respect the framework of the ECHR'" in the final draft on November 22, 2018.
Both the Charter of Fundamental Rights and the European Convention on Human Rights contain overlapping human rights protections, but the two operate within different legal frameworks. The Charter of Fundamental Rights was drafted by the EU and is interpreted by the Court of Justice of the European Union. The European Convention on Human Rights was drafted by the Council of Europe in Strasbourg and is interpreted by the European Court of Human Rights.
While the change in wording of the British government's commitment to protecting rights enshrined in the EU covention is subtle, GMB has warned that the small alteration could have a major impact on workers rights, arguing that "'respect' is a political measure, not a legally enforceable" one.
Calling the EU convention the "backbone of human rights and political freedoms in Europe for 65 years," GMB said the charter "protects the right to freedom of assembly and association, including the right to form trade unions...but also, of course, covers the right to life, prohibition of torture, slavery and forced labour, right to liberty and security, freedom of expression, fair trial and due process, respect for private and family life, freedom of thought and religion."
While the union acknowledges that elsewhere in the final political declaration there is a "more full-bodied commitment" to "continued adherence and giving effects fo the ECHR," this commitment is only made in relation to law enforcement and judicial cooperation in criminal matters, such as cross-border policing and extradition arrangements.
"It is meaningfully restrictive to ensure that this heightened level of rights protection is restricted to only that area of cooperation," GMB asserted.
In December, the House of Lords EU Justice Sub-Committee sought clarification from the government about its "diluted" promise to protect workers rights in May's political declaration.
Specifically, the subcommittee asked: "What accounts for these drafting changes and what do they mean in practice? Does the government intend to bring forward plans to break the formal link between the U.K. courts and the European Court of Human Rights after Brexit?"
Responding to the subcommittee's request, MP Edward Argar, undersecretary of state at the Ministry of Justice, pledged an unchanging commitment to human rights and fundamental freedoms but offered no explanation for the change in wording.
The letter also ended with a reference to revisiting the Human Rights Act after Britain's exit from the EU was complete, further raising concerns by the EU Justice subcommittee over "the lack of assurances about the government's commitment to the Human Rights Act post-Brexit."
GMB warned that the use of such "watered down" language in the withdrawal agreement will leave workers vulnerable to the whims of a future Parliament, warning that the door will be left "open to a future government tearing up strong protections that currently exist for working people."
"Currently, the EU Charter of Fundamental Rights provides an internationally binding backstop on human and workers' rights that is enforceable at the European Court of Justice, an avenue of redress that has proved effective for trade unions and civil society campaigns," GMB said. "The prime minister is proposing to trade an internationally binding backstop for a paper-thin commitment that could be repealed by a future Parliament."
"No one should be under any illusion—support for the Prime Minister's bad Brexit deal means swapping strong legal protections on workers' rights for legally unenforceable tweaks that are not worth the paper they are written on," GMB General Secretary Tim Roache said in a statement to Newsweek.
"As a trade union we know that assurances on 'non-regression' are meaningless if there is no way to enforce them," he continued. "These promises would fail to ensure working people's rights in the U.K. keep pace with those in our neighboring countries."
"The government's deal would see the existing backstop on workers' rights pulled from beneath people's feet, with employment protections we all rely on being left to the mercy of whichever hard line Tory takes the reigns next," Roache said. "History will not be kind to those who risk our rights on a few nods and winks from a lame duck Prime Minister."
"The Government has been caught in the act trying to water down our rights while simultaneously attempting to convince the country they want to do right by working people," Roache said. "This sleight of hand—one that ministers hoped no one would notice—shows exactly why we can't trust this government when it comes to our rights at work."
In a statement sent to Newsweek, Eloise Todd, CEO of Best for Britain, a civil society campaign fighting to keep the UK open to EU membership, said "it's outrageous that both human rights and workers' rights have been watered down by the government in the course of the UK government's botched negotiations with the EU."
"We cannot be taken in by mealy-mouthed promises on workers or human rights from a Prime Minister who is desperate to say anything that might get her bad Brexit deal through Parliament," Todd said. "There is no form of Brexit which protects hard-won workers' rights like our EU membership does. The PM may well promise votes in Parliament on adopting future EU legislation on workers' rights, or insist human rights will be protected, but we cannot predict what the makeup of future parliaments might be and whether those votes would pass."
Calling for a second referendum, Todd said "it must be the duty of all MPs to vote down anything that makes their communities or constituents poorer, or risks their job security and rights."
"We must put this issue back to the people, so that they can decide if they want to leave on the PMs terms or stay in the EU and retain the strongest employment protections possible," she said.
GMB's analysis comes as legal assessment commissioned by two other unions, the Independent Workers' Union of Great Britain (IWGB) and the Transport Salaried Staffs' Association (TSSA), has similarly warned that the government's promise to protect workers' rights after Brexit is not backed by any solid assurances.
The assessment, drafted by Aidan O'Neill QC, an expert in European law, warns that May's plan offers no commitment to ensuring that the U.K. matches future EU standards and that MPs cannot force future parliaments to deliver such a promise.
"Brexit involves, in effect, a wholesale bonfire of the 'vanities', which this government evidently regards EU law rights to be," O'Neill wrote in his assessment, according to The Guardian.
"Even if it were proposed by the government that it would seek to insert into any withdrawal agreement with the EU a legally binding commitment obliging the U.K. to match EU standards in terms of workers' rights and other social protection, this is not an obligation which could be directly enforced or insisted upon by individuals before our courts, as it would be a matter of international law only," he said.
In a statement to The Guardian, IWGB General Secretary Jason Moyer-Lee called the assessment a "damning indictment of the prime minister's non-offer last week."
"Workers, and in particular the precarious workers the IWGB represents, need the full protection of the EU employment law," he said. "The PM's half-hearted proposals don't come anywhere near that protection."
Human Rights Watch has also warned that "the danger to workers' rights is real," with senior legal adviser Clive Baldwin warning in a post published on Friday that while "on day one of Brexit, it may seem that little will have changed...there will be nothing stopping any government in future [from] scrapping workers' and other rights.
"The government's ditching of the Charter and the protection of the EU's court, without offering anything equivalent in return, makes it all too easy for a future government to weaken or even scrap workers' rights," Baldwin said. "In this light, May's vague promise to consult Parliament when the EU introduces new protections of rights is thin gruel."
The senior legal adviser said that if the British government wants to protect workers' rights after Brexit, it must retain the European Charter on Fundamental Rights in British law.
"It should ensure that after Brexit, workers, unions, and organizations will have the same power to sue the government to enforce those rights as they do now. That would protect workers against politicians who argue that Britain should scrap such protections as part of a deregulation effort," he said. "If not, workers across the U.K. will be at risk if a future government decides to use Brexit to build a bonfire of employment and equality rights."
Asked for a request for comment for this article, 10 Downing Street referred Newsweek to the Department for Exiting the European Union. The department said it would look into the matter.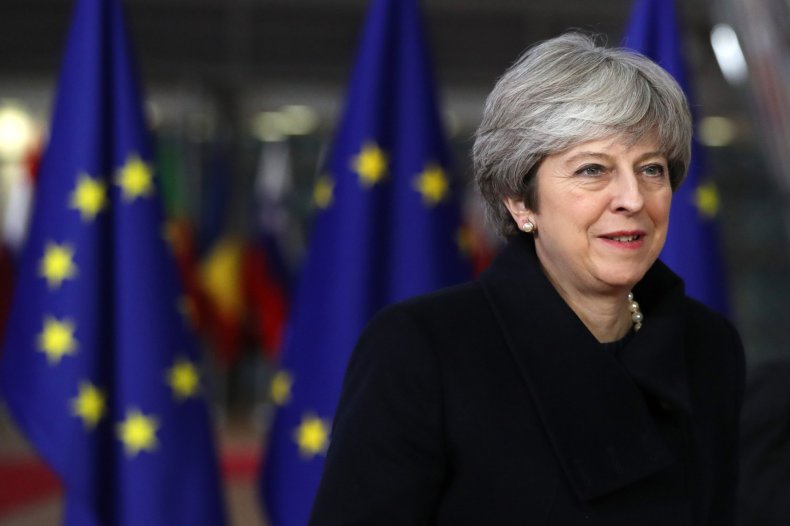 This article has been updated with statements from GMB and from Best for Britain.