Donald Trump Told Not to Meet Brexit Champion Nigel Farage on U.K. Visit
The British government is anxious for President Donald Trump not to meet ally and Brexit champion Nigel Farage during his visit to the U.K. next week.
Farage, former leader of the populist United Kingdom Independence Party (UKIP), told British newspaper the Daily Telegraph that he had been informed the British government did not want Trump meeting him "through the normal protocol channels."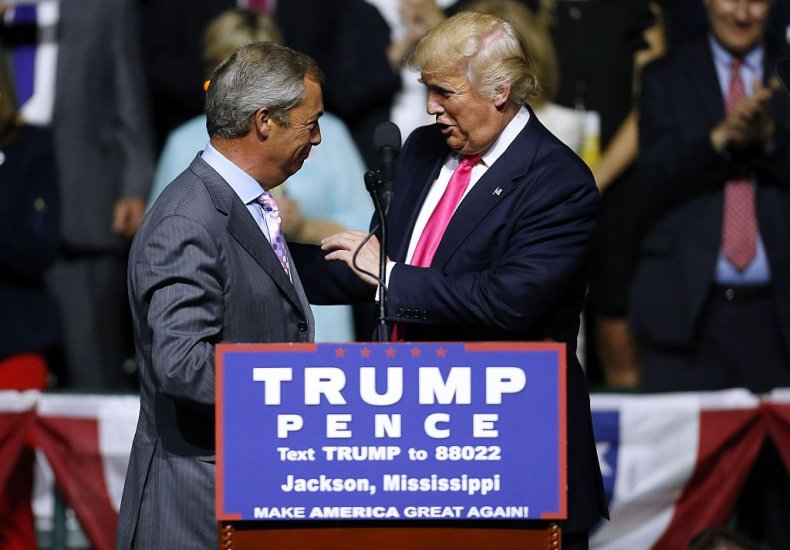 He said: "I understand that through the normal protocol channels established between [the countries] ahead of a visit that they are very keen—almost paranoid I was told—that he [Trump] doesn't meet me."
An anonymous source in Prime Minister Theresa May's office at Number 10 Downing Street confirmed to the publication that officials had made it clear that Trump "must not meet Farage" in discussions about the president's itinerary for the visit.
Trump is to visit the U.K. on Friday July 13 for a three-day working visit, his first as U.S. president. He is expected to meet Queen Elizabeth and May on the visit, but may steer clear of London, where thousands of protesters are expected to take to the streets to express their opposition to the visit.
Farage is among Trump's most high-profile British supporters. He appeared at a campaign rally during the 2016 presidential election campaign to back the candidate, whose brash, outspoken style and hardline positions on immigration resemble his own.
Trump in turn declared his support for Britain's June 2016 referendum decision to withdraw from the European Union, which Farage had spent his career campaigning for.
Farage was among the first foreign politicians to visit Trump after his November 2016 presidential victory, grinning broadly as he posed for a picture with the president elect in a gilded interior in Trump Tower.
May's conservatives for years battled to avoid being outflanked by Farage's UKIP over immigration issues and EU membership.
In recent months, Farage has come under scrutiny for his links with WikiLeaks founder Julian Assange. The Congressional inquiry into Russian collusion told in January that Farage had handed a USB stick to Assange on a visit to the Ecuadorian embassy in London, where Assange has taken refuge. Farage has dismissed the claims as "conspiratorial nonsense."
Weeks before the 2016 election, WikiLeaks published thousands of emails that U.S. intelligence agencies say were stolen from Democratic Party email servers by Russian government-linked hackers.