British ISIS Supporters Guilty of 'Three Musketeers' Plot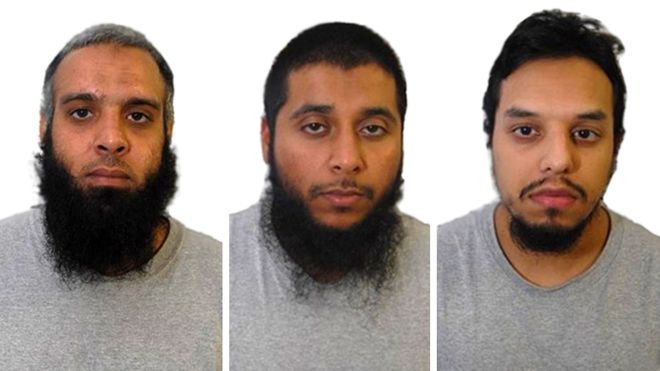 Three British jihadis who called themselves the "three musketeers" were found guilty in a British court on Wednesday of a plot to attack a military or police target in the name of the Islamic State militant group (ISIS).
Undercover agents from Britain's domestic MI5 security service thwarted Naweed Ali, 29, Khobaib Hussain, 25 and Mohibur Rahman, 33, before they could launch their plan for a mass-casualty attack.
The three spoke frequently on the encrypted messaging app Telegram, where they shared radical Islamist materials and thoughts with one another, and they had joined extremist channels.
Officers told the BBC that the operation to stop the attack was "one of the most complex counter-terrorism investigations in a number of years."
British spies created a fake company named Hero Couriers in August 2016, giving two of the cell's members—Hussain and Ali—shifts as drivers. The agents then searched one of the vans that Ali was driving when he left it at a depot in the city of Birmingham.
In the vehicle, they found a partly built pipe bomb and a meat cleaver with the word "kafir," or disbeliever, inscribed into it, as well as a sword and a fake gun.
The three men claimed that an undercover officer who acted as their boss at the company had planted the weapons arsenal.
Two of the men, neighbors Ali and Hussain, tried to join an Al-Qaeda training camp in 2011, and British police jailed them upon their return to the country. They met Rahman in prison, and all became radicalized by ISIS propaganda after their release.
The court will sentence the three men on Thursday.
Until March, Britain had not suffered radical Islamist attacks that other European nations faced after the rise of ISIS, particularly France and Germany. Three attacks—two in London and one in Manchester—followed in as many months: a March car-ramming and stabbing attack on Westminster bridge that left five dead; a May suicide bombing at an Ariana Grande concert in Manchester that killed 22 people; and a June vehicle-ramming on London Bridge just after a knife attack around the popular Borough Market area.
British security services are on high alert as ISIS continues to lose territory in Iraq and Syria, as fears grow that British nationals who have traveled to the Middle East to join the radical Islamist group's ranks may return. Last week, the Sunday Times reported that the British government has stripped more than 150 suspected jihadists of their citizenship and barred them from returning home. Those barred are dual nationals, so they are not left stateless.
A senior security source told the Sunday Times: "There's an awful lot of people we have found who will never be coming home again. Our number one preference is to get them on trial. If we don't think that's possible, we use disruption techniques."
British security services estimate that as many as 850 British nationals joined radical Islamist groups in the Middle East. As many as half have returned, and some 130 have been killed in action.