A British Embassy worker based in Germany has been arrested by the authorities on suspicion of spying for Russia.
German prosecutors announced on Wednesday that police in the town of Potsdam, which borders Berlin, had arrested a 57-year-old British man who they believe has been passing on documents to the Russian intelligence service in exchange for cash, the chief federal prosecutor's office said in a statement.
The prosecutors said that the man, referred to as "David S," had been working with Russian intelligence since November 2020, while in a position as an employee at the British Embassy in Berlin.
The man has been accused of forwarding "documents obtained in the course of his professional activities to a member of the Russian intelligence service" in exchange for cash, according to a statement from the authorities.
Sky News reported that the man's alleged activities "had been known about for some time" and said that he was being monitored by members of the British security services while the authorities gathered evidence to arrest him.
The British Embassy in Berlin is located just a 250-meter (273-yard) walk from the Russian Embassy, according to Reuters.
Local authorities in Potsdam searched the apartment of the British man on Wednesday, and he is expected to be brought before an investigating judge on Wednesday afternoon, where they "will open the warrant for him and decide on the execution of the pre-trial detention."
The prosecutor's office confirmed on Wednesday that the arrest was the result of a joint investigation by German and British authorities.
In a statement on Wednesday, the Metropolitan Police in the U.K. confirmed that "the man was arrested in the Berlin area on suspicion of committing offences relating to being engaged in 'Intelligence Agent activity' (under German law).
"Primacy for the investigation remains with German authorities. Officers from the Counter Terrorism Command continue to liaise with German counterparts as the investigation continues."
A U.K. government spokesperson also confirmed the arrest to Sky News, saying: "An individual who was contracted to work for the government was arrested yesterday by the German authorities.
"It would not be appropriate to comment further as there is an ongoing police investigation."
The incident is not the first time that Russia has been accused of spying on the activities of or interfering in the politics of countries around the world.
In August 2020, a former Green Beret captain in the U.S. was charged with allegedly sharing military secrets with Russia after he was accused of conspiring with Russian intelligence agents between 1996 and 2011.
In 2018, two Russian men were accused of carrying out an attack on former Russian spy Sergei Skripal on British soil. This event caused several countries to expel Russian diplomats in solidarity with the U.K.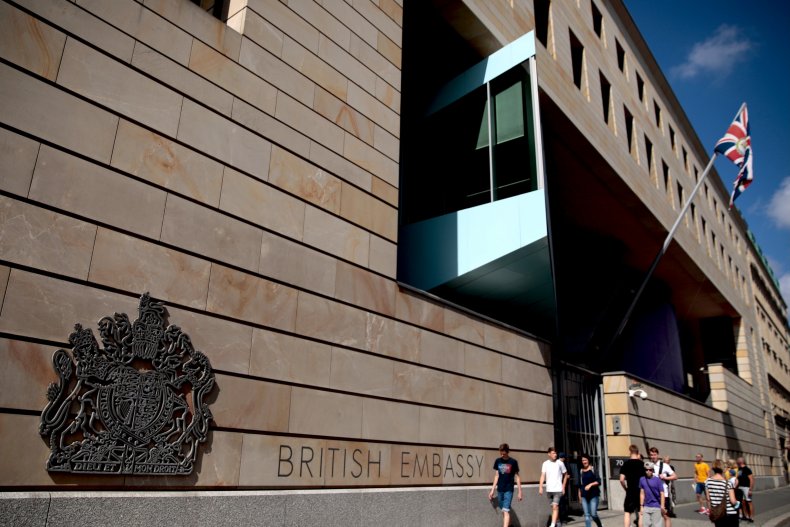 Update 8/11/2021 8:19 a.m. ET: This article was updated to provide further information and context throughout.