British Man Receives World's First Dose of Oxford COVID Vaccine
British man Brian Pinker has become the first person in the world to receive the Oxford-AstraZeneca COVID-19 vaccine after it was approved for use in the United Kingdom. The 82-year-old man, who is a dialysis patient, received his shot at 7.30 a.m. GMT (2:30 a.m. ET) at Oxford's Churchill Hospital.
The government says more than 500,000 doses of the vaccine are ready for use. Six hospital trusts in Oxford, London, Sussex, Lancashire and Warwickshire are ready to administer the vaccine and the other doses will sent to GPs and care homes later this week.
British Prime Minister Boris Johnson has said that "tens of millions" of vaccinations will be given over the next three months. Despite the rollout, a further full national lockdown is expected in the U.K. in the coming days, with Johnson saying that regional restrictions are "probably about to get tougher" as case numbers spiked over Christmas.
Sunday was the sixth day running that 50,000 cases or more were registered and both deaths and hospital admissions have been increasing sharply. This has led to concerns that schools in England, many of which re-open today, should remain closed to limit the spread of the virus.
Pinker, who has visited the Churchill Hospital for kidney dialysis many times over many years, said: "The nurses, doctors and staff today have all been brilliant and I can now really look forward to celebrating my 48th wedding anniversary with my wife Shirley later this year." He said he was "really proud" that the vaccine he was taking was developed in Oxford.
The Oxford vaccine is the second to be approved for use in the U.K. The first vaccine, developed by Pfizer/BioNTech, was taken by William Shakespeare early on and is, according to preliminary results, slightly more effective than the Oxford vaccine at stopping cases though experts have said that both vaccines are effective and fit for use.
The Oxford AstraZeneca vaccine has the advantage of only needing to be stored at standard refrigerator temperatures rather than the -70 degrees Celsius (-94 Fahrenheit) for the Pfizer vaccine.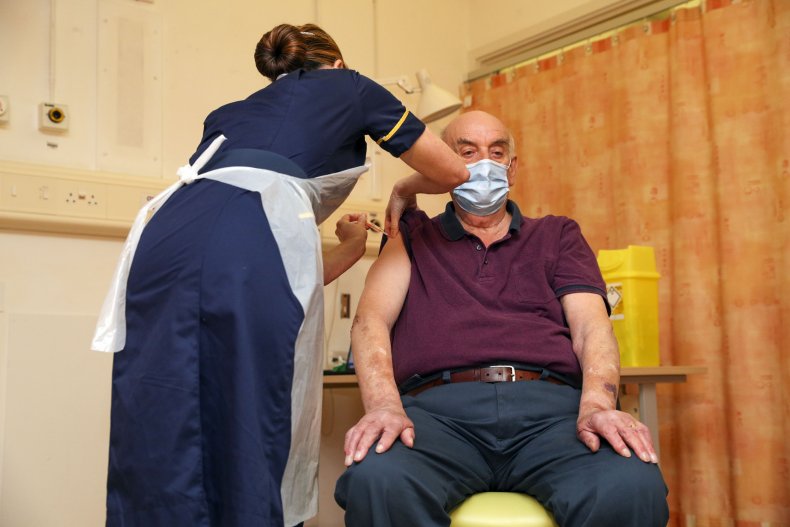 British Health Secretary Matt Hancock said that though he was very proud to be part of "world first" vaccinations, the public was in for a "tough few weeks ahead" with a spike in cases.
While the U.K. has ordered a combined total of 140 million doses of both vaccines, meaning every person in the U.K. can receive two doses, there is controversy about how long it might take everyone to get vaccinated, with the prime minister saying that enough should be completed by Easter (April 4) that life can start returning to normal.
NHS medical director Professor Stephen Powis said: "The NHS's biggest vaccination program in history is off to a strong start, thanks to the tremendous efforts of NHS staff who have already delivered more than one million jabs."
Every care home resident should be vaccinated by the end of January, the Department of Health and Social Care said, and over 700 sites have been established across the U.K. with that number set to reach 1,000 before the end of the week.