British MP Jacob Rees-Mogg Gets Meme Treatment After Lounging During Crucial Brexit Debate
Twitter gave Jacob Rees-Mogg— Conservative MP and Leader of the House of Commons—the meme treatment after he was pictured slouching and lounging on the Commons front bench during a crucial Brexit debate.
Rees-Mogg was caught reclining in the chamber as MPs discussed plans to take control of the Commons agenda and pass legislation which would prevent a no-deal Brexit on October 31.
People on opposition benches yelled, "Sit up, man!" as Rees-Mogg slouched during a three-hour late-night debate on Tuesday. The member of parliament did not move.
His repose prompted criticism from several politicians, with Labour MP Anna Turley posting a photo on Twitter describing it as "the physical embodiment of arrogance, entitlement, disrespect and contempt for our parliament." British actor Hugh Laurie described the behavior on Twitter as "insolent" and "insufferable."
The Leader of the House of Commons has not responded to the image, but on social media, it became an instant hit. The memes continued throughout Tuesday and into Wednesday:
Rees-Mogg's posture represented those who think Parliament is at odds with the people. And for others, it is a symbol of the government's current approach to Brexit has been determined by an elite that has little respect for the process.
Others argued that jokes and memes would distract from the seriousness of what is happening in Parliament. People's Vote UK — an activist group that demands a people's vote on Brexit — tweeted on Wednesday, "Make Jacob Rees-Mogg sit up and take note. March with us & demand a #PeoplesVote on October 19th."
After the debate on Tuesday, conservative rebels and opposition MPs defeated the government in the first stage of their attempt to pass a law designed to prevent a no-deal Brexit. They voted 328 to 301 to take control of the agenda, meaning they can bring forward a bill seeking to delay the UK's exit date.
In total, 21 Conservative MPs — including a number of ex-cabinet ministers — joined opposition parties to defeat the current government.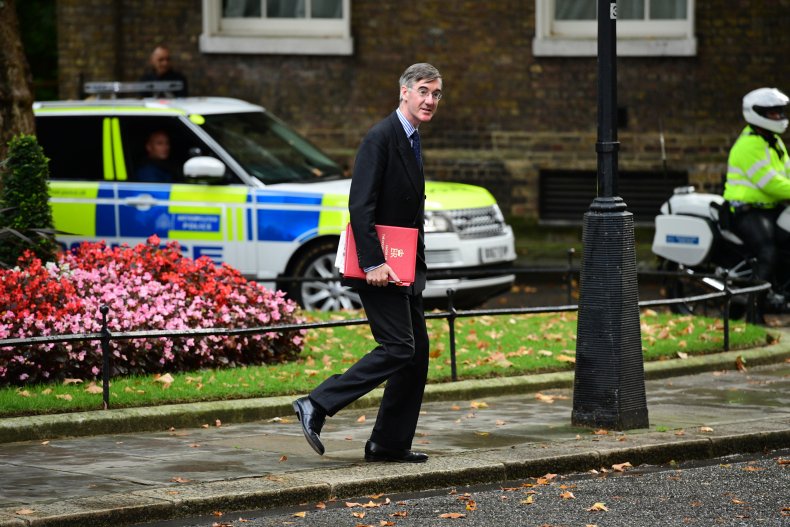 Boris Johnson announced Tuesday he will ask parliament to allow a snap general election, which would be held on October 15.
Johnson has said that even if the rebels' vote passes on Wednesday he will never request an extension beyond October 31 from the EU, and "the people of this country will have to choose" in an election.