British Open 2019: When Does Tiger Woods Tee off at Portrush on Thursday?
Tiger Woods will play alongside Ryder Cup teammate Patrick Reed in the first two rounds at The Open Championship at Royal Portrush in Northern Ireland.
England's Matt Wallace will join the two Americans out on the tee at 3:10 p.m. local time (10 a.m. ET) on Thursday as the 148th edition of the oldest major in the world gets underway.
Woods and Reed were part of the U.S. team that failed to defend the Ryder Cup in France last year and between them have won the last two editions of the Masters.
A three-time Open winner, Woods finished tied for sixth at Carnoustie, Scotland, a year ago but has since ended his 11-year wait for a major when he triumphed at Augusta, Georgia, in April.
The trio will follow two groups containing potential winners.
Tony Finau tees off at 2:48 p.m. local time (9:48 a.m. ET) alongside England's Justin Rose and Denmark's Lucas Bjerregaard, followed by Dustin Johnson, Keegan Bradley and Australia's Jason Day, 10 minutes later.
Northern Ireland's Darren Clarke will hit the opening tee shot at 6:35 a.m. local time (1:35 a.m. ET). The 2011 winner has a house that overlooks the course and said he was happy to go out so early in the morning.
"It's Royal Portrush, it's the first time it has been here for 68 years and I gladly accepted," he was quoted as saying by BBC Sport. "Sometimes it can also be a good draw teeing off so early."
Former Open winner Phil Mickelson tees off at 7:52 a.m. local time (2:52 a.m. ET), alongside Ireland's Shane Lowry and South Africa's Branden Grace.
Portrush native Graeme McDowell will be out on the course at 9:14 a.m. local time (4:14 a.m. ET) along with Xander Schauffele, who finished second last year, and 2016 winner Henrik Stenson.
Fellow local favorite Rory McIlroy, meanwhile, begins his quest for a second Open title at 10:09 a.m. (5:09 a.m.) alongside Gary Woodland and England's Paul Casey.
McIlroy is a pre-tournament favorite alongside Brooks Koepka, who tees off at 1:04 p.m. (8:04 a.m.) alongside South Africa's Louis Oosthuizen and India's Shubhankar Sharma.
The previous group will feature Justin Thomas, England's Tommy Fleetwood and Denmark's Thorbjorn Olesen.
Jordan Spieth will be out on the course at 1:26 p.m. local time (8:26 a.m. ET) alongside England's Danny Willett and Australia's Marc Leishman.
Meanwhile, Matt Kuchar, Patrick Cantlay and Spain's Jon Rahm will follow Woods' group out on the tee at 3:21 p.m. local time (10:21 a.m.).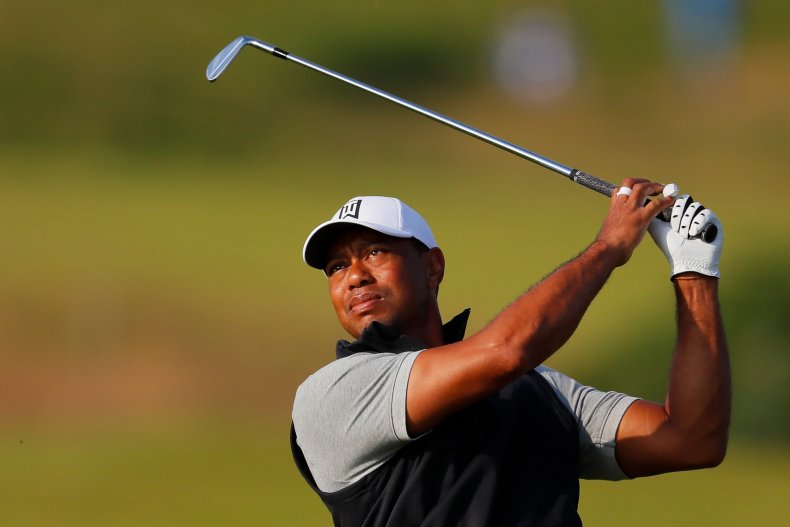 Selected tee times for the first two rounds (all times ET)
First round, Thursday, July 18
1:35 a.m.—Charley Hoffman, Darren Clarke, James Sugrue (a)
2:52 a.m.—Phil Mickelson, Shane Lowry, Branden Grace
4:14 a.m.—Henrik Stenson, Xander Schauffele, Graeme McDowell
4:58 a.m.—Bryson DeChambeau, Francesco Molinari, Adam Scott
5:09 a.m.—Gary Woodland, Rory McIlroy, Paul Casey
5:20 a.m.—Rickie Fowler, Kevin Kisner, Hideki Matsuyama
7:53 a.m.—Justin Thomas, Tommy Fleetwood, Thorbjorn Olesen
8:04 a.m.—Louis Oosthuizen, Brooks Koepka, Shubhankar Sharma
8:26 a.m.—Jordan Spieth, Marc Leishman, Danny Willett
9:48 a.m.—Justin Rose, Tony Finau, Lucas Bjerregaard
9:59 a.m.—Dustin Johnson, Jason Day, Keegan Bradley
10:10 a.m.—Tiger Woods, Matt Wallace, Patrick Reed
10:21 a.m.—Patrick Cantlay, Jon Rahm, Matt Kuchar
Second round, Friday, July 19
2:52 a.m.—Justin Thomas, Tommy Fleetwood, Thorbjorn Olesen
3:03 a.m.—Louis Oosthuizen, Brooks Koepka, Shubhankar Sharma
3:25 a.m.—Jordan Spieth, Marc Leishman, Danny Willett
4:47 a.m.—Justin Rose, Tony Finau, Lucas Bjerregaard
4:58 a.m.—Dustin Johnson, Jason Day, Keegan Bradley
5:09 a.m.—Tiger Woods, Matt Wallace, Patrick Reed
5:20 a.m.—Patrick Cantlay, Jon Rahm, Matt Kuchar
6:36 a.m.—Charley Hoffman, Darren Clarke, James Sugrue (a)
7:53 a.m.—Phil Mickelson, Shane Lowry, Branden Grace
9:15 a.m.—Henrik Stenson, Xander Schauffele, Graeme McDowell
9:59 a.m.—Bryson DeChambeau, Francesco Molinari, Adam Scott
10:10 a.m.—Gary Woodland, Rory McIlroy, Paul Casey
10:21 a.m.—Rickie Fowler, Kevin Kisner, Hideki Matsuyama