British PM Boris Johnson Pushes Back Against Trump After President Calls Reporter's Question 'Very Nasty'
British Prime Minister Boris Johnson publicly pushed back against Donald Trump on Tuesday, defending a journalist after the president characterized the reporter's question as "very nasty."
The exchange came during a joint meeting in front of the press between Johnson and Trump on the sidelines of the United Nations General Assembly in New York. Reuters' White House correspondent Jeff Mason asked Johnson about calls for his resignation after the United Kingdom's Supreme Court ruled on Tuesday that the British prime minister had illegally suspended parliament in an attempt to force through Brexit.
Johnson actually thanked the reporter for the question and answered without hesitation. "As I said earlier on, let's be absolutely clear—we respect the judiciary in our country," he said. "We respect the courts. I disagree profoundly with what they had to say." But after the British leader finished attempting to justify his controversial decision to suspend parliament, Trump jumped in to criticize the journalist for doing his job.
"It was a very nasty question from a great American reporter," the president quipped.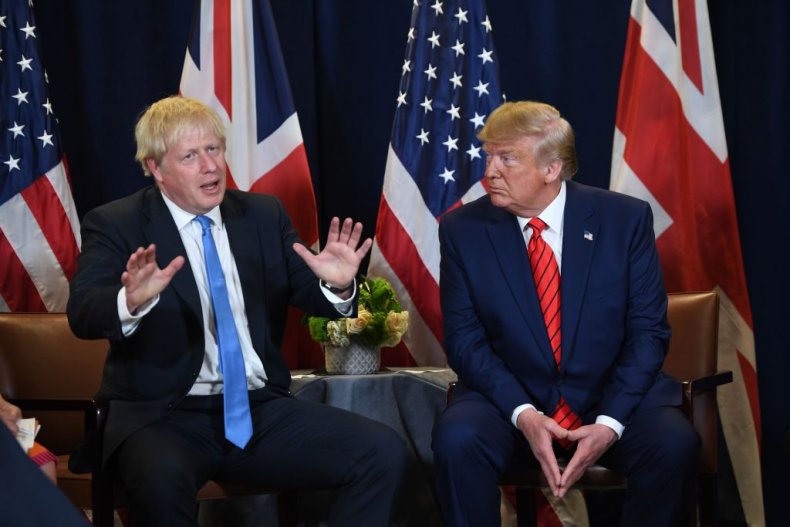 But Johnson disagreed, jumping to the journalist's defense. "I think he was asking a question, to be fair, that a lot of British reporters would have asked."
Trump then said: "I tell you what, I know him [Johnson] well. He's not going anywhere."
The British Supreme Court's Tuesday ruling represented yet another blow to Johnson, who has struggled to make any significant headway toward accomplishing Brexit since he took over as prime minister at the end of July. Thus far, Johnson's tenure has been marked by resounding defeats in parliament, as he and his hardline supporters have pushed to force Brexit through at any cost. His efforts have led to his Conservative party losing its majority in parliament, as well as numerous lawmakers resigning from his government.
Although Trump has publicly praised Johnson on multiple occasions, the British leader has also been seen to push back against the president on several issues.
Last month, during the Group of Seven (G-7) Summit in France, Johnson raised his country's concerns about the hardline trade policies of Trump toward China and other nations.
"Just to register a faint, sheeplike note of our view on the trade war: we're in favor of trade peace on the whole," the British prime minister said at the time. "We think that on the whole, the U.K. has profited massively in the last 200 years from free trade and that's what we want to see. So, that's what we're keen to see. We don't like tariffs on the whole."
Prior to taking over as prime minister, Johnson served as the U.K.'s foreign minister for two years, from July 2016 to July 2018. During that time, Johnson attempted to convince Trump to remain within the Iran nuclear deal. He said in May of 2018 that he'd tried his "utmost" to dissuade Trump from unilaterally withdrawing, and insisted that the U.K. "would not walk away" from the treaty.
In a joint statement after Trump's withdrawal from the Iran deal, Johnson and the foreign ministers of the European Union, Germany and France expressed "regret" over the decision. "We deeply regret the re-imposition of sanctions by the U.S., due to the latter's withdrawal from the Joint Comprehensive Plan of Action," they said at the time. They also vowed to "protect EU companies doing legitimate business with Iran from the impact of U.S. extraterritorial sanctions."
Despite their disagreements, Trump praised Johnson after he was elected to be his nation's prime minister this summer. "Good man. He's tough and he's smart. They're saying 'Britain Trump.' They call him 'Britain Trump,' and there's people saying that's a good thing," the president said.