British PM Warns of 'Strong Possibility' of No-Deal Brexit
It is now "vital" that everyone in the United Kingdom is prepared to leave the EU with no trade deal in place, Britain's Prime Minister Boris Johnson has warned.
Speaking for the first time after weeks of intensive talks and a crunch meeting with European Commission President Ursula von der Leyen in Brussels, Johnson said there is a "strong possibility" the U.K. will fail to strike a post-Brexit deal.
"Now is the time for the public and businesses to get ready for January 1 because believe me there's going to be change," he said from Downing Street after updating Cabinet members on the state of play.
The two sides have given themselves until Sunday to reach an agreement on what are said to be "significant differences" remaining. Issues such as fishing rights and business competition are the main sticking points yet to have reached conclusion.
Johnson said that "looking at where we are", it is vital that Britain prepares for the "Australian-style option" of not having a free trade deal with the EU. "There's a strong possibility that we will have a solution much more like an Australian relationship with the EU than a Canadian relationship with the EU," he said.
Australia, unlike Canada, has no comprehensive trade deal with the EU, leaving its trade mostly subject to tariffs. Johnson uses the comparison to suggest a deal is not necessary, though Australia has only a fraction of Britain's trade with Europe. Under such a scenario, Britain would see trade barriers imposed with the EU, its main economic partner, in just three weeks.
The 27 national EU leaders met in Brussels on Thursday where the bloc's chief executive, Von der Leyen, said bridging the persistent differences between the two sides was "difficult". "We are willing to grant access to our single market... but the conditions have to be fair," she said. "This fine balance of fairness has not been achieved so far."
The president of the EU commission told a news briefing on Friday that the UK and EU "still remain apart on fundamental issues". The Guardian reports that Von der Leyen told EU leaders a "no-deal" Brexit is now the most likely outcome.
Talks continue between the EU and U.K. negotiators but Johnson said they were "not yet there at all" in securing a deal. Time is running out to reach an agreement before the U.K. stops following EU trade rules on December 31.
"In just the last couple of weeks, they've brought back the idea of this equivalence between the U.K. and the EU which basically means that whatever new laws the EU brought in, we would have to follow or else face punishment, sanctions, tariffs or whatever," the PM said. "The Cabinet agreed very strongly with it that we're really not there yet at all."
Johnson pledged that British negotiators will "go the extra mile" to secure a deal but that "there's always the possibility, the prospect of coming out on Australia terms, which I believe are very good terms and we can prosper mightily in that future which is just around the corner. We're not stopping talks, we'll continue to negotiate but looking at where we are, I do think it's vital that everyone now gets ready for that Australian option."
Former Australian Prime Minister Malcolm Turnbull did not share the PM's enthusiasm for an Australia-style deal, warning Johnson to be "careful what you wish for".
Turnbull told the BBC's Question Time program there were some "very large barriers to Australian trade with Europe", saying: "Australians would not regard our trade relationship with Europe as being a satisfactory one."
Australia largely does business with the EU on World Trade Organization (WTO) rules but has a few arrangements in place, such as co-operation on science and trade on wine. Moving to WTO rules on 31 December could result in tariffs being imposed leading to higher prices for the goods the U.K. buys and sells from and to the EU, among other changes.
Meanwhile, the EU has set out the contingency measures it would take in the event of no trade agreement being reached with the U.K.. The plans aim to ensure that U.K. and EU air and road connections still run after the post-Brexit transition period ends and allow the possibility of fishing access to each other's waters for up to a year, or until an agreement is reached.
Belgian Prime Minister Alexander de Croo said: "No-deal would not be a good thing but a bad deal would be even worse. Giving access to the common European Union market... should be on a level playing field," Reuters reports.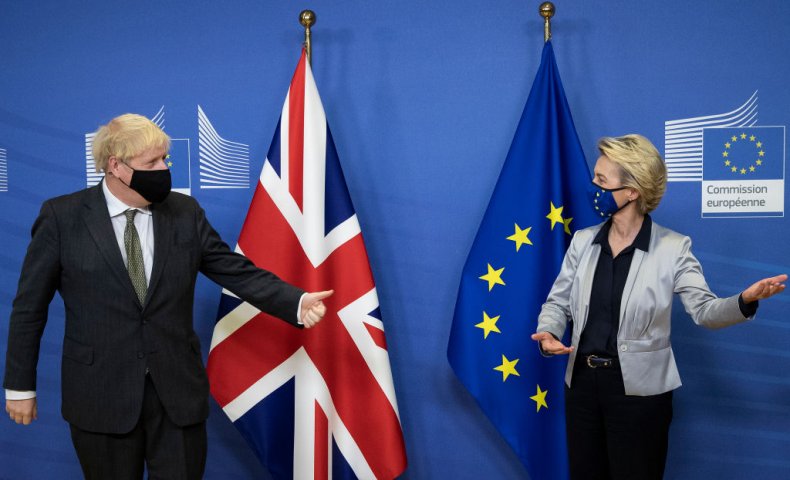 In perhaps a fitting metaphor for the talks, pictures yesterday showed trucks heading towards the English port of Dover stacked up for miles, with Brexit stockpiling and pre-Christmas traffic blamed. Logistics groups have reported surging demand from companies trying to bring parts, goods and food into the country before Britain leaves the EU's single market and customs union, a move that is expected to cause even more disruption in January.
According to the British government's "worse-case scenario" planning, even with a trade deal, 7,000 trucks heading for the Channel ports in south-east England could be held in 100km queues if companies do not prepare the extra paperwork required.