British Politician Tweeted Picture of Trump Laughing at Pig Humping London's Muslim Mayor Balloon
A conservative member of the British Parliament tweeted a picture of President Donald Trump laughing at a balloon of London's Muslim mayor Sadiq Khan while a pig humps the blimp from behind.
Michael Fabricant, who represents Lichfield, shared the image just a few hours after Trump arrived in the United Kingdom Thursday, using the caption: "Well, what can I say." The image itself had text at the top that read: "Breaking news: Trump Defeats Sadiq Khan in Balloon Wars." The politician's post has since been deleted from Twitter.
In the picture, Trump can be seen laughing in the foreground with the United Kingdom's iconic Parliament building behind him. Floating above the historic structure is a balloon of Sadiq Khan and the pig.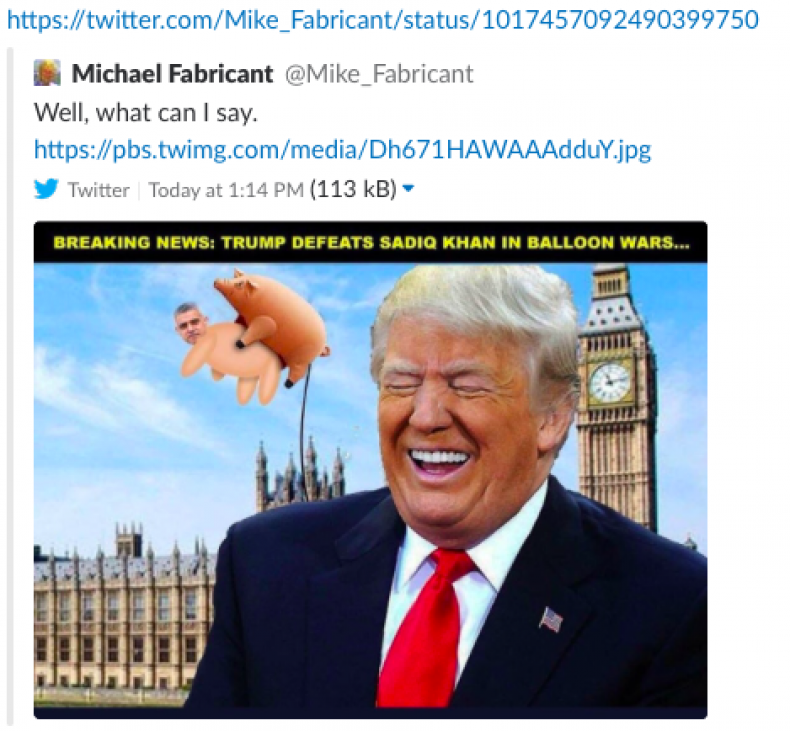 Other tweets from Fabricant call protests against Trump's visit "hypocritical" and mock the now infamous 20-foot baby Trump balloon, which Khan gave permission to fly through London as the U.S. president arrived. Fabricant argues that "there have been no similar large protests when despots who have imprisoned thousands of political prisoners have visited the UK."
The politician's tweet also comes after a counterprotester launched a crowdfunding campaign to fly a large baby Khan balloon in response to the mayor's approval of the Trump effigy. As of the time of writing, the campaign, which was launched by Yanny Bruere, has nearly reached 98 percent of its £50,000 ($66,000) goal.
Speaking to iNews this week, Bruere said he has an illustrator and a manufacturer ready as soon as the funds are fully raised. The goal is to fly the Khan balloon by August. Bruere also said he doesn't strongly support Trump, but he is definitely opposed to Khan's leadership. He is also highly critical of the mayor's decision to allow the "Trump Baby" balloon to fly.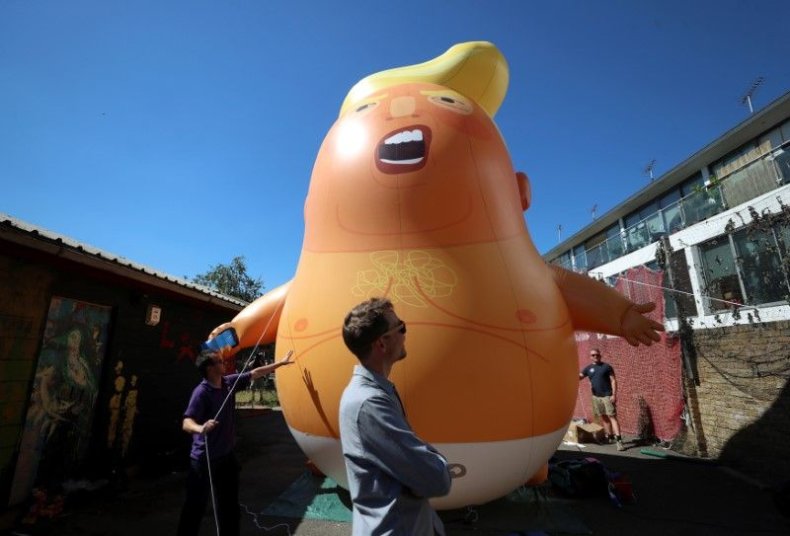 "I am against the Trump balloon being allowed to fly over London," Beure told iNews. "So I think if free speech applies to all, we should do the same to Mr. Khan."
In a heated discussion with British television host Piers Morgan on Tuesday, Khan explained he allowed the Trump balloon because its a "peaceful" and "safe" protest, adding that nobody should "curtail our right to a protest," Metro reported.
Criticizing the mayor's decision, Morgan pointed out that the image shown around the world of the U.K. following Trump's visit "is going to be him in a nappy as a baby." Morgan argued that the Trump visit comes at a crucial moment for the country, as it struggles with the impending implications of Brexit.
"We are going to need a good trade deal with America," Morgan said. He then asked Khan if he would accept a balloon of himself as a pig or of former President Barack Obama as a baby to fly through London, mentioning Obama's controversial drone strike policies.
Khan responded affirmatively. "It's not for me to decide whether it's in good taste or bad taste," the mayor replied.
"My views are irrelevant. The issue is do they have freedom to protest and should they be allowed to do so, if it's peaceful and it's safe, they should," he added.