British Politicians Blame Migrants and Ethnic Minorities for COVID-19 Spike
A British member of Parliament (MP) has said that Muslim and Black, Asian, minority ethnic communities (BAME) are not taking COVID-19 guidelines seriously, claiming that the "vast majority" of people flouting lockdown rules are from those backgrounds.
Craig Whittaker, the MP for the Calder Valley in West Yorkshire, northern England, was talking to LBC Radio as the British government announced new restrictions on different areas of England after a spike in cases. The restrictions affect more than four million people.
"What I have seen in my constituency is that there are sections of the community that are not taking the pandemic seriously," Whittaker told LBC.
"If you look at the areas where we've seen rises and cases, the vast majority—but not by any stretch of the imagination all areas—it is the BAME communities that are not taking this seriously enough.
"I've been challenging our local leaders for three weeks, asking what we are doing to target these areas to let people know that this is a very serious problem. Until people take it seriously, we're not going to get rid of this pandemic.
"We have areas of high multiple occupancies—when you have multiple families living in one household. It doesn't specifically have to be in the Asian community, but that is the largest proportion. Look at the areas. You've got Bradford, Calderdale, Kirklees. Bradford and Kirklees have two of the largest populations in West Yorkshire."
During the interview, he was asked specifically if he was talking about the Muslim community. "Of course," he answered.
Later in the interview, he was asked to clarify exactly which people he was referring to: "[The] immigrant and Asian population," he answered.
Whittaker's office has been contacted for further comment.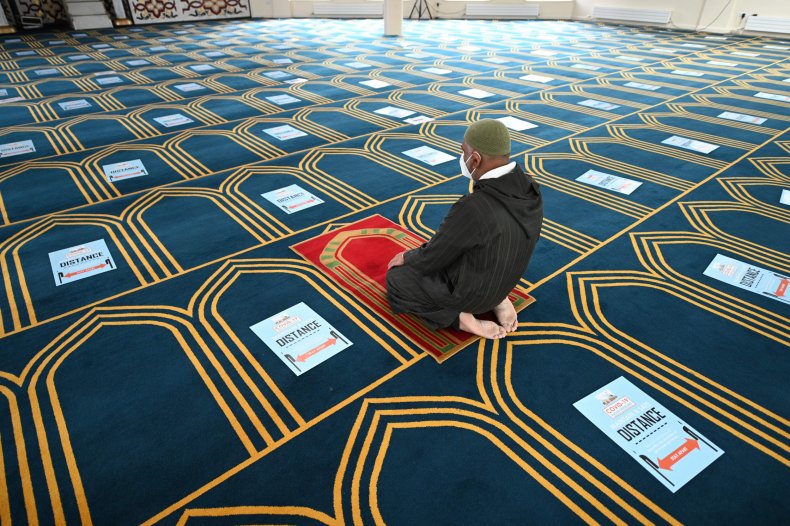 Increased lockdown measures were announced in a post on Twitter on Thursday evening, banning people from visiting others in their home and from mixing in bars or restaurants, coming into force only a few hours after the statement was made.
Friday marks Eid celebrations, a time when Muslim families would usually come together in celebration, something that religious leaders have warned against.
Andy Burnham, the mayor of Greater Manchester in Lancashire, North England, also said that the spike in COVID-19 cases had been impacted by gatherings "in multi-generational households".
When the BBC interviewer asked if he was referring predominantly to the Asian population of Greater Manchester, Burnham said: "Yes, I do mean that."
Campaigners have told Newsweek that spikes in cases are because of poverty and racism rather than specific ethnic or religious communities being more or less likely to breach guidelines.
Baroness Harding, the head of the U.K.'s National Health Service (NHS) Test and Trace service, has said that ere are particular concerns about coronavirus spreading in South Asian communities in England.
She said: "We are all learning what makes different communities, different professions, different parts of the country more vulnerable."
"I don't think there's a simple answer to say why one place and not another.
"There are a mix of things—certainly we are seeing a very high prevalence in the South Asian community across the country."