British Prime Minister Boris Johnson Hires Celebrity Personal Trainer
British Prime Minister Boris Johnson has hired celebrity personal trainer Harry Jameson in a bid to lose weight following admitting he was "too fat" and this affected his recovery from COVID-19, which put him in intensive care.
Jameson calls himself an "elite performance coach" and has trained Love Island host Laura Whitmore, boxer Oriance Lungu and former England footballer Wayne Bridge. He even appears regularly on Whitmore's BBC radio show.
Johnson's time in intensive care is widely thought to have prompted a shift in both his personal actions and changes in policy to tackle the obesity epidemic.
Traditionally a libertarian who is against the "nanny state" interfering in personal decisions, Johnson promised in 2019 to review "sin stealth taxes" put in place before he became prime minister on foods high in sugar, salt or fat.
But since his time in hospital, he has banned junk food TV adverts before 9 p.m. and talk of reversing the so-called "sugar tax" has gone away.
"Obesity is one of the real co-morbidity factors. Losing weight, frankly, is one of the ways you can reduce your own risk from coronavirus," Johnson said.
Johnson has "wanted to lose weight for ages" but "struggled" to keep off any weight that he lost. Hiring Jameson is a part of him taking this more seriously, admitting that the best way to avoid COVID-19 was "don't be a fatty in your 50s." He is 56 years old.
The prime minister has lost "at least a stone" since leaving hospital by going running with his dog and has "been steadily building up [his] fitness," he has said.
When launching the U.K. government's Better Health Strategy in July, Johnson said on social media: "I've always wanted to lose weight for ages and ages.
"Like, I think, many people I struggle with my weight - go up and down. But since I recovered from coronavirus, I've been steadily building up my fitness.
"I don't want to make any excessive claims because I've only really just started concentrating on it, but I've got - I'm at least a stone down. I'm more than a stone down. But when I went into ICU, when I was really ill, I was very, I was way overweight."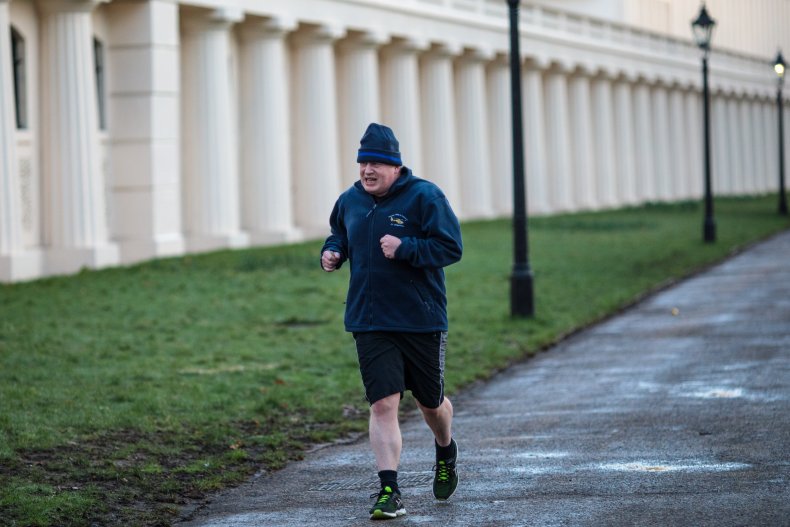 Jameson is the son of Doctor Who actress Louise Jameson, who played the companion to the Fourth Doctor, played by Tom Baker. She played the character Leela in the BBC show.
The personal trainer is known for his intense training programs and even body transformations in a month. It is unknown if the prime minister is taking on such an intense exercise program though, given he has recently become a father again, it is unlikely he has enough spare time.
Jameson has worked as a personal trainer for 15 years and it is unknown how frequently the workouts will take place.