British Prime Minister Boris Johnson Self-Isolating After Contact Tests Positive for COVID
Britain's prime minister will spend the next two weeks in self-isolation inside his flat at Downing Street after meeting a member of Parliament (MP) who later tested positive for COVID-19.
It's not great timing for Boris Johnson, who was hoping to make a series of "critical announcements" at the beginning of a crucial week in which he needed to turn things around following the dramatic departure of his two top aides. In a video posted to Twitter, the PM said he was "pinged" by The United Kingdom's Test and Trace program on Sunday and told to isolate at home, but said he remains well. He urged the public to "follow the rules" and self-isolate if they are also contacted by the scheme.
It came after the prime minister spent around 35 minutes with Tory MP Lee Anderson, who lost his sense of taste the next day. On November 12, Anderson posted a picture to Facebook of himself at Downing Street with Johnson, stood less than two meters apart and without face masks. He captioned the image: "Breakfast With The PM. This morning I met with the PM at Number 10. I was there with my wish list for Ashfield and Eastwood. Investment is coming, you have my word on that."
Anderson, the Conservative MP for Ashfield, posted again on Sunday to say he was self-isolating with his wife, who is clinically vulnerable, after they both tested positive. Johnson fell extremely ill with COVID earlier this year and although he allegedly told MPs in a Conservative WhatsApp group that his body is "bursting with antibodies because I have already had the damn thing" it is not yet known what getting the virus does for a person's immunity.
The news of his self-isolation comes as the government prepares a policy relaunch amid internal rows and departures from Number 10. Government announcements expected this week will detail Johnson's "ambitions for the United Kingdom", a spokesman for the PM said.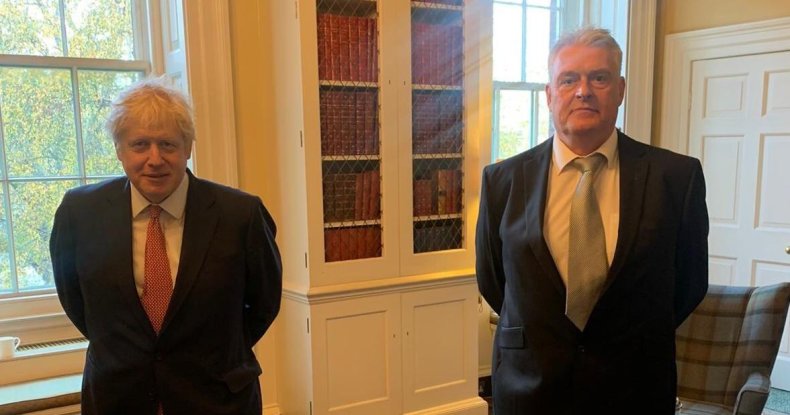 On Friday, his chief adviser and Brexit architect Dominic Cummings was spotted walking out of No. 10 holding a box of belongings after a dramatic resignation from his role. His departure followed that of Johnson's director of communications, Lee Cain, who announced he had quit a day earlier.
The two were instrumental in the Vote Leave campaign effectively securing the result of the U.K.'s Brexit referendum in 2016 and going on to be instrumental in Johnson's 2019 election success.
Senior Tory MPs said Cummings' departure was a chance to "reset government". Johnson was supposed to meet with the Northern Research Group (NRG), which describes itself as a Conservative "trade union" of backbench MPs representing the North of England.
The NRG previously warned that Johnson risks the future of a Conservative government in power if he fails to deliver economic support for northern England - the region hardest hit during the COVID pandemic.
The PM is also expected to publish a 10-point plan for a "green industrial revolution", "to boost green jobs whilst invigorating plans to achieve net-zero (emissions) by 2050".
And all of this comes as another week of negotiations over a post-Brexit trade deal with the EU begins in Brussels, with deadline day looming ever closer and as yet no agreement done.
The Brexit transition period, which followed Britain's exit from the EU in January, ends on 31 December, by which time a deal needs to be agreed and approved by both U.K. and European Union parliaments.
Chief negotiator for the U.K. David Frost has said there had been some progress between the two sides but that considerable differences remain. Johnson will now be working from his flat at Downing Street and will chair "key COVID meetings" remotely, including working with Chancellor Rishi Sunak to devise a spending review that meets the demands of his catchphrase to "build back better" after the pandemic.
There are conversations taking place with the parliamentary authorities to see whether the PM can still contribute to House of Commons debates - perhaps tuning in virtually.
Johnson wrote on Twitter on Sunday night: "Today I was notified by NHS Test and Trace that I must self-isolate as I have been in contact with someone who tested positive for COVID-19. I have no symptoms, but am following the rules and will be working from No 10 as I continue to lead the government's pandemic response."
In April, he spent three nights in intensive care after falling ill with COVID-19. He later said it "could have gone either way" and thanked National Health Service (NHS) healthcare workers for saving his life.