British Prime Minister Boris Johnson has refused under questioning to say that Donald Trump should concede defeat in the U.S. election.
"I don't wish to offer any other commentary on the U.S. election," Johnson said in a press conference in a direct response to a question about whether Trump should concede. "Our friends in America have their processes and it's not for me to offer commentary on it though clearly, we want to congratulate President-elect Biden."
In a different section of the press conference, the British prime minister had been keen to show that the "special relationship" between the U.K. and the U.S. will remain special, saying that he was excited about the U.S. joining the U.K. in the campaign on climate change alongside "NATO and all sorts of other things," referencing Biden's clear interests in rejoining and solidifying international treaties.
"I really congratulate President-elect Biden and Kamala Harris, who I know is going to be the first female vice president of the United States," Johnson said. "Yes this country's had a good relationship with the White House over the last few years but it has had a good relationship with the White House for many, many years and I have no doubt that we will continue to have a very strong, very close relationship with our American friends."
Donald Trump has so far refused to concede defeat in the election. "Since when does the Lamestream Media call who our next president will be?," he tweeted. "We have all learned a lot in the last two weeks!"
In a separate tweet, he actually said that some in Britain were calling for an investigation into the election. "We believe these people are thieves," Trump tweeted. "The big city machines are corrupt. This was a stolen election. Best pollster in Britain wrote this morning that this clearly was a stolen election, that it's impossible to imagine that Biden outran Obama in some of these states."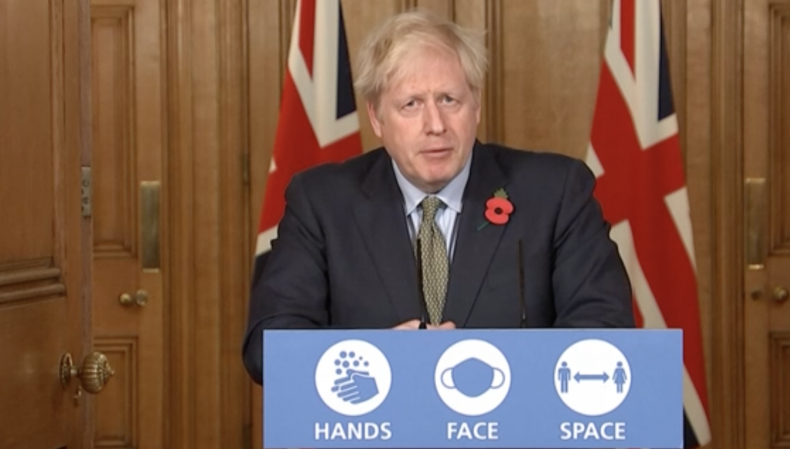 British officials have been tight-lipped about what should happen now, particularly given Trump and Johnson's warm relationship. When Trump falsely claimed victory in the early hours of Friday morning, British Foreign Secretary Dominic Rabb was pressed on whether he would condemn the president's comments.
He said he would not "comment on campaign commentary" and all government officials have been very careful about giving any opinions about the election. Raab said: "This is clearly a much closer election than was expected and I think in those circumstances there will be a lot of biting of fingernails on both sides of the debate, but we will wait for the definitive result, we have full faith in the American system to deliver one and we'll be there, willing, able and enthusiastic, to work with our U.S. friends irrespective of the result."
The leader in Scotland, First Minister Nicola Sturgeon, was more willing to give her opinion. As Biden's lead over Trump became clearer, she tweeted: "The world can be a dark place at times just now—but today we are seeing a wee break in the clouds."