British Prime Minister Theresa May has been spotted busting out some dance moves in Kenya, drawing significant mockery from the press in the U.K. and on social media.
During a visit to the U.N. campus in Nairobi on Thursday, a video shows the British leader dancing with local scouts. Britain's media quickly mocked the politician's move, with The Guardian referring to her moves as "excruciatingly awkward" and Metro sarcastically dubbing her "our dancing queen." The Telegraph classified the performance as "hilariously clumsy."
May can be seen dancing in an apparent attempt to mimic the actions of a male scout in front of her. Her jerky and stiff movements seem to be appreciated by the local crowd, while she appears unaware of her awkward appearance.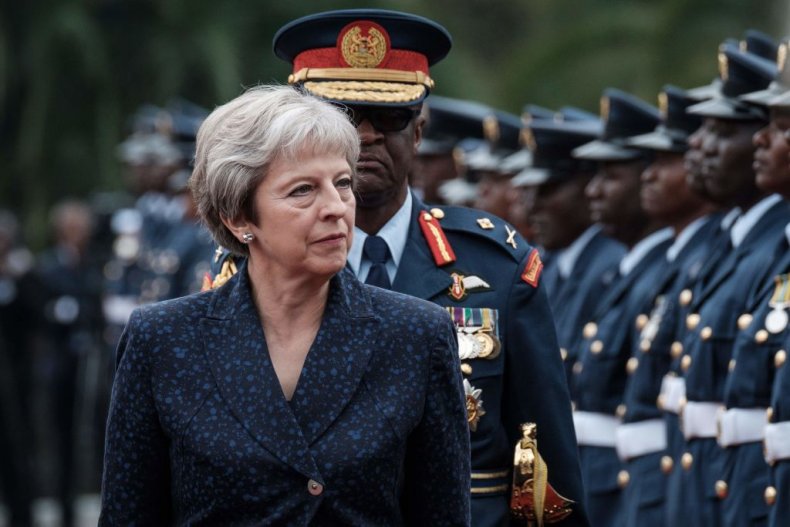 May's lackluster dancing skills came just two days after a similar routine in South Africa drew criticism. In that "stiff shuffle" performance, as The Guardian referred to it, the prime minister can be seen stepping and moving her hips rigidly with a group of students at a secondary school in Cape Town.
Following May's performances in South Africa and Kenya, many social media users have been less than kind in their criticism of her dance skills.
"Most people dance as badly as Theresa May. Most people know not to be filmed dancing," Twitter user Berkshire Blade quipped.
"Is Theresa May just going from one African country to the next embarrassing herself with her dance moves??" Twitter user Devaksha Vallabhjee wrote.
"Make it stop, please! Mein eyes!!!" a Twitter user with the handle Nzeribe posted.
However, some jumped to the prime minister's defense.
"People criticising Theresa May's dance moves are not exactly sexy, graceful twerking types themselves. At least she has joined in instead of standing there aloof," Nara Hodge wrote on Twitter. "Top marks for the effort. I say, 'You go, Prime Minister' and let the miserable critics drown in bitterness."
May's visits to Kenya and South Africa were part an African tour, which marked her first trip to the continent as prime minister. Speaking in Cape Town on Tuesday, she announced the United Kingdom's plans to boost investment in Africa following Brexit, pledging £4 billion ($5.2 billion) to support economies in the continent, the BBC reported.
The prime minister also defended British aid to African nations, which some in her party have criticized. She argued that the money has been used to provide millions of Africans with education, as well as immunize millions against deadly diseases.