Prince George Turns 4: How Growing Up Royal Can Be Tougher Than It Looks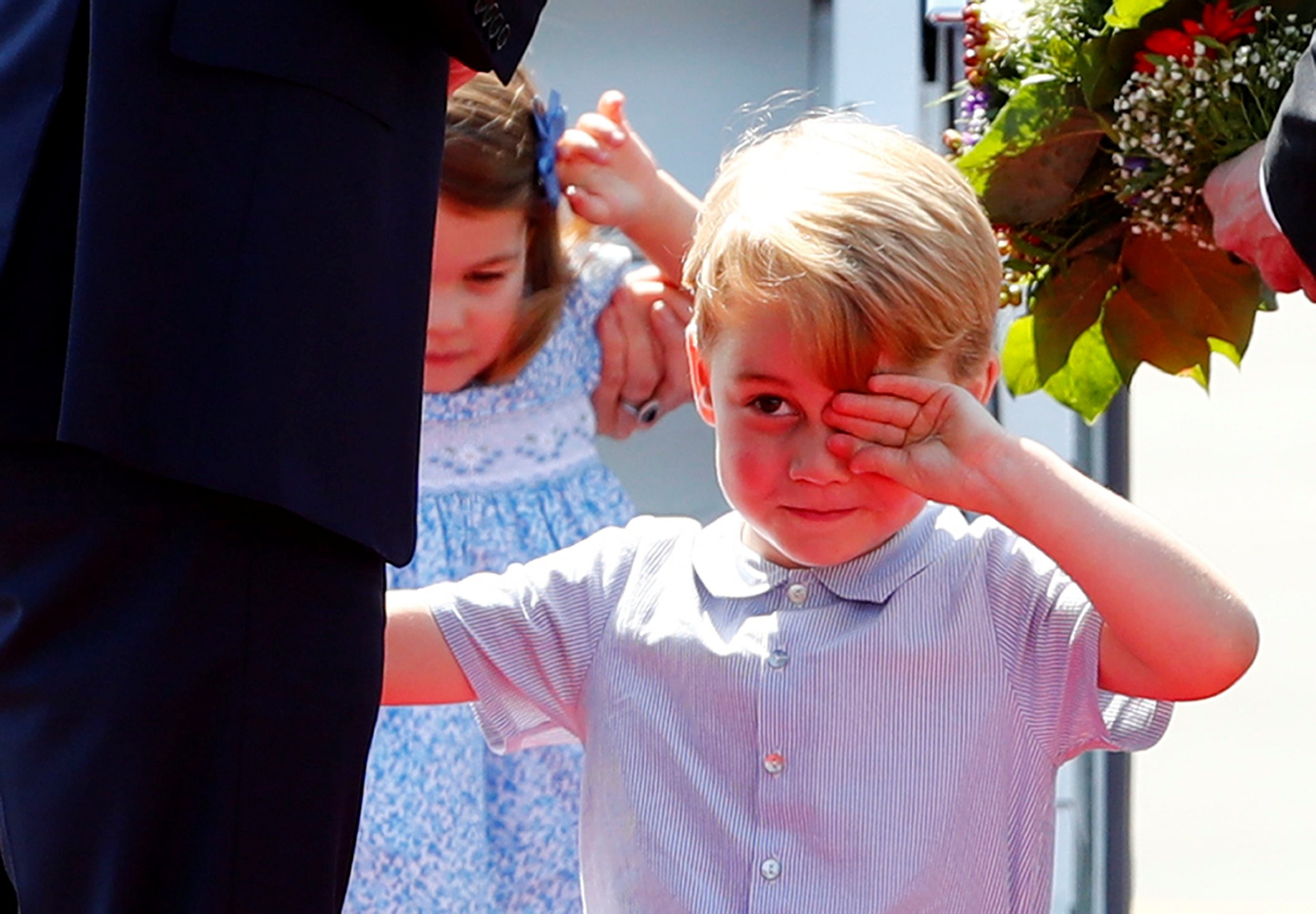 Better hope there's no sibling rivalry between Prince George and Princess Charlotte, the son and daughter of Britain's Duke and Duchess of Cambridge. On the tour of Poland and Germany the family undertook this week, one of the two kids definitely got the better press.
A headline in the Daily Mirror summed up the tone: "Grumpy Prince George throws a royal strop while Charlotte is angelic as family touch down in Germany." Valentine Low, a writer for The Times, who was covering the tour, tells Newsweek the royal couple could have seen it coming: "He's just being a 4-year-old," Low says. "They've been around for long enough that they could have known that the slightest thing will be seized on."
George turns 4 on Saturday, and while he's probably still too young to fully understand the press coverage, he is swiftly moving toward a period in his life where he won't be able to avoid it. The prince starts school in September, and he'll be spending more and more time away from the closely-guarded privacy of the family home. Like generations of modern royals before him, he'll have to learn to cope with the pressure of growing up in a world where his image alone can garner worldwide coverage.
"The tension at the heart of the royal family now is that this generation is trying as hard as it can to be normal," says Low. "But at the same time, the existence and point of the royal family is that they're special. And I think that desire for normality and that assumption of specialness; they pull against each other."
Sustaining a sense of normality is deeply important both to George's father and to his uncle, Prince Harry. In a Newsweek interview this spring, Harry said: "People would be amazed by the ordinary life William and I live. I do my own shopping. Sometimes, when I come away from the meat counter in my local supermarket, I worry someone will snap me with their phone. But I am determined to have a relatively normal life, and if I am lucky enough to have children, they can have one too."
William, says Low, has dedicated himself to making sure his children have as ordinary as possible a life too. The couple mostly live in Anmer Hall in Norfolk, England, and are only moving down to their official Kensington Palace residence this fall. And, Low says, there will likely be arrangements made to guard George's privacy at school: "Will there be some kind of photo opportunity on the first day? I guess there probably will. Will there be some letter to editors saying: 'while he's at school, don't publish any pictures you might receive of him at school etc?' I'm sure that will happen."
Meanwhile, his father and mother's schedule—and with it the number of public appearances George will have to make—is only going to grow. Prince Philip, William's grandfather, retired from public life this year, while the queen herself is gradually handing more and more of her public duties to younger royals.
And eventually, George's near-certain status as future king will start to color his life. One story about William's childhood sums up the way that royal destiny manages to intrude on the most basic aspects of growing up. William, the story runs, told his late mother Diana that he wanted to be a policeman when he grew up. "Oh no, you can't," Harry cut in, "You've got to be king!" In his Newsweek interview, Harry spoke of the lack of enthusiasm many royals feel for their duties: "Is there any one of the royal family who wants to be king or queen?" he said, "I don't think so, but we will carry out our duties at the right time."
For now, George is probably only dimly aware of the challenges ahead. But it won't be long before he has to find his own way to navigate the tensions at the heart of royal life.