British Schools Might Not Open After Christmas Following COVID Mutation
The British government has refused to rule out keeping school children at home following the Christmas break after large parts of the country were placed under strict lockdown.
A new strain of the COVID-19 virus detected in southern England that could be up to 70 percent more transmissible has seen London and much of southeast England placed under new "Tier 4" restrictions requiring people to stay at home except for essential work while closing all non-essential businesses and indoor leisure. Education unions have made calls to keep children in tier four areas at home for longer following the Christmas school holiday, with U.K. Health Secretary Matt Hancock refusing to "rule anything out".
A U.K. government spokesperson tells Newsweek that it remains a "national priority" for all pupils to return to school full-time in the new year but that may still be reviewed before the new term starts on January 4. Speaking on the BBC's Andrew Marr Show, Hancock said "the plan" is for a staggered start for schools next year. Those in secondary schools in England that are taking exams in 2021 - either GCSEs, A-levels or vocational exams - will return as normal, with others studying online for the first week back in January.
In Wales, there will be "flexibility" at the beginning of the term, with teaching due to start in most places from January 4 and a full return by January 18. Northern Ireland is going into a lockdown from December 28 and health officials have proposed limiting the reopening of schools in January. The Scottish government has not yet confirmed its plans.
The National Education Union (NEU) is calling for all secondary school pupils to learn remotely until the third week of January after the Christmas break. Kevin Courtney, joint general secretary of the NEU, told The Times it "would be the right thing to do" to give time for infection rates to fall.
In tests on nearly 10,000 staff and pupils in England in November, the U.K.'s Office for National Statistics found 1.24 percent of pupils and 1.29 percent of staff tested positive for COVID in schools, mirroring that of the general population during the same period when roughly 1.2% were estimated to have had COVID*. Researchers said the findings suggest school closures have only a temporary effect on cases.
Days before Prime Minister Boris Johnson announced the tier four lockdown for London, Education Secretary Gavin Williamson employed emergency COVID legal powers to make Greenwich Council, in southeast London, withdraw advice for its schools to move to remote learning amid "exponential growth" in cases.
Danny Thorpe, the leader of the council, said in a statement: "I cannot agree that this is the correct choice for our schools. However, I also cannot justify the use of public funds to fight the decision in the courts. Consequently, I have no choice but to ask our schools to keep their doors open." In light of the new tier 4 measures, Williamson's decision has been widely condemned.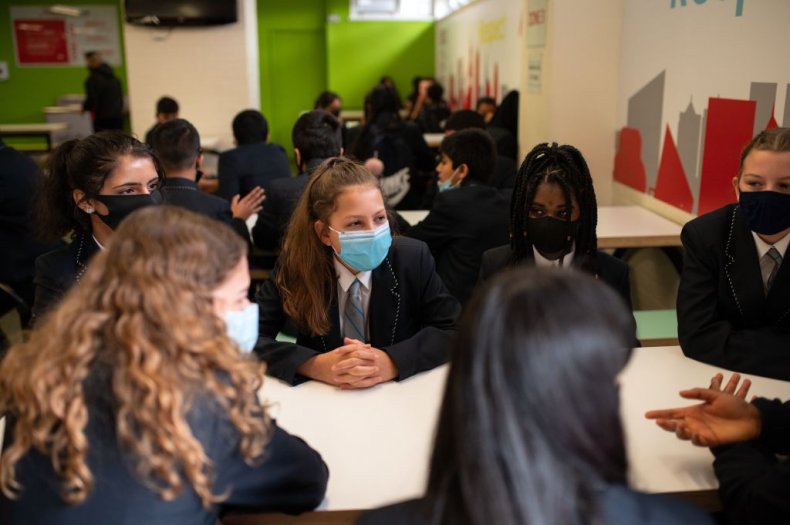 Meanwhile, the government has promised that a system of mass testing will be put in place by January to allow pupils to return to school safely. Education leaders have criticized the plan – which they argue was introduced "at the 11th hour" – for its lack of detail on how the systems would be implemented. Schools have already broken up for Christmas, with details of the mass testing plan published on the last day of term for many. Unions have said the plan is "inoperable".
The NEU alongside the Association of Colleges (AOC), Association of School and College Leaders (ASCL), Church of England Education Office, National Association of Head Teachers (NAHT), NASUWT teachers' union, National Governance Association (NGA), and Sixth Form Colleges Association (SFCA) issued a joint statement advising secondary schools and colleges that they are not required to begin mass COVID testing from the start of the spring term.
"Organisations representing school and college leaders, teachers, and governors are concerned that the plans outlined by the government for rapid testing are not deliverable by the start of next term, given that there are only two weeks to plan for this program over the Christmas holiday period and numerous outstanding issues that must be addressed," the unions said.
"There are a number of unanswered questions including exactly what staff are expected to do, and what costs will be covered by the government, which have to be resolved before testing can begin. It is imperative that any testing program is sufficiently resourced with suitably trained staff."
Dr. Mary Bousted, joint general secretary of the NEU, said the government "needs to get around the table with education unions to discuss how we salvage this situation and get a testing system that is operable and effective."
Representatives of the unions met with Williamson to discuss the joint statement late on Friday but in a message to its members following the meeting, NAHT said its position remained the same. "NAHT has not been reassured that schools will receive the support we believe they need and deserve," the union said.
A Department for Education spokesperson said: "As the prime minister has outlined, the path of the pandemic is changing and so we must act now. That is why our huge expansion of rapid testing will support secondary schools to stay open to all pupils as well as reduce the risk of transmission within local communities.
"The chief medical officers have been consistently clear about the importance of children being in school for their mental health, wellbeing, and development. As such, there are no plans for schools to close and it has rightly been a national priority for all pupils to return to school full-time.
"Schools, colleges and early years settings across the country have worked tremendously hard to put protective measures in place that are helping reduce the risk of the virus being transmitted and the department will continue to support local authorities and schools to open and remain open next term."
Any changes to the rules around keeping schools open will be published on the government's website ahead of the start of the school term on January 4, the spokesperson said.
Current government guidelines state that schools and colleges will remain open during term time in Tier 4 areas. The government is offering all secondary schools and colleges in England help, support and facilities to implement free coronavirus mass testing from the first week of January.
In secondary schools and colleges, face coverings are mandatory in corridors and communal areas where social distancing is impossible.
In tier 4, early years settings and childminders remain open and parents or carers can access other childcare activities "where reasonably necessary to enable parents to work, seek work, attend education or training, a medical appointment or respite care".
Parents are able to form a childcare bubble with one other household for the purposes of informal childcare, where the child is 13 or under, the guidelines state.
*Study Methodology & Notes
The Office for National Statistics first round of survey results are based on tests of more than 6,000 pupils and nearly 5,000 staff from 105 schools - 63 secondary and 42 primary - in areas of England where the virus was spreading quickly at the start of the school year.
Children and staff had to be in school to be given a nasal swab test, and so are unlikely to have had symptoms. The survey found a higher percentage of staff and pupils testing positive for the virus in secondary schools than primary schools - around 1.47 percent compared to around 0.8 percent.