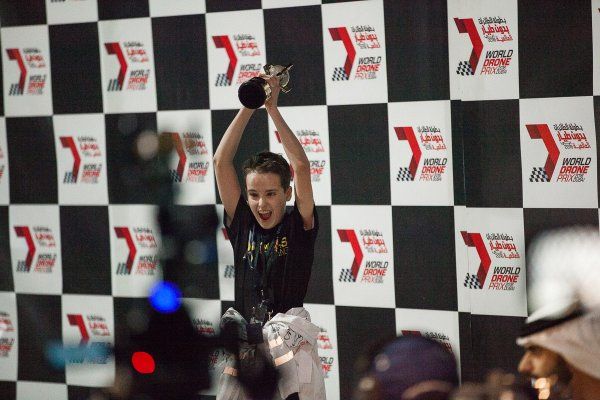 A 15-year-old from the United Kingdom defeated 31 other competitors from around the world and took home a $250,000 prize in the inaugural World Drone Prix in Dubai on Saturday.
Luke Bannister of Somerset, England, who went by "Tornado X-Blades Banni UK" during the World Drone Prix, came into the two-day tournament as the top-ranked racer. The overall prize pot was $1 million, much more than is available at drone racing tournaments hosted in the United States, according to NPR.
The drones are controlled via cameras that stream to goggles worn by the racers, giving them an immersive experience. The competitors fly their drones around a difficult, neon-lighted track that features glowing loops to mark narrow targets. At every round, the racers must try to outpace three other competitors as they circle the 650-yard track 12 times. They choose whether to take shortcuts at certain points, and every racer must take the "Joker lane" detour one time per round. These curveball rules add to the strategy, and ultimately reward good decision-making skills.
The Dubai government has gone all-in on drone racing of late, with Sheikh Mohammed bin Rashid Al Maktoum granting $1 million for the Drones for Good Award over the last two years. At the end of the World Drone Prix, a Dubai minister announced the World Future Sports Games will be held there in December 2017, with drone flying as one of its marquee sports.
After winning the competition, the baby-faced Bannister shyly told the press that he thought the lights were "awesome," according to the Associated Press .