British TV Host Jokes About Throwing Harry, Meghan Over Queen's Balcony
A British TV host who joked the royals should throw Prince Harry and Meghan Markle off the Buckingham Palace balcony was accused of "vile" commentary.
Eamonn Holmes was previously a mainstay in ITV and Sky's daytime roster but now plies his trade at GB News, which says it does not "shy away from controversial issues."
His comments came after Prince Harry said in a bombshell interview he wanted to make sure Queen Elizabeth II was "protected" but also hinted he may not be on the Buckingham Palace balcony at her Platinum Jubilee celebrations over a dispute about his security.
Holmes said in a GB News segment: "Gotta be photographed, gotta be on that balcony, he's bringing a book out where he's slagging off Camilla and maybe William and his father.
"Why wouldn't they just throw him over the balcony and her [Meghan] with him?"
The remark passed without immediate comment in a clip of the show posted online but was condemned on social media.
Omid Scobie, author of Harry and Meghan biography Finding Freedom, wrote on Twitter: "Everyone is entitled to an opinion, especially on an interview made for public consumption. But you know what isn't acceptable? Vile 'commentary' that only serves to incite violence and hate."
Dr Shola Mos-Shogbamimu, a prominent campaigner on race in the U.K., wrote on Twitter: "Eamonn Holmes casually incites the murder of Prince Harry and Meghan on national television and y'all letting him away with it?
"All this hate from Eamonn because Harry married an 'uppity' woman with a Black mother and Harry wants to live a life of his own. So very British."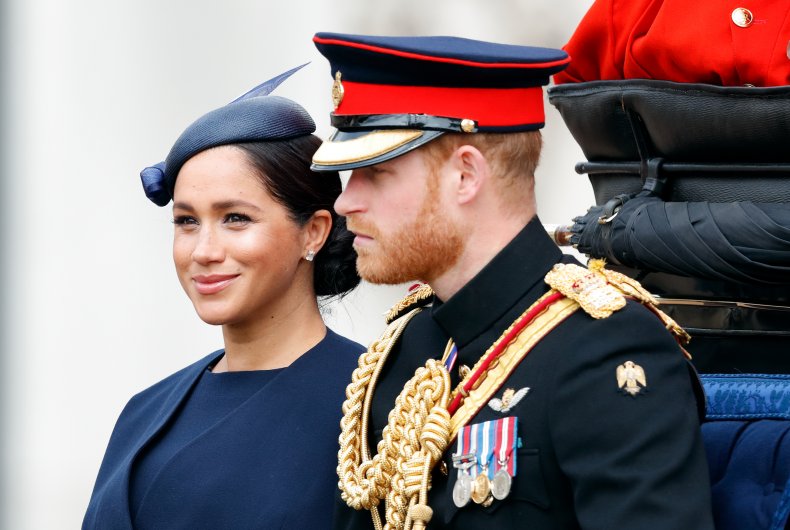 Holmes made the comment in conversation with a former U.K. Government minister, David Mellor, a seasoned commentator in the years after his political career, which was at its height in the 80s and 90s.
Mellor, however, did not challenge the balcony remark, replying that the queen despite her years was still as "sharp as a tack."
He said: "Do you imagine for a single, solitary moment she didn't say to him, 'Harry, what's going on?' Why are you out there in California? Why have you thrown over the family business?"
Holmes then suggested the queen might have held back during the meeting because "Pinocchio" was with him, a reference to a pejorative nickname used to describe Meghan by some critics.
Prince Harry spoke exclusively to Hoda Kotb on NBC News' Today show during his Invictus Games tournament for injured forces personnel and described taking Meghan to have tea with the queen.
He said: "It was just so nice to see her. She's on great form. She's always got a great sense of humor with me and I'm just making sure that she's, you know, protected and got the right people around her."
He added: "We have a really special relationship. We talk about things that she can't talk about with anybody else. So that's always a nice piece to it."
However, the duke conceded he may not be on the Buckingham Palace balcony for her Platinum Jubilee celebrations in June.
Asked if he would go, Harry said: "I don't know yet. There's lots of things with security issues and everything else. This is what I'm trying to do, trying to make it possible that I can get my kids to meet her."
For more royal news and commentary check out Newsweek's The Royal Report podcast: