British Volunteer Could Face Five Years in Prison for Smuggling Afghan Girl From Calais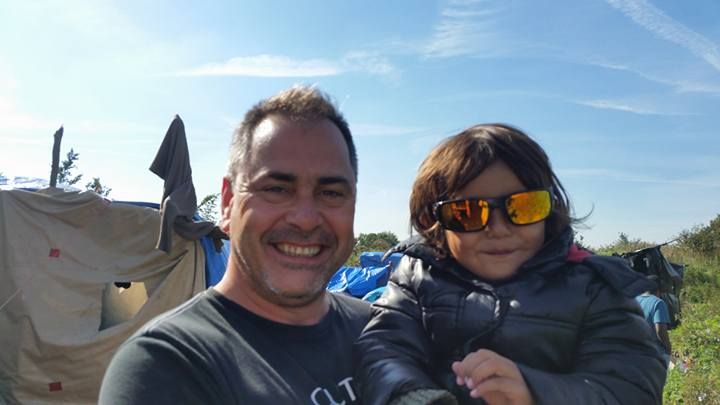 Rob Lawrie faced an impossible decision while volunteering in the refugee and migrant camp in the northern French city of Calais known as "the Jungle" late last month.
Lawrie, 49, a British ex-soldier, visited the the sprawling site several times in September and October to help residents build temporary shelters to replace their flimsy tents as the winter months drew nearer. On his first trip he met Bahar Ahmadi, a 4-year-old Afghan girl living in the camp with her father. On his seventh or eighth trip, he tried to take her to the U.K.
"I formed a very strong bond with her and a strong relationship with her father," Lawrie told Newsweek by phone. "Her father asked me on several occasions to try and get her to [their] family, who happen to live five miles from where I live," in Leeds, northern England.
Ahmadi and her father have lived in the Jungle for four months, while her mother and 18-month-old brother are still in Afghanistan, says Lawrie. Nearly a quarter of the 700,000 refugees and migrants who have arrived in Europe this year are from Afghanistan, according to the United Nations refugee agency, UNHCR. Newsweek spoke to Lawrie on Thursday, the day before the attacks in Paris that killed at least 129 people, raising fears of a backlash against refugees, particularly from Syria.
Lawrie recalls that he was sitting with Ahmadi and her father around a campfire on the night of October 24, when paternal instinct kicked in and he agreed to help. Ahmadi's father tucked her into a compartment in Lawrie's van. As she slept, Lawrie drove toward the ferry that would take him back to the U.K. with the child, who is nicknamed "Bru," because, Lawrie says, she's "refreshing as a cup of tea." Unbeknownst to him, two Eritrean men snuck into the back of his van earlier in the day and were discovered during a random check at the border.
"In that moment, all rational thought deserted me," Lawrie says, adding that he knew if he was caught, he'd face prison time. "I thought, this can't happen, this is all wrong," he says of Bru's life in the Jungle. Lawrie told The Independent that he didn't ask for or receive any money for taking Bru.
Lawrie was arrested at the French border and charged with aiding illegal immigration, which carries a maximum five-year prison sentence and a $32,551 fine. He's due back in court in Boulogne-sur-Mer, northern France, on January 14. More than 120,000 people have signed petitions, including one addressed to British Foreign Secretary Philip Hammond, calling on British and French authorities to spare Lawrie from prison.
Lawrie, who served in the British army in Germany during the 1980s and used to run a carpet cleaning business, says he was moved to volunteer in Calais when reading the news online one night and "up popped that picture." He's referring to the photograph of 3-year-old Aylan Kurdi, a Syrian refugee whose body washed up on a Turkish beach after a boat carrying him and his family to safety in Greece capsized.
"It just destroyed me there and then," says Lawrie. "I must have stared at that photograph for about an hour."
In addition to being a bleak and hopeless place to live, the Jungle is reported by Britain's Channel 4 to be crawling with asbestos, posing a huge health risk to its roughly 6,000 inhabitants. The first time Lawrie met Bru, "she had about four layers of clothes on. It just broke my heart," he says.
"She started following me around wherever I was building, with her dad," says Lawrie, who has four young children. Bahar would try to help with construction of the shelters Lawrie and the Jungle's residents built. They'd also play hide-and-seek together.
"It would make no sense for me at all to risk Bru's passage by taking two Eritrean men," says Lawrie. He believes the men were in the van for 10 hours before he discovered them; while unloading his van during the security check he reached down and "grabbed a human head." The two men were arrested and Bru was taken back to her father in the Jungle.
While he was detained, Lawrie says he was denied access to a lawyer and a phone call to let his family know he was safe. Lawrie says he doesn't think he would have been arrested if the two Eritrean men were not in his van.
"They ruined Bru's chances of going to a family that can love her, educate her, home her, feed her," says Lawrie.
Since he returned to the U.K. at the end of October, he's been getting phone calls of support and from media all over the world, including outlets in Russia and China. But life has been difficult: He says he's lost 28 pounds in two weeks from the stress as he awaits his court date in January. A French lawyer has agreed to take on his case pro bono, he says.
Lawrie's local MP, Stuart Andrew, said his office has contacted Lawrie to offer assistance and "hope that the authorities will recognize his innocent intentions and therefore act leniently," in a statement emailed to Newsweek. A spokesman for the British Foreign Office said officials "have been in contact with French police regarding Mr. Lawrie's arrest, and are ready to provide consular assistance if requested."
Lawrie is now concerned about what this coming winter will mean for refugee children. He would like to see a vetted register of families across Europe willing to take in child refugees for the winter, similar to the Kindertransport during World War II that saw British families take in thousands of Jewish children from Germany.
"I didn't want this, I didn't ask for this, but now I'm here, I'm going to run with it to try and highlight the plight of these poor kids," says Lawrie.