British Wildlife Park Offers 'World's Saddest' Polar Bear Refuge From China Shopping Mall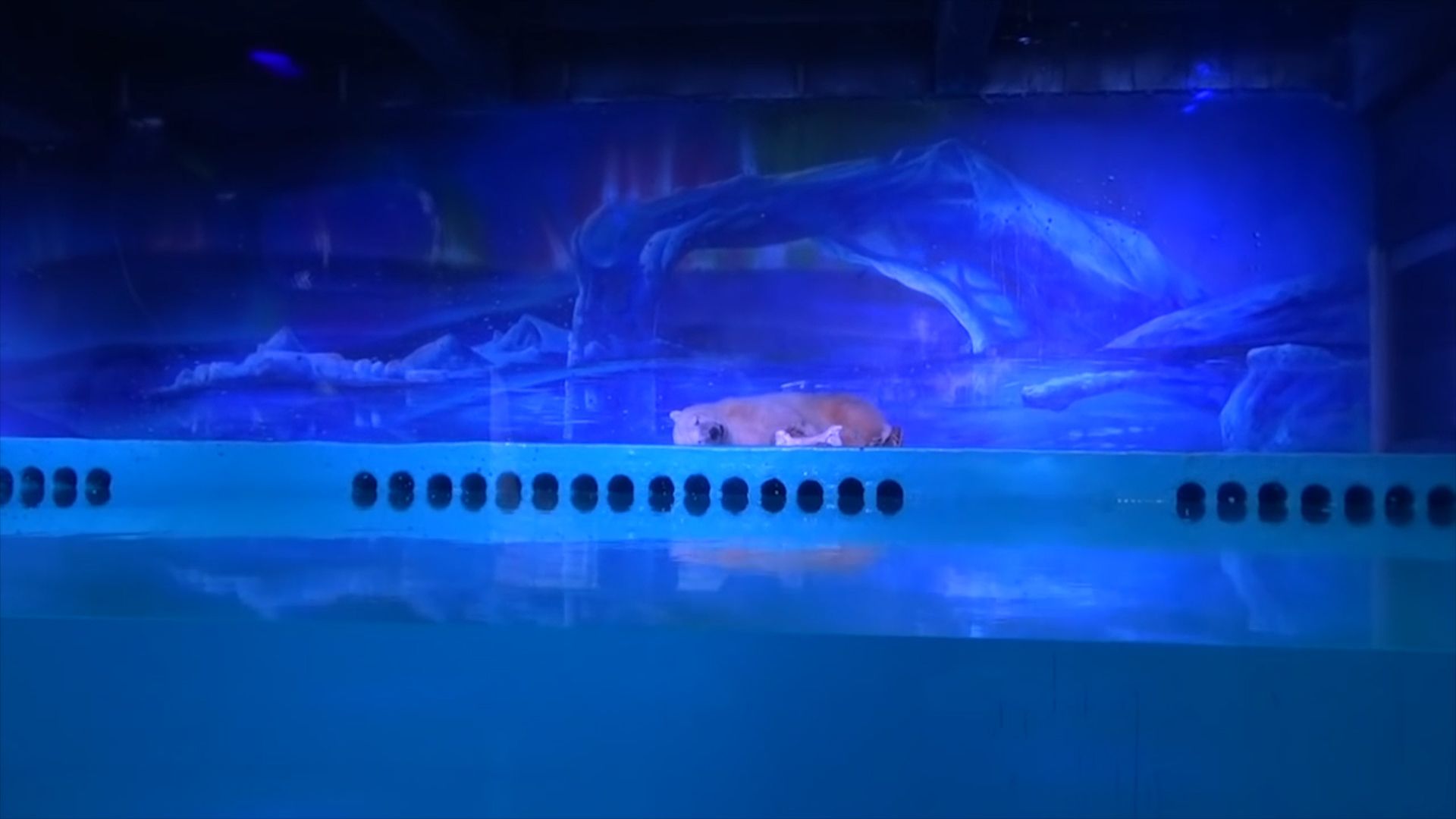 A British wildlife park is making a bid to save the "world's saddest" polar bear from his cramped life at a Chinese shopping mall.
Pizza the polar bear resides at the Grandview Aquarium in the Chinese city of Guangzhou and Britain's Yorkshire Wildlife Park has issued a request to move him to their habitat that is designed to house the snow white animals.
Pizza became known as the "World's saddest polar bear" after Animal Asia released footage of the animal earlier this year. He lives in an aquarium less than 40 square meters that houses a tiny water pool, with glass windows where visitors can gawp at the animal.
The zoo has not offered the Chinese aquarium any money for the transfer, according to animal rights group Animal Asia, which said Yorkshire Wildlife Park would only proceed with the move if Grandview did not replace Pizza with another animal. The transfer would be funded by raised donations, it said.
Animal Asia is attempting to close the mall's animal enclosure, collecting more than half a million signatures.
Dave Neale, Animals Asia's animal welfare director, told The Guardian: "The good news now for Grandview is that they now have the chance to put their mistake right.
"Thanks to this incredible offer from Yorkshire Wildlife Park, there can be a happy ending and the negative publicity they have suffered can yet be turned into a positive news story.
"From talking to them I know they know that mistakes have been made in terms of their animal facilities and ongoing care.
"As an organization that works with animal carers to provide the best possible environment for animals, we have to say that we would be delighted to see Pizza end up at Yorkshire Wildlife Park.
"There he would not only enjoy incredible facilities, he would also be part of a community of bears."
The Guangzhou Ocean and Fishery Bureau is investigating Grandview over its role in animal deaths at the complex, state-run Chinese outlet Global Times reported.