British Woman Flying High as One of World's Youngest Airline Captains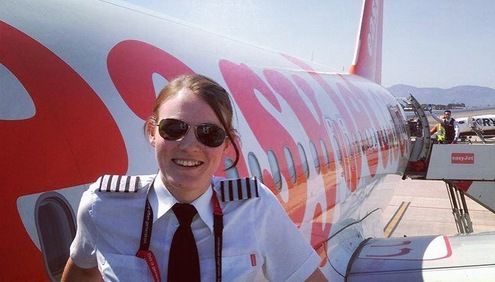 Updated | A British woman has become one of the youngest commercial airline captains in the world.
Kate McWilliams, 26 and from Carlisle in northern England, recently became a captain for budget airline Easyjet after passing the requisite command course.
The carrier said it believed McWilliams—who began flying in the air cadets at the age of 13—was the U.K.'s youngest female commercial airline captain, although this could not be independently verified. Another young captain, Michael Crowley of Florida, was promoted to the role of captain at SkyKing—a charter carrier—at the age of 24 in 2012.
McWilliams is based at London's Gatwick airport and flies Airbus A319 and A320 planes to around 100 destinations. She said that she is regularly asked her age by cabin crew and passengers but that her answer usually elicits a positive response.
"Personally, I don't think my age matters. I've been through the same training and passed the same command course as every other captain, so I've proven myself regardless of my age," said McWilliams, the Press Association reported.
McWilliams's achievement is even more significant since she is one of the few woman operating as pilots in the commercial airline industry. Only around 5 percent of commercial pilots are women, and easyJet announced a campaign in 2015 to double the proportion of new female entrants to 12 percent by 2017.
Julie Westhorp, the chair of the British Women Pilots' Association, said that McWilliams had set an example for other young women to follow. "Kate's achievement clearly demonstrates to other young women that it is possible to succeed as a pilot in commercial aviation," said Westhorp.
This article originally stated that Kate McWilliams was the youngest commercial airline captain in the world. She is, in fact, one of the youngest commercial airline pilots in the world so the article has been amended to reflect this.